Book/Equipment Review
Effectively Increases Poling Power and Core Strength
October 29, 2004 - By Mike Muha

Armit: Power for Poling
By Douglas Garfield
2004, Motioneering, Inc.
When you're skating uphill, 60-70% of the force that moves you is from poling. Unfortunately, many skiers spend an inordinate amount of time working on leg strength and endurance (running and biking) and neglect the upper body. Doug Garfield's new book and exercise equipment combination, Armit, Power for Poling, offers help!
Armit is a set of elastic resistance cords and a training protocol to help you develop poling power. Armit is designed to
Increase the strength of your poling muscles,
Increase poling-muscle endurance, and
Increase the stability of you body.
Garfield argues that the two-way resistance of the elastic cord set overloads your push-phase poling muscles twice. This occurs because research has shown that increasing eccentric strength (when your arms return to forward - the recovery phase) actually increase your concentric strength (when you apply force to your pole - the push phase).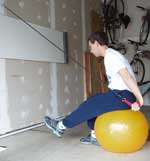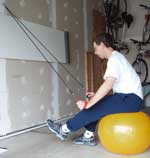 In my garage, doing an isolated shoulder extension on an exercise ball with one foot off the ground.
To take advantage to the post-poling resistance of the elastic cords, he employs RepMotions Functional Strength Training (RepMotions FST), a concept he introduced in his previous book, "The New Steady Ski for Nordic Athletes". He spends an entire chapter reviewing how switching from eccentric to concentric contractions at different joint angles increase the physiological intensity of the session. That is, instead of using a full range of motion with resistance (e.g., doing a dumbbell curl, lifting in one continuous motion from waist to shoulder), you stop and start the motion at different points in the range of motion. Example, you lift 1/4 of the way, then return. Then you lift half way and return. Then 3/4's of the way and return. And finally lift the full range and return. This is considered four complete Progressive motions repetitions.
Finally, Garfield's training protocol builds stability strength by purposely including exercises that force your core muscles to stabilize your body while you exercise your upper body. He reviews some of the material from "The New Steady Ski for Nordic Athletes" relating to what core strength really means and why it is important.
The Equipment
Armit comes with
Two "resistance assemblies" - two heavy duty elastic cords with web hand straps. The yellow hand-strapped one is lighter resistance; the red hand-strapped cord is heavier resistance.

Armit attached to my deck railing

A 35" loop of webbing (the "Big Loop") that is used to secure the elastic cords to a tree branch, deck railing, or any other secure object.
An eye bolt for a "permanent" installation into a wall or tree. Doug does not recommend connecting Armit to a door but to a solid structure.
A spring clip to connect the elastic cords to either the Big Loop or the eye bolt.
A extensive manual that outlines the concepts, installation, exercises and workouts.
This stuff is heavy duty - no wimpy exercise gear here...
You may also want a mat - some of the exercise require you to lay down or kneel. You'll also want an exercise (Swiss) ball for the harder exercises - and they can be brutal!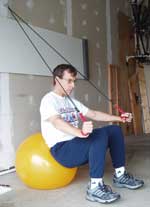 You can't tell, but I'm using all my might to stabilize my body in these pictures! And this is just one of the middle-difficulty exercises!
The Exercises
The exercises are divided into three progressions: Shoulder-Elbow extension (10 variations of increasing difficulty), isolated shoulder extension (22 variations), and isolated elbow extension (29 variations). The more difficult variations require much more effort from your stabilizing muscles as you strength your poling muscles.
Each progression starts with a standing position, with both feet firmly planted on the floor. The activities then get more difficult as you are put into increasing unstable positions. Examples include moving to balancing on one foot, kneeling, sitting on a ball, leaning on a ball, and putting your feet up on a ball - among many other variations!
There's a pretty clear set of guidelines for how to train with Armit during the off-season, pre-season, and in-season.
Ever since I read Doug's "The New Steady Ski", I've been absolutely convinced of the importance of core strength - now reinforced by the US Ski Team's and Torbjorn Karlsen's stress on importance of core strength. This pushes the concept further, letting you develop poling and core strength simultaneously.
Bottom line
So why would you buy Armit instead of just buying some cheap stretch cords? For me, it's all in the manual: the protocol is cross country ski specific, describes a study progression to make you (me!) stronger, and clearly let's me understand why 'm doing what I'm doing
I think Armit has some other advantages over other kinds of training. Take rollerboards, for example. It's easier to setup and store than a rollerboard. It strengthens your core muscles; a rollerboard does not. It's cheaper to buy Armit than to build a rollerboard. It's easier to carry Armit with you than a rollerboard.
Compare it to rollerskiing, specifically, doublepole workouts. I'm still an advocate of doublepole sessions - they're still more specific than Armit. But Armit is much less stressful on the joints. Many people just don't feel strong enough to do a doublepole-only session. And other people just don't feel comfortable on rollerski at all!
Overall, Armit can definitely improve your skiing by increasing poling strength. And because it also increases core strength, you'll be using those poling muscles to propel you down the track or trail instead of using them for balance.
[You can order Armit (or "The New Steady Ski") here.]
Full disclosure: Doug Garfield sponsors the monthly awards given to skiers who submit trail reports to this web site and provided the reviewer with an evaluation Armit.