Sponsored by Motioneering Publishers of "The New Steady Ski", "Armit", and "RepMotions". Team Members get Pro Pricing on Motioneering products. Contact Mike Muha for the Pro Pricing order form.
Want to Join?
All it takes is 10 bucks (or less) and a completed membership form (PDF or Word). Or sign up with a credit card using PayPal!
Juniors ski free!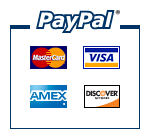 In the Press!
Duathlon run-ski event challenges fitness buffs (2.6 MB PDF).
"The race is the highlight of the month for Team Nordic Ski Racer, a group of avid rollerskiers / fitness buffs who meet weekly at Island Lake and Kensington Metro Park to work out..."
Livingston County News, Nov 26, 2004
Adapting to the climate, for the sake of fitness (854 KB PDF).
"West Bloomfield resident keeps fit on the township's safety paths while wearing special wheeled cross country skis."
The Observer & Eccentric, Jan 1, 2003
The 2010 Team!
Aaron Ditty
Alexy Vermeulem
Anthony Percha (2011)

Bill Haefner
Bill Kaltz
Bobby Ljubic
Brady Brennan*
Brendan Baic*

Dan Motowski
Dave Fanslow
David Crawford
Doug Heady
Douglas Cornell

Ed Clary
Ed Reid
Emily Flynn

Frank Nizio

Garrett Ruffner*
Greg Worrel
Hubert Smulski

Joanne Keeling
Joann Cavaletto
Joe Bonadies (2011)
John Bledsoe
Julie Hewett

Karen Dawson
Ken Dawson
Kevin Dittmer
Kevin Maki

Leonid Tikh
Lexanne Creitz
Linda Allen
Lisa Kaniewski
Lucas Wall

Mac Brennan*
Margaret Robinson
Maria Iwaniec
Mark LaMoreaux
Mark Madorski
Megan Ditty
Michael Heidinger
Michael Thiel
Mike Muha
Mike Schaefer

Natalie Dawson
Nick Baic

Spencer Ruffner
Steve Kuhl

Ted Wenzlick
Tim Feldkamp
Tim Mulhall

Yvon Dufour

Zbigy Zlobicki
*Junior racers
Team News
Wed, Oct 22, 2014 - By Mike Muha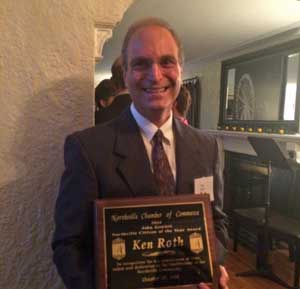 Ken Roth, member of Team NordicSkiRacer, 12-year member of the Northville Schools Board of Education, business man, and one of the people who has made the Frosty Freestyle cross country ski race successful, was named "John Genitti Citzen of the Year".
Sun, Aug 24, 2014 - By Mike Muha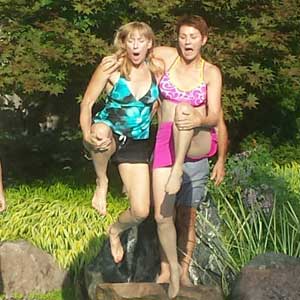 We aren't sure about other Michigan Cup teams, but Team NordicSkiRacer takes training very seriously. This past Sunday, the team spent nearly eight hours training in preparation for the upcomng cross country ski racing season.
Mon, Jun 23, 2014 - By Lisa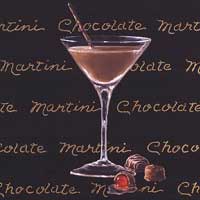 Come mountain bike with us on the Island Lake Rec Area Mountain bike trails. A fun ride, not a race (although there will be those who want to go fast...). Head out to dinner after!
Wed, Jan 15, 2014 - By Lisa Kaniewski and Mike Muha
Here are two sets of photos taken by Lisa Kaniewski and Mike Muha of the racers in the 4k and 12k Krazy Klassic race at Huron Meadows on Sunday, January 12.
Wed, Jan 15, 2014 - By Mark Irish and Lisa Kaniewski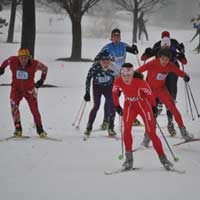 Here are three sets of photos taken by Mark Irish and Lisa Kaniewski of the racers in the 5 and 15k Frosty Freestyle race.
Tue, Jan 14, 2014 - By Doug Cornell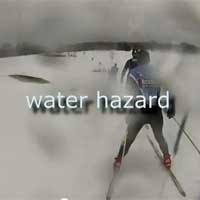 Southern Michigan's Biggest XC Ski Race! The forces of nature were unkind to the approximately 200 athletes who showed up to compete in this 15k race on a rain-ravaged trail.
Tue, Jan 14, 2014 - By Lisa Kaniewski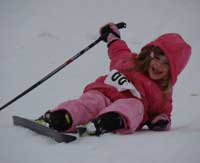 Here are two sets of photos taken by Lisa Kaniewski of the kids before, during, and after the SELCRA Frosty Freestyle Kids Race
Michigan Cup: Krazy Klassic
Mon, Jan 13, 2014 - By Mike Muha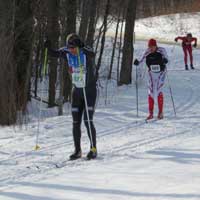 UPDATED: Rebecca Davis and Dan Yankus took wins in the 12K classic, while Erin Lipp and Reid Goble grabbed the victories in the 4K classic.
Sat, Jan 11, 2014 - By Mike Muha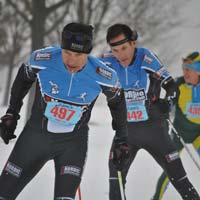 Huron Meadows has had the best conditions in recent memory all season long...And then it rained over night. Course conditions were actually pretty good, except for a few areas where waterskis would have been nice.
Thu, Dec 12, 2013 - By Mike Muha

Updated calendar! Tour de Ski Cancelled.
Sun, Dec 8, 2013 - By Mike Muha

Thanks to Huron Meadows Metroparks' 4 snow guns and dedicated trail crew, Huron Meadows had the only snow around in all of SE Michigan. The cross country ski trail was in great shape for opening day today, Sunday, December 8, 2013.
Fri, Aug 23, 2013 - By Greg Worrel

Team NordicSkiRacer was started 10 years ago in the fall of 2003. To celebrate (not that we really need an excuse), we are having a pool and hot tub party on Saturday August 31st at 3pm at Greg Worrel's house.
Why Join "The Team"?
Find the snow! We know the secret spots that hold snow in southeast Michigan.
Ski more! You'll ski more if you're around other skiers.
Ski faster! We have some top skiers who are more than happy to share their expertise on technique, conditioning, and waxing.
Travel! Many members car pool to races, make day trips to better snow, share hotel expenses, or go on extended trips.
Get in ski shape! We organize rollerski, bike, running and/or strength training outings during the off season.
Volunteer! Help organize outings, races, training, or special events.
Promote skiing! Promote the sport in our region. Help it grow and improve.
We Donít Just Ski...
We're year around active people who rollerski, bike, run, paddle, inline skate, swim, circuit train, hike - you get the idea