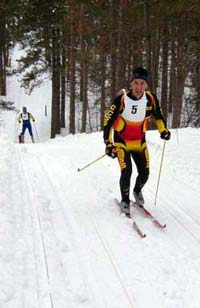 Mike Muha climbing a hill near the first feed station. That's Jeff Potter just behind him.
(Photo by Ernie Brumbaugh)
The inaugural running of the Black Mountain Classic will be remembered for challenging conditions on a great course. The previous week's warm weather and rain storms, 4-6 inches of heavy, wet new snow two nights before the race, another warm day with mixed rain and snow, then a good freeze overnight made conditions hard and icy. In hope of mitigating the icy conditions, final trail grooming started at 11:00pm and lasted through the night over the 30km, one loop race course. I can just see the poor groomer fighting with heavy, deep snow up and down those hills...

Snow was not an issue – step off the trail and you'd be up to your waist in snow. On the trail, there was easily 2-3 feet of snow.

Race morning saw skiers tentatively testing the rock hard and unforgiving tracks. The groomers had left the harder downhills and corners ungroomed so skiers could snowplow and step more easily around the corners. Still, several skiers decided to drop out before the race started because of the challenging conditions. If we hadn't had the warm weather and rain, the course would have been a real confidence builder. Instead, it was a "Hang on and pray!" course.

Last Week's Wax?

Bill Kaltz, Jamie Lewis, Doug Heady and I carpooled to the race and were the first people to register. Race Director Denny Paull said klister was the wax of the day – they hadn't really received any snow overnight.

I had already ironed in a very thin layer of Toko Green Klister. I then covered it with Toko Multiviola Klister ("For coarse grained, icy snow that alternates between damp and dry, for fine grained, compacted, aggressive snow, and as a universal klister in changing conditions"). The word from Jamie and Bill was that a little hard wax over the klister was preventing icing. I decided to run a little Toko Yellow hard wax on top of my klister.

Out for a couple kilometers of skiing. Verdict: great kick and great glide. I had my wax dialed in the first try. Not bad considering my glide wax was whatever was left on my skis from last week's Garland Glide! I hadn't had time to rewax this week. Fortunately, the temperature range of "last week's wax" was perfect for this race: Toko HF Yellow covered in Helix Warm.
The Start

The start area was fairly narrow. I decided to start three rows back and let some of the fast skiers break the trail in front of me. There were occasional clumps of ice in the tracks, and I'd rather have someone else plow over them. Jeff Potter was right beside me – the Backyard Wonder was locked on to me and ready to put me in my place.

"Go!" No warning. Racers are surprised and unprepared – it made for a very civilized start! I was surprised at how slow everyone took off; I gained ground quickly and passed many skiers as we hit the woods. The first kilometer or two was mostly uphill and there was quite a bit of slipping and sliding. I jumped over to the left track and started passing people. Before I knew it, I was in fourth place, gaining on the leaders, and not feeling like I was working all that hard.
Rock Hard

Then we came to the first downhill. It was a doozy, not because it was steep or long, but because it was rock hard and there were no tracks. I held back just a little as Dave Fanslow went down ahead of me. And down he went, sprawled all over the trail. He quickly whipped over to the side, clearing the trail just as I got to him and narrowly avoiding a collision (Thanks Dave!).

The first two steep uphills were so rock hard, it was almost impossible to set an edge to herringbone.

I stumbled. Don Camp passes me and I follow him down a hill, crashing as I go around the corner to the left. John Morgan goes down behind as well trying to avoid me. It turns out, we'd actually taken a wrong turn! We do the "Lance Armstrong Maneuver" and head cross-country through the woods to get to the correct trail. Don and I have no trouble; John gets tangled up in some bushes and is trying to extricate himself as I ski by on the correct trail.

I've lost several places, and it takes a little while to catch back up the Jeff Potter and Dave Fanslow. We pass a green basket in the snow. A short distance later, there's Denny Paull trying to get a spectator to loan him their pole! Denny passes us a few moments later trying to get back into the lead with his borrowed pole.

It appears the Denny Paull, Chris Weingartz, Don Camp are the only people in front of my now. I'm in fourth! Don't blow up… I see a bit of diagonal skate on the steep hills in front of me – some of my colleagues have missed the wax. I'm easily kicking up the hills gaining time.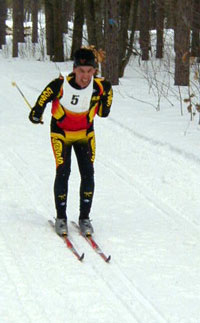 Doublepoling toward the end of the race.
(Photo by Ernie Brumbaugh)
Doublepole Destiney

Then the course flattens out. Dave Fanslow catches me, passes me, and very slowly pulls away from me with his doublepole. I see Dave in the near or far distance for most of the rest of the race. At around 18km, I see Dave catch Chris and Don at the top of a long easy uphill.

For the next hour or so, I'm pretty much alone except for glimpses of Dave. I fall a couple times when the track zigs as I zag. The trail is very tricky in places because of the rock hard snow. Large chunks of ice along the edges of the track make pole plants tricky. More frequently than I liked, the pole tip would glance off one of these chunks and I'd miss the plant. One glance actually knocked the pole between my legs and I almost went down!

I fall while changing tracks on an easy downhill at the 22km mark. I get up, charge up the following hill and…where'd my left pole go??? My Excel QRS (Quick Release System) had, well, quick released! I have a glove with a strap, but no pole! Back down the hill, click in, back up the hill a second time.

Caught

Past the last feed station, and I hear another skier powering up to me – it's John Morgan, and he's moving fast. He passes, I pass back on an uphill (I still have kick), he gets me on another doublepole stretch. I catch his tail on every uphill, but he starts gradually pulling away.

I see glimpses of Chris Weingartz ahead of me – I'm catching him! Another kilometer and I'll have him.

But it was not to be: we were coming into the finish area. I finish 6th.
This was a very interesting race. It required huge confidence and great balance to survive some of the icy downhills. I only made one really mistake: When Dave was in front of my and heading down hills, I held back just a bit in case he fell instead of aggressively pushing down the hill to catch him. He probably still would have beat me, but I might have gained enough time to catch Chris.
Jeff Potter finishes a couple places behind me. He's had a great race. I think next year he may even abandon the Backyard Method and come over the the Planned Training Method...