(Iím not actually going to talk politics; I just thought Stalinís Ghost sounded cool in the title.)
It finally had to happen. Mathematicians will tell you it has to do with the law of large numbers. Gamblers refer to it as the table going cold and drunks call it falling off the wagon. Whatever analogy you pick, I think you get the picture and a pretty one itís not.
In my quest to do the World Loppet Nordic race series, Iíd had amazing luck. Three years in a row (Norway, Sweden, Finland) Iíd experienced stellar ski conditions and absolutely perfect temperatures. The sky had been blue, the countries picturesque, the people friendly and my race results improved every year. 2004 in Estonia, however, would prove to be quite different.
It all started at Tallinn International airport when my skis failed to arrive. Tallinn is the capital of Estonia, one of three small Baltic countries long dominated by outside powers (Poland, Germany, Russia). They most recently achieved independence from the USSR in 1991. In my ski travels, Iíd often grimaced at the thought of showing up for a race only to find my skis hadnít-- and now it was happening!
As I filled out a form at the lost luggage desk, the women working there did little to ease my anxiety. I asked her if this happened often. She shrugged. I asked when I might expect my skiís to come in. She shrugged. I asked what hotel my skis would be delivered to since I was staying the first night in Tallinn before traveling to Ottepaa where the race would begin. She shrugged. She finally spoke when I asked her if they would be delivered at all. She said, ďIf it no your fault.Ē On top of everything else we obviously had a bit of a language barrier. She didnít speak very good English and as you might have guessed, my Estonian isnít fluent.
I took a cab to the hotel after clearing nonexistent customs. I must have been in a daze musing over the fate of my lost skis because I paid the driver double what I should have even though I knew better. Then again, why should my guard have been up? Who ever heard of an Out-of-Towner getting ripped off by a cabby before?
At the hotel, I was promptly told that the 63 km Tartu Ski Marathon had been cancelled. Less then 24 hours previous, the World Loppet web site had predicted a full race under half-way decent conditions. Warm temps and unexpectedly heavy rains, however, had wiped out much of the course and there was nothing they could do. Wow! After enduring over 20 hours of travel (2 stop overs) and having my skis lost, then being ripped off by a cabby, I was now being told that the very reason for coming here to begin with had gone kaput. I did the only reasonable thing. I threw my luggage into my room and went out to explore Tallinnís old town.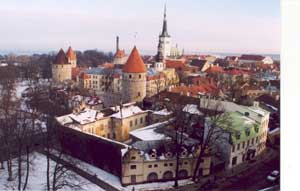 Tallinn has one of Europeís most beautiful and best-preserved medieval old towns. Its hilly cobblestone streets contain several large churches, a fortress, museums, and tons of shops, restaurants and pubs--all of this within the confines of ancient walls replete with medieval stone towers. Thereís something exciting about exploring a place for the first time at night and especially a place as cool as Tallinn.
The next morning, I called the airport to get the status on my skis. They didnít know where they were and when or if they would be in. I decided to stay an extra night in Tallinn and hopefully my skis would turn up. What was the use of going to Ottepaa (Estoniaís ski center) without my skis anyway? I went back out for a full day of sightseeing in Tallinn. When I returned to the hotel, I was informed that the airport had called and my skis had been delivered to Ottepaa. Since the last bus of the day had already left, I headed back out for another night in old town. Nine oíclock the next morning, however, I was on the first bus for ski country.
Ottepaa, which roughly translates into English as ďbearís headĒ, is a charming little town of about 2,000 which I was assured, still had plenty of snow to ski. What they had was 8-10 kms of World Cup trails which had a thick base thanks to artificial snow. A World Cup race had been held here a month ago and as an insurance policy the race directors had blanketed the course with a foot of artificial snow.
If youíve never skied on an actual World Cup course before, itís an experience and a humbling one at that. The climbs in Ottepaa are 2, 3, and 4 tier grinders that at times seem like theyíre pitched at 45 degree angles. Take ďthe wallĒ on the Traverse City Vasa course and string 3 or 4 of them together with little or no recovery and you start to get the picture. The down hills are very steep with sharp turns or moguls at the bottom. On a couple of them you can almost catch air. And what about the flats? Iíll tell you as soon as I find them, but then again I only skied there 3 days. There arenít any!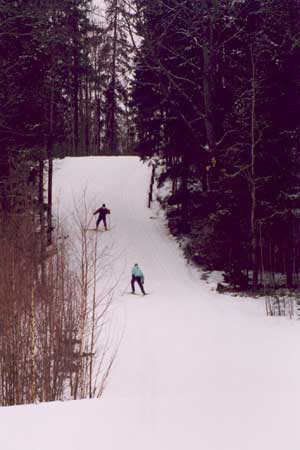 Nordic skiing has gained near National Sport status in Estonia and the overall level of skiing is very impressive. I got to watch some incredible skiers train. The government now runs a ski academy in Otteppa where young aspiring national team members can train while receiving some of the best academics in the country. This school has helped Estonian skiers make some major waves on the World Cup circuit the past few years.
One afternoon, in part to escape the World Cup trails, I traveled to the nearby town of Piusa. Piusa is the site of a series of sand caves created nearly 100 years ago by mining and erosion. The caves are said to be rife with ancient, pagan spirits. Local witches have built alters in the caves where they leave sacrifices to these spirits. I toured the caves, found the altars, but saw no sign of the witches. I assumed they must have been working their day jobs.
The food in Estonia is reasonably priced, comes in large quantities, and for the most part is quite tasty albeit very meaty and high in fat. Hermanni Pubi in Ottepaa was one of my favorite restaurants. Itís an old wooden pub decorated with dozens of Nordic skis from the 50ís and 60ís. You can get a pint of A. Le Coq (one of several good local beers) and a huge dinner for 6 or 7 bucks. One day I ordered the Russian meat soup (now doesnít that sound delicious?) for lunch and it was very good. I might have ordinarily been a bit concerned about contracting mad cow disease but examining the soup I was pretty sure nothing that high up the food chain had ever made it close to this soup.
Barely able to walk, I returned to Tallinn for one more night in old town. (Damn that World Cup course.) It snowed the entire 3, hour journey back to Tallinn making for some difficult driving conditions. It really hadnít stopped snowing since Iíd arrived in Ottepaa and if the race had been scheduled 3 days earlier or 3 days later, it probably would have been a ďgo.Ē
During my 22, hour journey home, I had ample time to reflect on my ski trip to Estonia. It was one where pretty much everything had gone wrong--and I had a blast!
Happy Ski Travels