The straits area Striders are pleased to announce the first annual Mackinaw Bridge Ski Race. The race will take place on March 7th, the Sunday following the Black Mountain Nordic Classic.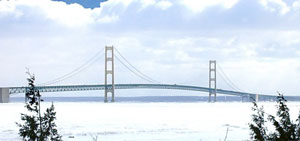 The Straits Strider team has been working out the logistics for well over a year to make this race possible. Some of the obstacles which had to be overcome included closing of the bridge for one day to allow local DPW crews to truck in snow needed to create 15 foot wide skating lane over the northbound lane. After extended negotiations with Governor Jennifer Granholm, team spokesperson Joel Moore was able to secure the Governor's support for this race and make all of the preparations possible.
The race will be a mass start in Mackinaw City and proceed northward into the finish area in St. Ignace. Finishers will be transported back to Mackinaw City via school buses generously donated for the day by local schools.
Thanks again to Joel Moore for making this all possible. Joel modestly noted that simply using some persuasive maneuvers, including statistics concluding that Nordic ski racing brings in roughly 160% more revenue than snowmobiling to the state economy, was all it took to secure the governor's blessing. Skiers should consider using their rock skis as the it may prove difficult to keep a good snow pack over the metal grating. Mark your calendars for what should be a great race!
Strength, Balance, & Core training for the Nordic Skier


Help support the NordicSkiRacer web site!

NordicSkiRacer
says, "Join the AXCS today! Promote XC skiing & get great benefits for yourself."


Recommended