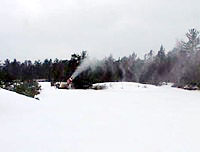 It's mid-December.
It's 47oF and sunny. Most ski trails in Michigan are closed.
The Blizzard Trail at Cross Country Ski Headquarters in Roscommon, MI has 18" of packed man-made snow and Kip Brady is up from Ohio giving a skating clinic to about 20 skiers... (That's Kip in the picture below, getting a little ski in before the clinic).
It's late-December.
Drizzle and warm temperatures sweep through the area. Down south is snowless. Most of the northern lower peninsula XC ski resorts have little or no snow.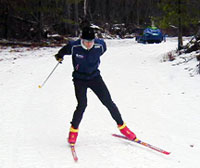 The Blizzard Trail has 4-20" of packed man-made snow, and there's a deep track set next to the skating lane. XCHQ's other trails have an inch of snow mixed with leaves and pine needles...
Cross Country Ski Headquarters' investment in snowmaking equipment is providing reliable snow for skiers without the time or money to travel to Marquette, Sault St. Marie, or West Yellowstone. Skiers like me.
The Learning Curve
Bob Frye started the project in 1999 when he invested in an Areco Snow Gun, a 20 hp pump, a 30 kw generator, 400 feet of 3 inch, and a pond. In 2000, he built of 32' x 30' pole barn pump house. This year, he added a Alpina Twin Track snowmobile (picture below) and Tidd Tech Trail Tenderizer to his existing fleet of snow grooming equipment (including a Bombardier 250 Snowcat). He's suffered through frozen pipe the learning curve of grooming dense, moist manmade snow.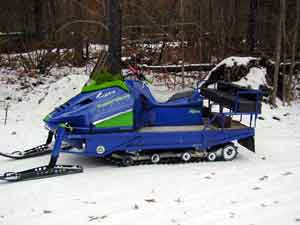 The Headquarters generally builds piles of snow when the temperature is low enough (28oF works, but the lower teens is best), then uses the Bombardier to push the snow around the trail. Once the trail is covered, the SkiDoo Skandic (picture at right) pulls the Tidd Tech and other grooming equipment to smooth out a skating lane and set classic tracks.
Because of the snow density and thickness, it tends to stay around during warm or wet weather while other trails melt away.
The Trail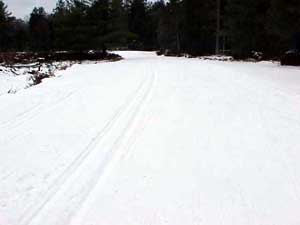 OK, the Blizzard Trail is not long - only about half a kilometer. If you're a fast skier, you may get dizzy over a couple hours. And it's pretty darn flat - there just a little practice hill at one end. But it was the only place around within a four hour drive of the Detroit area in mid-December that had a groomed track. And the only place with enough snow so you wouldn't have to worry about scraping up the new racing skis.
I put in a great hour and a half doublepole / kick-doublepole session in on the Blizzard Trail, then came back a couple days later for a 4 x 4 minute interval session on my best pair of skating skis. Instead of spending a zillion hours on the road to the UP or Canada, I spent the time skiing...
The Future
Bob's planning to expand his snowmaking operation. He's already bought additional pipe and plans on making snow across the road for the Trail Head and the south end of the Rolling Hills Trail. He also plans to stockpile snow for maintaining Wild Turkey, Trappers Cabin, and Manitou Trails.
Implications for Michigan XC Skiing and Racing
One of the big problems with growing the number of cross country skiers in Michigan is the lack of reliable snow. The Headquarters' leading effort will help grow skiing locally and help skiers from further away get on snow earlier and stay on snow during warming trends. For many skiers and racers, the Headquarters now becomes an less expensive place to drive to for reliable snow.
Just think what would happen to if the major population areas in Michigan were to have snowmaking...