Island Lake Recreation Area, a Michigan State recreation area, put in a tunnel under Kensington Road this past week in order to reroute bike, skate, and rollerski traffic off the park's roadway.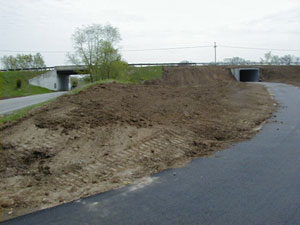 To cross under Kensington Road, rollerskiers used to have the share the park road with traffic in the tunnel at the left. The new tunnel on the right gets rollerskiers, bikers, and skaters safely off the road.
When the original 5 mile bike path was paved a few years ago, there was no way for "silent wheels" to get across Kensington Road except to share the tunnel under the road with auto traffic. Rollerskiers would have to come down a short hill to a stop sign at the park road, make a hard left, ski on park road under the Kensington Road, then hang a hard right back on the bike path. (The return trip was the reverse). To the park management's credit, the both trail and auto traffic had stop signs at both intersections. Still, visibility was poor for everyone and an accident was just waiting to happen.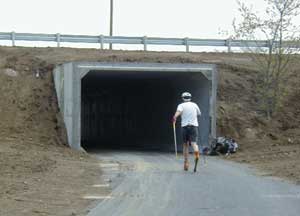 Greg Worrel skies into the new tunnel. There's enough room for two people to pass.
With the new tunnel, instead of steering right to drop down to Park Road, rollerskiers can head straight though the new tunnel, then gradual curve down to the new road crossing. Although it does descend, there much better visibility to see what coming down the road. (Likewise, cars can see rollerskiers and skaters better).
Strength, Balance, & Core training for the Nordic Skier


Help support the NordicSkiRacer web site!

NordicSkiRacer
says, "Join the AXCS today! Promote XC skiing & get great benefits for yourself."


Recommended