When I first sat down to write this season summary, I was thinking, "Started out great, slid into oblivion." My first several races were unbelievably good, then I started placing lower and lower in the standings. The big bang fizzled...
It wasn't until I put together the table below summarizing my races that I discovered this season was actually pretty good!
Michigan Cup Season
Usually, I start the season pretty slow, then pick up steam and places in later races. It was the opposite this year - I had a great first race at the Holley Cup. Totally in control, fast skis, ZOOM! This was probably my very best season opening race ever.
The next race - the Chestnut Valley Freestyle - was even better! I finished 12 places higher and 10% faster than the previous year! I've always been a better classic skier, so finishing a skating race in the top 15 and only 8.5% out of first place (behind Milan Baic) was a huge breakthrough for me - my best freestyle result ever!
The next test: Could I do back-to-back races and not die in the second race? At the Boyne Highlands Classic, the day after Chestnut Valley, I actually felt I was racing rather than surviving. I did not finish as close to the winner, but I still beat several of my top rivals who were expecting me to choke, based on past performance!
Race
Overall Place
% Behind top 3
% Behind Winner
Holly Cup 10Km Classic
5th
31:14
6.3%
10.6%
29:42
Milan Baic
Chestnut Valley 11km Freestyle
12th
25:27
8.3 %
8.5 %
25:17
Milan Baic
Boyne Highlands 12Km Classic*
9th
45:39
11.6%
14.3%
39:06
Kari Tikka
Garland Grip 10Km Classic
12th
41:00
12.5 %
13.6%
35:26
Denny Paull
Vasa 50km Freestyle
33rd
2:39:27
14.7 %
15.8 %
2:14:12
Joey Graci
Michigan Cup Marathon 30km Freestyle
27th
1:34:47
10.6 %
11.0 %
1:24:21
Andy Triebold
Boyne Highlands 10Km Classic
11th
37:37
8.3%
12.3%
32:59
Denny Paull
Boyne Highlands 15Km Freestyle*
19th
43:59
13.5%
16.8%
36:35
Steve Kuhl
*2nd race of weekend
I suffered more at the Garland Grip. I just couldn't pull it together as well and fell back a bit - not too far, but enough to be disappointed.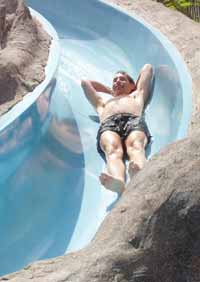 Downhill training in Aruba didn't help my downhill skiing...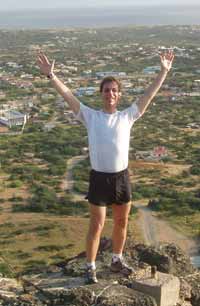 ...and running up and down the 562 concrete steps of Hooiberg (541 ft vertical) three times simply succeeded in crushing my calves for a week...

Then came the Vasa. I made the unfortunate mistake of overdoing it in the weight room in the week before the Vasa. My thighs were still a little sore the morning of the race. This year's race was particularly tough because we did the 25K loop twice - we had to climb The Wall twice and negotiate Jack Pine twice. My thighs literally felt like they were going to explode out the front of my legs on steeper climbs. I REALLY suffered. I felt like I should have done better.
But - surprise! - I actually had a decent result, finishing much better than I had at last year's marathon (the White Pine Stampede) - I was higher in the place standings and had a faster time compared to the winning time. A harder, longer course, sore thighs, and I still did better!
I did OK at the Michigan Cup Marathon, making one mistake (pole between the legs) that caused me to lose at least one or two places.
Then Aruba came. No snow time and little exercise as my wife's required warm-weather sojourn took us to on a 10-day vacation far from anything remotely resembling cold weather. I ate, drank and was merry. I gained weight. It was fun and made Jill happy.
I felt energized and eager to race upon return. And I raced OK. The problem was, I somehow lost my ability to downhill. I kept crashing. It was like my brain wasn't keeping up with the input and I was slow reacting to terrain changes. Physically I was there, but mentally I couldn't keep up. At one point I even found myself head first in a snowbank...er, had to deal with a mountain lion...
This was very frustrating because I love downhills! I love taking chances. I love passing people on downhills. But I found myself becoming tentative.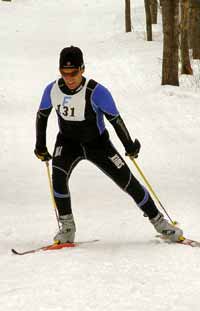 Redlining at the Michigan Cup Relays

I was very pumped up for the season finale: The Michigan Cup Relays. Team NordicSkiRacer.com was vying for top honors in the Michigan Cup Team Championship with three other worthy teams. A poor performance by any of our relay teams could be the deciding factor.
I sure I was in Zone 5 much of my leg of the relay - I don't think I could work any harder. I wasn't going to let down my team! I was back firing on all cylinders again, had a great leg. Our relay team ended up winning one of the coed divisions. And the stellar results of the rest of our relays teams allowed us to squeak ahead and win the overall Michigan Cup.
I ended up 13th overall in the Michigan Cup Individual Standings - one place better than last year.
The Positives
There were lots of positives this season:
I was more well rounded - I did better in freestyle and marathon races than previously.
I did better at early season races, which I attribute to getting on snow earlier at West Yellowstone over Thanksgiving, getting some skate technique pointers from John Aalberg, and decent skiing in southeast Michigan in December. Most of all, I think I directly benefited from Torbjorn's intensity blocks - I felt better at higher heart ranges than last year, throughout the year.
I had more endurance.
Being a member of a team that trained together - with different members rotating in and out of workouts as their schedules allowed - was AWESOME. What a motivator, especially in the late fall when it was dark and cold outside!
Regrets
I wish I'd done more core strength throughout the racing season. I sort of stopped once racing began, and I think that was a mistake. I'm more convinced than ever that core strength really is one of the foundations for being a good skier.
Intensity Blocks
Looking over the season, Torbjorn had has doing more than intensity blocks. We had strength blocks and distance blocks as well. The concept resonates with me - I just need to fine tune. I plan on continuing to use training blocks this coming summer and fall.
.