Jeff impacted my life before he was even born: Although Mom says it wasn't true, I know I was shipped off to a neighbor to spend the night, not really understanding that the next day I would have a brother.
We shared the front bedroom in East Jordan. We were constantly building things together, starting with wooden blocks and those little wooden train sets, Lincoln Logs and Erector sets and Legos. If we were outside, we were making bows and arrows from the branches of the spirea bushes in front of the house. I think this building and constructing and rearranging things led him in to computers. At Oberlin, he was constantly programming in the data center. In the real world, he worked with massive geological data for Placid Oil and built massive Oracle databases as a Consultant Architect for EDS. His skills would have him travel throughout the world for months at a time. Germany, Nigeria, Netherlands, England, Mexico, and Italy were all places he worked. He was an accomplished professional.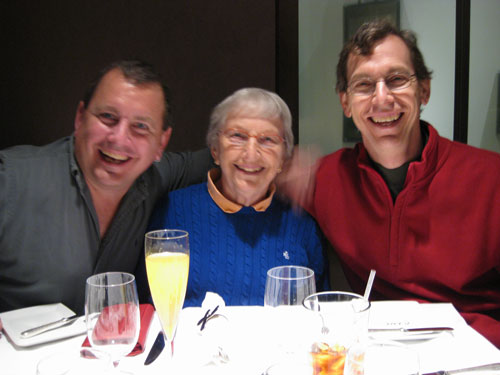 Jeff, Mom, me during happier times.
When we moved from East Jordan to Ellsworth, we were privileged to live on a lake, so we sailed and rowed, cut weeds, swam to the raft, played in the sand, fished. If you know us, you know one family activity we enjoyed - and still do - is building bonfires. Jeff built HUGE bon fires, not in our yard, but next door at Big Fish. I mean wood piles that were 12 feet high, the flames licking the branches high up the adjacent poplar trees. The bigger the fire the better. The same with fireworks: the more, the higher, the brighter, the louder, the better!
Jeff's love of roller coasters started when we rode the little roller coaster at the fair in East Jordan. He graduated to bigger roller coasters at Cedar Point while attending college in Oberlin. When he moved to Dallas, there were the rollers coasters at Six Flags. Jeff took me on my first big rollers coasters while visiting him in Dallas. We were both attending a huge IT conference in Dallas and I was staying with him. One evening we heading out to Six Flags to hit every big ride in the park. By the end, I was comatose from the adrenaline rush.
On that same trip, Jeff had a large pool party at his house. He made sure everyone was festive. Jeff knew how to be festive. And not just on holidays, although he was famous for Christmas decorations and holiday cheer, but whenever friends or family grouped together.
Jeff wasn't afraid of asking people to do something. That may be why one day we found ourselves in the engine cab of the Chesapeake and Ohio train as it moved lumber and coal cars around Ellsworth. I remember the engineer asking if one of us wanted to blow the horn. Jeff was right there before anyone else reacted.
Or how we didn't just watch the boats go under the bridge in Charlevoix, but got to see it from inside the bridge operations building as the operator raised and lowered the bridge.
Jeff was real. He wasn't for show. He didn't need to impress anyone. He could talk to anyone. He was generous. Once he got to Dallas he became his own man, was gregarious, and had loads of friends. He traveled frequently on vacation with those friends to up north to visit us.
It's a sad day for us. We'll miss Jeff. But Jeff would not want us to be sad. He'd want to us celebrate that he'™s in a better place, to focus on the fun we had, the things we accomplished, the friends we made. I'll still miss him. We'll all miss him.