Back on snow - Finally!
Me? Although totally out of shape and the first time on snow since October's Vasa Ski Club Ski Fest, I had a plan: ski negative splits and try to beat Amy Powell. Seriously, work and home responsibilities have taken their toll, and my training has been hit or miss, and mostly miss.
I tried to stay relatively calm through the first couple kilometers, skiing behind Bill Kaltz. Bill seemed to slow and I went around. It was short lived - Bill came back and dropped be a few hundred meters later. I noticed I was at 94% of my max heart rate! I backed off slightly. I was 17:52 for the first lap.
On the second lap, I caught and passed one of the Cross Country Ski Headquarters skiers. Which one? I don't know - I was too focused on staying in control of my technique.
Because the trail looped up and down fairways, you could see skiers ahead and behind. I looked behind...and saw Amy Powell. I attempted to pick up the pace. I was going to at least try to hold her off at the finish line! Immediate spike in heart rate, getting up to 98% of my max. I kept looking back and she was slowing pulling me in. (I take credit for giving her a rabbit to chase and increasing her gap over Kaitlyn Patterson...)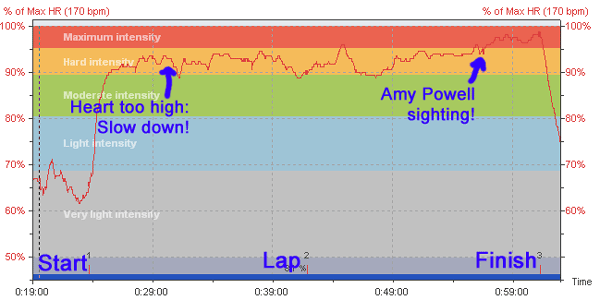 Mike Muha's heart rate graph for the race
Well, I held Amy off at the finish (Yea!) but since she started two minutes behind me, she actually beat me by 45 seconds.
Negative splits? Nope. 17:52 for the first lap, 18:12 for the second. Close, oh so close.
Great race and fun for all.
Curious: Historically, I don't race in zone 5, so why so much time there in this race? Is it an aftereffect of the ablation? Is it because I'm so out of shape?