There are 6188 Items in 516 pages; you are on page number 112
Michigan Cup / JOQ
Thu, Jan 13, 2011 - By Mike Muha
Wax recommendations for this weekend's Michigan Cup and Junior Olympic Qualifier races.
Thu, Jan 13, 2011 - By Lindsey MacDonald
Excited about this snow, but don't know what to do with it? Or, are you an avid skier looking to hone some technical skills? Come learn cross-country skiing and snowshoeing basics and beyond.
Nordic World Ski Championships
Thu, Jan 13, 2011 - By US Ski Team
World Championship silver medalist Kikkan Randall (Anchorage) will lead a strong 2011 U.S. Cross Country World Championship Team to compete at Holmenkollen in Oslo beginning Feb. 24. Randall is one of 14 athletes named Wednesday to compete.
Thu, Jan 13, 2011 - By Amy Powell
PSIA skier workshops, instructor training, exam prep and exams with Lou Awodey & Eric Davidson at Timber Ridge Resort. Registration deadline: January 14.
Thu, Jan 13, 2011 - By DNRE
Maybury State Park and REI are hosting a cross country ski and snowshoe demo day on Saturday, Feb. 5, from 10 a.m. to 2 p.m., given area residents a chance to try out winter outdoor recreation gear.
USSA College Cup
Wed, Jan 12, 2011 - By Calvin Larson
The Northern Michigan University menís and womenís Nordic skiing teams competed at the 2011 US Nordic Skiing Championships in Maine last week. The team placed third in the USSA College Cup and Andy Liebner won the top male collegiate skier award.
Tue, Jan 11, 2011 - By Rick Halling

Available at your favorite Atomic dealer now is the new SNS Wedge 60. Putting these on your skis is almost like giving them a banned substance, only these new 60mm Wedges have been approved by the FIS and IBU.
Tue, Jan 11, 2011 - By Sara Cockrell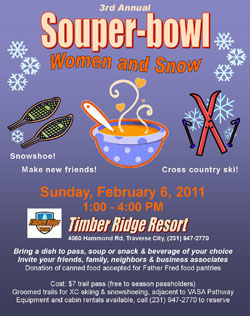 The 3rd Annual "Soup-er Bowl, Women & Snow" will be held on Sunday, February 6 from 1:00-4:00 PM at Timber Ridge Resort, where it's always warm & cozy around the fire.
Mon, Jan 10, 2011 - By Mike Muha
Hey! We have snow and a great 1km loop that has a doubletrack and a wide skating lane. Time to have night sprint races to warm up for the Frosty!
Mon, Jan 10, 2011 - By Mike Muha
Coach Eli Brown is offering free coaching every Monday night at 8:00pm at Timber Ridge Lodge in Traverse City until the North American Vasa.
US Cross Country Ski Championships
Mon, Jan 10, 2011 - By US Ski Team and Ian Harvey

Junior skier Jesssica Diggins, 19, (Afton, MN) and Olympian Torin Koos (Wenatchee, WA) battled an intensely motivated national championships field to take the top spots at the U.S. Cross Country Championships in the freestyle sprint Saturday.
Mon, Jan 10, 2011 - By US Ski Team
The U.S. Cross Country Ski Team selected 13 athletes Saturday in Rumford, ME at the 2011 U.S. Cross Country Championsips to represent the U.S. in the 2011 World U-23 Cross Country Ski Championships in Otepaa, Estonia Jan. 27-31.
Strength, Balance, & Core training for the Nordic Skier


Help support the NordicSkiRacer web site!

NordicSkiRacer
says, "Join the AXCS today! Promote XC skiing & get great benefits for yourself."


Recommended