There are 673 Items in 57 pages; you are on page number 14
Sat, Feb 19, 2011 - By Mike Muha
Adam's the man! He called to say he's groomed a 700 yard x 15 foot skate lane this morning, starting at the first downhill on the Frosty course, along the fence.
Mon, Feb 7, 2011 - By Vasa

As you know, Valentine's Day this year falls on Monday Feb. 14th. To assist Cupid (and you), we have added a non-timed tour for Sunday afternoon at Timber Ridge Resort. Cross-country skiing and snowshoeing will run form 1-4pm.
Mon, Feb 7, 2011 - By Sara "Energizer" Cockrell

Here are photos from the MOST AWESOME backcountry XC ski trip I could have EVER experienced, especially since we had purr-fect weather, 20-degrees, little wind & mostly sunny, dressed in my Michigan XC ski clothes every day, except one!
Tours
Fri, Feb 4, 2011 - By DNRE
Cheboygan State Park will hold a "GO-Get Outdoors" lantern lit cross-country ski outing on Saturday, Feb. 26, from 5:30 to 9 p.m.
Thu, Jan 27, 2011 - By Sara Hoovler
The West Yellowstone Ski Education Foundation (WYSEF) has coordinated with the Hebgen Lake Forest Service District to offer a FREE ski day (PDF) at the Rendezvous Ski Trails on Saturday, January 29th.
Wed, Jan 26, 2011 - By DNRE
"The Recreation Passport appears to be off to a solid start with Michigan residents," said Department of Natural Resources Director Designate Rodney Stokes.
Fri, Jan 21, 2011 - By FIS
As part of the international FIS Campaign' 'Bring Children to the Snow', the World Snow Day aims to encourage a large number of children, their families and friends to participate in an annual snow festival involving various activities on single weekend.
Thu, Jan 13, 2011 - By DNRE
Maybury State Park and REI are hosting a cross country ski and snowshoe demo day on Saturday, Feb. 5, from 10 a.m. to 2 p.m., given area residents a chance to try out winter outdoor recreation gear.
Tue, Jan 11, 2011 - By Sara Cockrell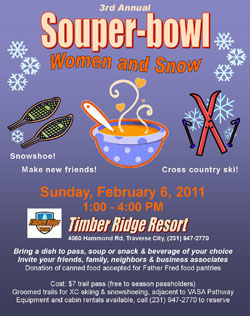 The 3rd Annual "Soup-er Bowl, Women & Snow" will be held on Sunday, February 6 from 1:00-4:00 PM at Timber Ridge Resort, where it's always warm & cozy around the fire.
Tour de Ski
Fri, Jan 7, 2011 - By FIS
Dario Cologna was unbeatable on the sixth stage of Tour de Ski and won his fifth Tour de Ski stage victory.
Sat, Dec 25, 2010 - By Vasa Ski Club

In an effort to promote and support XC skiing in the Grand Traverse area and encourage community health, the Vasa Ski Club, Vasa Board and Timber Ridge Resort have combined efforts to offer skiing events focused on family and individuals having fun.
Fri, Dec 24, 2010 - By Mike Muha
Bill Froehlich talked with Timber Ridge and Brick Wheels to find out how the partnership will benefit both businesses.Just in time for the winter season, one area business is expanding to serve those who love the great outdoors.
Strength, Balance, & Core training for the Nordic Skier


Help support the NordicSkiRacer web site!

NordicSkiRacer
says, "Join the AXCS today! Promote XC skiing & get great benefits for yourself."


Recommended