There are 5956 Items in 497 pages; you are on page number 157
Junior World Ski Championships
Thu, Jan 28, 2010 - By US Ski Team
The USA had five competitors land in the top 30 in Wednesday's World Junior Championships 5K/10K Classic.
Olympics
Thu, Jan 28, 2010 - By Cross CountryCanada
The roster includes Chandra Crawford and Sara Renner plus Brian Mckeever, the first winter sports athlete to compete in both the Olympic and Paralympic Games.
Junior World Ski Championships
Wed, Jan 27, 2010 - By FIS
Hanna Brodin (SWE) and Thomas Northug (NOR) took the victory at the FIS Nordic Junior World Ski Championships in Hinterzarten/Notschrei in the sprint competition.
Wed, Jan 27, 2010 - By FIS and US Ski Team
Erik Bjornsen (Mazama, WA/Methow Olympic Development Project) led the USA finishing 23rd in the freestyle sprint. Sophie Caldwell (Peru, VT/Dartmouth Ski Team) was the to American woman in 24th.
Olympics
Wed, Jan 27, 2010 - By US Ski Team
A week after naming the 2010 Olympic Cross Country Ski Team, two additional athletes have been added to the roster with expanded quotas received Tuesday by theUSSA. Named to the Olympic Team were Holly Brooks and Garrot Kuzzy.
Gear Preview
Wed, Jan 27, 2010 - By Swix

Triangular shaft, interchangeable baskets that screw on to the shaft with a nut, better strap. Has Swix built a better pole? See the video.
Wed, Jan 27, 2010 - By Judy Vajda

Have a chance to take home up to $3,750 and help maintain the VASA Trail. There has been considerable damage done to the VASA trail this year by 4-Runners and trucks so this raffle is more important than ever.
CCSA
Tue, Jan 26, 2010 - By Dylan Dethier
Day 2 of the Central Super Tour races at Theodore Wirth Park brought a host of strong competition, but the CCSA represented itself well throughout the leaderboards on both the men's and women's sides.
Tue, Jan 26, 2010 - By Pete Vordenberg

Reports from Kikkan, Morgan Arritola and Liz Stephen... photos from Utah, Alaska, a word on Olympics...
CCSA
Tue, Jan 26, 2010 - By Dylan Dethier
A capsule preview of each Central Collegiate Ski Association conference school.
Music video
Tue, Jan 26, 2010 - By FIS

The official song for the FIS Nordic Junior World Ski Championships 2010 in Hinterzarten, Germany. Something new, something old...
Paintball Biathlon
Mon, Jan 25, 2010 - By Pete Edwards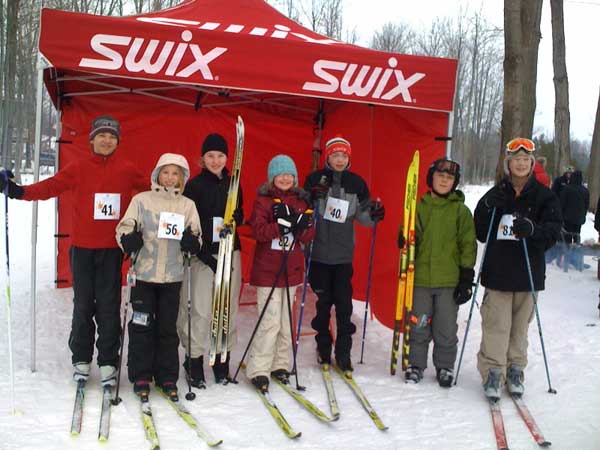 On Saturday, Jan. 16th Crystal Mountain's Nordic Center hosted their first ever Cross Country Ski and Paintball Biathlon. Over 100 skiers participated - a pretty impressive first year turn out.
Strength, Balance, & Core training for the Nordic Skier


Help support the NordicSkiRacer web site!

NordicSkiRacer
says, "Join the AXCS today! Promote XC skiing & get great benefits for yourself."


Recommended