There are 4011 Items in 335 pages; you are on page number 244
Wed, Oct 24, 2007 - By US Ski Team
Teammate Torin Koos led the quarterfinal and semifinal heats of the classic technique race, but Newell took charge on the final uphill and breezed to victory over the last few hundred meters; Koos finished fourth.
Tue, Oct 23, 2007 - By Pete Vordenberg, TeamToday.org

The boys qualified 2nd and 4th even though they started 30 minutes after the top seed and the track went from OK to mush. Torin won both his heats but faded in the final. Andy skied to 2nd in both of his heats but fired it up to win the final.
Tue, Oct 23, 2007 - By Leslie Hamp & Cherie Morgan
An elated Ned Zuelsdorff, ABSF Executive Director, today announced the fundraising challenge to raise more than $65,000 in 30 days was exceeded.
Mon, Oct 22, 2007 - By US Ski Team
Anchored by sprint stars Andy Newell, Torin Koos and Kikkan Randall, the U.S. Cross Country Ski Team opens the 2008 season with three World Cup podium performers and a top-5 distance skier.
Fri, Oct 19, 2007 - By FIS
The traditional Pupilsí Summer Grand Prix, held in conjunction with the FIS Nordic Combined Summer Grand Prix in Klingenthal (GER), included a new category of competitors: girls aged 14-15.
Thu, Oct 18, 2007 - By USADA
The U.S. Anti-Doping Agency announced the election of three-time Olympian Carl Swenson to the USADA Board of Directors. Swenson, who competed in cross country skiing at the 1994, 2002 and 2006 Olympic Winter Games, will serve as an athlete member.
Thu, Oct 18, 2007 - By US Ski Team

Paralympic and World Championships gold medalist and former World Cup champion Steve Cook, who was the cornerstone of the U.S. Disabled Cross Country Ski Team for the better part of a decade, has retired.
Wed, Oct 17, 2007 - By Bob Richards, Northern Illinois Nordic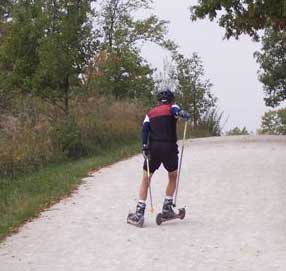 An off-road (crushed limestone) low-key, fun, rollerski/CAT Ski Time Trial approximately 10K in length. The course is in very good condition, won't be crowded, and has NO road crossings.
Mon, Oct 15, 2007 - By FIS
The FIS Injury Surveillance System (FIS ISS) was established prior to the 2006-2007 season with the ultimate aim of reducing the injury rates with elite skiers and snowboarders.
Fri, Oct 12, 2007 - By USSA
The 2008 U.S. Cross Country Championships will conclude with long-distance races on a rugged course March 28-30 in Fairbanks, Alaska. This marks the first U.S. championships held in Alaska since 1994.
Fri, Oct 12, 2007 - By USSA
Avis Rent A Car System, LLC announced that it has been named the official rental car company of the U. S. Ski and Snowboard Association (USSA), the national governing body for Olympic skiing and snowboarding.,
Thu, Oct 11, 2007 - By Spencer Ruffner, Team NordicSkiRacer
The 1st Annual NE Lenawee CROP (Communities Responding to Overcome Poverty) Run in Macon, Michigan raised $230 dollars for charity.
Strength, Balance, & Core training for the Nordic Skier


Help support the NordicSkiRacer web site!

NordicSkiRacer
says, "Join the AXCS today! Promote XC skiing & get great benefits for yourself."


Recommended