There are 4017 Items in 335 pages; you are on page number 245
Thu, Oct 18, 2007 - By US Ski Team

Paralympic and World Championships gold medalist and former World Cup champion Steve Cook, who was the cornerstone of the U.S. Disabled Cross Country Ski Team for the better part of a decade, has retired.
Wed, Oct 17, 2007 - By Bob Richards, Northern Illinois Nordic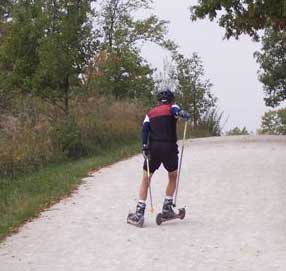 An off-road (crushed limestone) low-key, fun, rollerski/CAT Ski Time Trial approximately 10K in length. The course is in very good condition, won't be crowded, and has NO road crossings.
Mon, Oct 15, 2007 - By FIS
The FIS Injury Surveillance System (FIS ISS) was established prior to the 2006-2007 season with the ultimate aim of reducing the injury rates with elite skiers and snowboarders.
Fri, Oct 12, 2007 - By USSA
The 2008 U.S. Cross Country Championships will conclude with long-distance races on a rugged course March 28-30 in Fairbanks, Alaska. This marks the first U.S. championships held in Alaska since 1994.
Fri, Oct 12, 2007 - By USSA
Avis Rent A Car System, LLC announced that it has been named the official rental car company of the U. S. Ski and Snowboard Association (USSA), the national governing body for Olympic skiing and snowboarding.,
Thu, Oct 11, 2007 - By Spencer Ruffner, Team NordicSkiRacer
The 1st Annual NE Lenawee CROP (Communities Responding to Overcome Poverty) Run in Macon, Michigan raised $230 dollars for charity.
Tour from A-Z
Thu, Oct 11, 2007 - By FIS
The Sprint Bonus Seconds for the Overall FIS Tour de Ski Ranking will be calculated as listed below. Bonus Seconds are subtracted from the competitor's actual racing time before being added into the overall time score.
Thu, Oct 11, 2007 - By FIS
Beside the injury of Tor Arne Hetland, who had some problems with his tendon and had a cast on his arm for six weeks, and Odd-Bjoern Hjelmeset, who had a virus infection in his eyes due to an insect bite; Iím very satisfied with our preparations.
Tue, Oct 9, 2007 - By USSA
The USSA Competition Guide for each sport has been published and is now available online! Copies will also be mailed to all renewed USSA members in October.
Tue, Oct 9, 2007 - By FIS - Martina Honzlova
The Golden Ski is the most famous skiing competition organized in Nove Mesto and belongs among the oldest skiing races in the Czech Republic and in Europe. The first edition took place on 6th-7th January 1934.
Mon, Oct 8, 2007 - By USSA
According to Race Director Scott Wilson, teams will still stay at Telemark and a charter bus will take the field of athletes and coaches from the Telemark Resort to Dulth on the morning of the competition.
Sat, Oct 6, 2007 - By Leslie Hamp
In a fast and furious attempt to raise $65,000 to meet a challenge issued to the American Birkebeiner Ski Foundation (ABSF), Executive Director Ned Zuelsdorff today announced donations are nearly one-third of the way toward the goal.
Strength, Balance, & Core training for the Nordic Skier


Help support the NordicSkiRacer web site!

NordicSkiRacer
says, "Join the AXCS today! Promote XC skiing & get great benefits for yourself."


Recommended