There are 6188 Items in 516 pages; you are on page number 30
World Cup: Stockholm
Thu, Mar 21, 2013 - By USSA

Racing around the picturesque Royal Palace, Andy Newell placed 11th and took the top finish for the USA in the Royal Palace Classic Sprint. In the womenís race, Ida Sargent placed 20th while World Champion Kikkan Randall was 22nd.
NCAA
Thu, Mar 21, 2013 - By Stella Holt

A recap of the 2013 Nordic National Championship races...on video.
Bond. James Bond
Thu, Mar 21, 2013 - By Jerry Kokesh

James Bond like you've never seen him. World Cup Biathletes in a spy movie, filmed in Antholz, Oslo, Sochi and Khanty Mansiysk during the 2012-13 season.
NCAA
Fri, Mar 15, 2013 - By CCSA

The CCSA skiers ended the 2013 season on a positive note, capturing three All-American spots and placing five student-athletes in the top 15 (and seven in the top 25) at the final day of the NCAA Championships at Middlebury College.
NCAA
Fri, Mar 15, 2013 - By CCSA

Northern Michiganís Erik Soderman grabbed his second All-American honor in as many years in the menís 10K interval start classic at the NCAA Championships in Middlebury, Vt.
World Cup: Drammen
Fri, Mar 15, 2013 - By USSA

Kikkan Randall (Anchorage) finished fifth in the womenís classic sprint, keeping up with the fast heat and crushing the brutal uphill finish. Justyna Kowalczyk from Poland took the top spot for women.
Thu, Mar 14, 2013 - By VBT

VBT will offer a group trip to the 2014 Marcialonga and Dolomitenlauf Worldloppet races. Registration for VBT's 2014 Worldloppet Ski Tour closes on April 30, 2013.
Ski Orienteering World Championships
Wed, Mar 13, 2013 - By Ali Crocker

We had a team of six (three women, three men) representing the USA in six different races. In ski-orienteering, the distances aren't set because the courses are different each time.
Tue, Mar 12, 2013 - By Nick Baic

The junior skiers from Great Lakes were on the podium at this year's J2 National Championships in New Hampshire!
Tue, Mar 12, 2013 - By Michael H. Babcock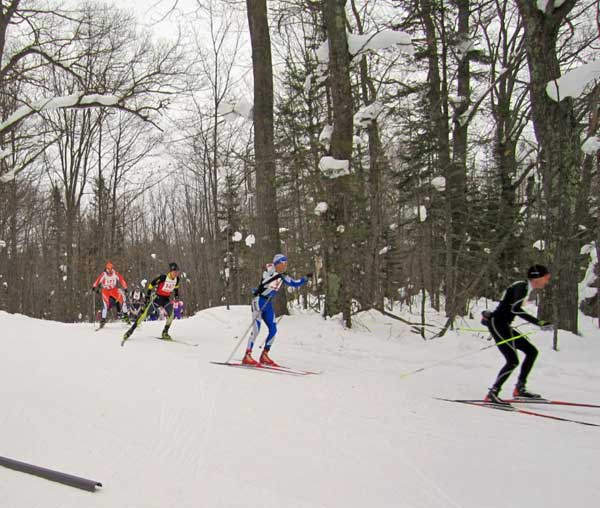 It was a near-record year for the Portage Health Great Bear Chase Ski Marathon in Calumet, Michigan, with 493 skiers participating in Saturday's ski race.
Michigan Cup: Muffin Race
Tue, Mar 12, 2013 - By Bob Ampulski

2013 Muffin Races at the Cross Country Ski Headquarters in Roscommon, MI. There are two videos, one for the Pursuit Race, one for the 1km kids race.
Michigan Cup: Michigan Cup Relays
Mon, Mar 11, 2013 - By Mike Muha

As we turned off the highway to the Cross Country Ski Headquarters, the rain magically stopped. Maybe the Michigan Cup Relays would be dry after all.
Strength, Balance, & Core training for the Nordic Skier


Help support the NordicSkiRacer web site!

NordicSkiRacer
says, "Join the AXCS today! Promote XC skiing & get great benefits for yourself."


Recommended