There are 6170 Items in 515 pages; you are on page number 360
Sat, Oct 20, 2007 - By CXC Skiing
This will be a great weekend Camp for training and technique instruction with the entire CXC Olympic Development Team of athletes and coaches.
Video
Fri, Oct 19, 2007 - By Andy Newell

Clips from the cross country ski movie 'American Skier' by X Ski Films. directed by Andrew Newell.
Fri, Oct 19, 2007 - By FIS
The traditional Pupilsí Summer Grand Prix, held in conjunction with the FIS Nordic Combined Summer Grand Prix in Klingenthal (GER), included a new category of competitors: girls aged 14-15.
Kris Freeman
Fri, Oct 19, 2007 - By Zach Caldwell
Kris did his Sunapee time trial this morning in 20:31 - 13 seconds faster than his previous best time, and 18 seconds faster than last November. He paced the effort fairly conservatively today, and the result was obviously much better than on Oct 4th.
Thu, Oct 18, 2007 - By Mike Muha

One group skiing classic, the other perfecting skating without poles. Everyone enjoying the sun and warm temperatures.
Thu, Oct 18, 2007 - By USADA
The U.S. Anti-Doping Agency announced the election of three-time Olympian Carl Swenson to the USADA Board of Directors. Swenson, who competed in cross country skiing at the 1994, 2002 and 2006 Olympic Winter Games, will serve as an athlete member.
Thu, Oct 18, 2007 - By US Ski Team

Paralympic and World Championships gold medalist and former World Cup champion Steve Cook, who was the cornerstone of the U.S. Disabled Cross Country Ski Team for the better part of a decade, has retired.
Wed, Oct 17, 2007 - By Andrew Gardner, Middlebury College
Video footage from the Whiteface Mountain rollerski time trial this past weekend.
Kris Freeman
Wed, Oct 17, 2007 - By Zach Caldwell
Kris started the race according to plan - fairly conservatively. He heard Duncan behind him and figured that the pack was there. By the time he turned around to take a look, about three minutes into the race, they had put a pretty big gap on the field.
Wed, Oct 17, 2007 - By Bob Richards, Northern Illinois Nordic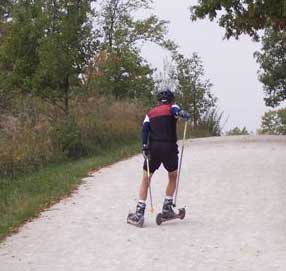 An off-road (crushed limestone) low-key, fun, rollerski/CAT Ski Time Trial approximately 10K in length. The course is in very good condition, won't be crowded, and has NO road crossings.
Kris Freeman
Tue, Oct 16, 2007 - By Zach Caldwell
Todayís session was double-pole intervals - 5X3min with 4 min recovery, targeting 10mMol/L by the end of the workout. Krisís plan was to sit-in on the sprinters for at least the first couple of intervals, and then see how it was going.
Tue, Oct 16, 2007 - By Pete Vordenberg, TeamToday.org

The essential steps: set an overall goal, find ways of measuring progress, concentrate on what you are doing, develop the skills necessary to take advantage of the opportunities available, AND keep raising the stakes.
Strength, Balance, & Core training for the Nordic Skier


Help support the NordicSkiRacer web site!

NordicSkiRacer
says, "Join the AXCS today! Promote XC skiing & get great benefits for yourself."


Recommended