There are 6171 Items in 515 pages; you are on page number 374
Thu, Jul 26, 2007 - By US Ski Team

In the scorching days of summer, the Ski Team and Soldier Hollow created a new 1.5K roller-ski track, which opened in mid-July. The new paved, as-yet-unnamed, roller-ski loop boosts Soldier Hollow's blacktopped roller-ski terrain to about 7.5 kilometers.
Technique Video
Wed, Jul 25, 2007 - By Mike Muha
This video was posted on YouTube by NENSA. It's interesting comparing Kris's technique to others in the video.
Tue, Jul 24, 2007 - By Mike Muha
Smart call! After rollerski intervals on Saturday, I drove to the gym to lift weights. I had both a quality rollerski session and a quality weight session.
Review
Tue, Jul 24, 2007 - By Mike Muha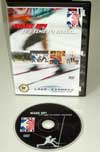 This DVD is geared toward the racer. Almost everything in the DVD is of use by the serious master skier. Just having videos of different drills - both technique, speed, and strength - made this video very worthwhile for me.
Mon, Jul 23, 2007 - By US Ski Team
The U.S. Ski and Snowboard Association broke ground Wednesday on its $22.5 million Center of Excellence - 'the most significant event in our 102-year history.'
Sun, Jul 22, 2007 - By CXC Skiing
CXC Skiing will auction titanium hand build custom sized Eriksen road and mountain bikes with a value exceeding $5,000 each to support the CXC Ski Team Ė Olympic Development Program.
Fri, Jul 20, 2007 - By Mike Muha
Lesson: Plan your training schedule so you're rested for your most important sessions.
Fri, Jul 20, 2007 - By CCSS
The annual Cros Country Ski Shop SUMMER SALE runs from Friday, July 20 through Wednesday July 25, from 10am to 5pm.
Photos
Fri, Jul 20, 2007 - By US Biathlon Association

A group of 10 youth and junior athletes from across the country gathered in Lake Placid for a week long training camp in July with the goal of increasing their knowledge of both shooting and effective training.
Thu, Jul 19, 2007 - By FIS
The 2007-2008 edition of the FIS Marathon Cup will include 10 races, nine of which are Worldloppet races.
Wed, Jul 18, 2007 - By US Biathlon Association
New Gloucester, ME, July 16. Doug Hoover won all three menís competitions this weekend at the North American and US Summer Biathlon National Championships in Fort Kent.
Tue, Jul 17, 2007 - By Hugh Pritchard

A few pointers for skiers watching the Tour de France and wondering what the country is like for a skier and rollerskier!
Strength, Balance, & Core training for the Nordic Skier


Help support the NordicSkiRacer web site!

NordicSkiRacer
says, "Join the AXCS today! Promote XC skiing & get great benefits for yourself."


Recommended