There are 6185 Items in 516 pages; you are on page number 406
Photos
Sun, Feb 11, 2007 - By Kim Ciesla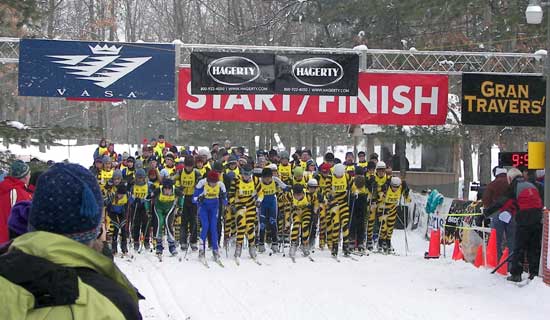 Photos from the 12km event at Satruday's North American Vasa.
Photos
Sun, Feb 11, 2007 - By Maureen Perkins

Do we ski to eat, or eat to ski? Photos, mostly of juniors, eating and skiing...
Sun, Feb 11, 2007 - By Swix Racing
MB77 has great dirt repelling capabilities due to BD and flouro, and the BD also works as a lubricant in dryer conditions.
Sat, Feb 10, 2007 - By Swix Racing
Is the temperature range listed on Swix wax air or snow temperature? If it is air temperature, how do you take into account for wind chill?
Fri, Feb 9, 2007 - By Bob Otwell
The Vasa Pathway will be groomed tonight in preparation for tomorrows race - the groomers report the trail should be perfect!
Fri, Feb 9, 2007 - By Vasa News
We will have the heated South Bathhouse available for skiers and they have added over 100 parking spaces for special events.
Fri, Feb 9, 2007 - By James Monroe
Swix has posted a wax recommendation for Sunday's Gran Travers Classic race.
Results
Fri, Feb 9, 2007 - By Mark Esper
Results from the February 6 2007 Classic Race at Timber Ridge.
Fri, Feb 9, 2007 - By Missy Luyk
Get your skis and snowshoes ready for the inaugural Leelanau Trail Snow Day in Suttons Bay on February 24. Just show up with your skis, snowshoes and friends and head out on the Leelanau Trail.
Fri, Feb 9, 2007 - By White Pine Stampede
Our contribution to Children's Hospital Of Michigan was nearly $2500, including an extra $600 contributed above the $5.00 deduction from each registration fee.
Thu, Feb 8, 2007 - By James Monroe
Swix and Toko wax recommendations for the North American Vasa this Saturday, Feb 10, 2007.
Thu, Feb 8, 2007 - By Pete Edwards

The Great Lakes Nordic Ski Council has named Nick Baic of Walloon Lake, Michigan the 'Ski Coach of the Year'. Coach Nick receives this special award and recognition because of the countless hours he has dedicated to promoting cross country skiing.
Strength, Balance, & Core training for the Nordic Skier


Help support the NordicSkiRacer web site!

NordicSkiRacer
says, "Join the AXCS today! Promote XC skiing & get great benefits for yourself."


Recommended