There are 6168 Items in 514 pages; you are on page number 459
zXItgWujJpUlnW
Fri, Feb 24, 2006 - By eoenslnm
Swix web site is back up! Here's links to Solda, Swix, Toko and Fast Wax wax recommendations for this year's Birkie. ,
Thu, Feb 23, 2006 - By Susan Brian
The Noquemanon Trail Network (NTN) is pleased to announce it has received a large land donation from JM Longyear, LLC.
Thu, Feb 23, 2006 - By DNR
There is still room for cross country skiing enthusiasts to join the lantern-lit night ski outing this Saturday at Hartwick Pines State Park. Night skiing is available from 6 to 9 p.m.
Thu, Feb 23, 2006 - By US Ski Team
The new initiatives, designed to impact the program for the 2010 and 2014 Olympic Winter Games by building on recent successes, will feature both expanded World Cup support and the re-start of an athletic development program for the 2006-07 season.
Results
Thu, Feb 23, 2006 - By Jim Monroe
Results from the February 21, 2006 4K Classic Time Trial at Hickory Hills, Traverse City.
Thu, Feb 23, 2006 - By Action Sports Images
Photos from the 2006 Vasa are available.
Thu, Feb 23, 2006 - By Jeff Potter
That's the amazing thing about XC compared to other skisport: when you do it right you get sweet glide going UP the hills. In fact, I think uphill glide is sweeter than the obviousness of descending.
Thu, Feb 23, 2006 - By Dieter Hohnke
Today was the 63K Tartu Loppet in Estonia. A difficult race on a technically moderate course BUT lots of rolling terrain.
Thu, Feb 23, 2006 - By John Fauber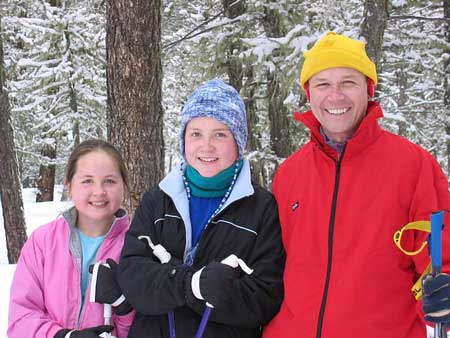 In January 2002, Ogawa, 43, was diagnosed with acute myelogenous leukemia. Ogawa, who is married with two daughters, will ski in the 9th wave of the Birkie this year. His bib number is 29159.
Wed, Feb 22, 2006 - By Blair Orr
For more than a decade the state Nordic skiing state title has moved back and forth between Marquette and Traverse City with other schools scrambling behind. Over the weekend the Copper Country Ski Tigers finally broke the two city domination.
Wed, Feb 22, 2006 - By Nick Baic
Great Lakes District points list after the Houghton High School Championships on Feburary 18-19, 2006,
2006 Torino Olympics
Wed, Feb 22, 2006 - By US Ski Team
Although he was 2nd overall in qualifications, Andy Newell had to settle for 16th in the finals.
Strength, Balance, & Core training for the Nordic Skier


Help support the NordicSkiRacer web site!

NordicSkiRacer
says, "Join the AXCS today! Promote XC skiing & get great benefits for yourself."


Recommended