There are 6188 Items in 516 pages; you are on page number 466
Trail Report Winners
Fri, Feb 10, 2006 - By Mike Mha
Jim Datsko is January's trail report winner. Jim joins November and December's winners George Gambert and Doug Cornell in receiving a copy of 'The New Steady Ski'.
Thu, Feb 9, 2006 - By Roger Putman
The Crystal Highlander Classical race and tour is scheduled for Sunday, February 19th. Please call and let us know if you are planning on coming
Thu, Feb 9, 2006 - By Vasa Trails
After receiving 6 to 12 inches of new snow on the Vasa trail last Saturday night and Sunday, conditions could not be better for the 30th Vasa.
Thu, Feb 9, 2006 - By Denny Paull
Because most racers register just before or the day of the race, ordering shirts and food becomes pretty tricky. To help ensure a quality event, it would be greatly appreciated if all those who plan to likely attend could send me an e-mail ASAP!
Thu, Feb 9, 2006 - By Jeff Kalember
Brrrrrrrrrrrrrrrrrrrrr -- I forgot what 9 degrees feels like. Rock solid track freshly groomed.
SuperTour
Wed, Feb 8, 2006 - By Corey Coogan

The tremendously successful CXC FIS SuperTour Series hosted by Central Cross-Country Skiing, overcame everything mother nature threw at them to wrap up the four-week loop around the Midwest last weekend.
SuperTour
Wed, Feb 8, 2006 - By Corey Coogan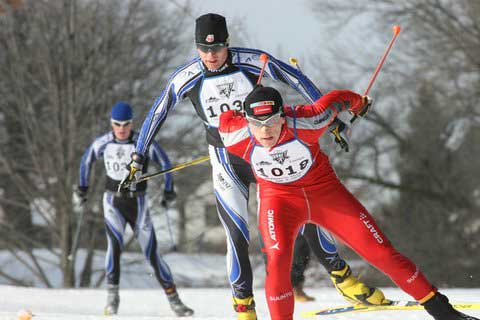 Warned to use rock skis or a "B-pair" of boards, athletes entered the event with relatively low expectations for course conditions. What greeted them on the trail was an extremely positive surprise.
SuperTour
Wed, Feb 8, 2006 - By Corey Coogan
The morning qualifying course was less than 1000 meters and climbed up and down one long hill in a series of ascents, descents, and curves.
Wed, Feb 8, 2006 - By James Monroe
Conditions for tonights 4 K classic sprints were ideal. The temperature was about 24 degrees at the start and the race course had a nice set of double tracks set for the sprint. The Staff at Timber Ridge did a great job of grooming and setting.
Tue, Feb 7, 2006 - By Mike Muha

Swix is introducing The Direct Force Concept 'FORCE 10' Ski Pole in time for the 2006 Olympics. Dick Fultz discusses his experiences with them.
Mon, Feb 6, 2006 - By White Pine Stampede
The 2006 White Pine Stampede proves one thing for sure: you don't need snow to hold a cross country ski event, just a bunch of crazy skiers who are starved for snow; they will ski on anything!!
Photos
Sun, Feb 5, 2006 - By Mike Muha
Photos from the 2006 White Pine Stampede - third set.
Strength, Balance, & Core training for the Nordic Skier


Help support the NordicSkiRacer web site!

NordicSkiRacer
says, "Join the AXCS today! Promote XC skiing & get great benefits for yourself."


Recommended