There are 106 Items in 9 pages; you are on page number 5
2006 Torino Olympics
Thu, Feb 16, 2006 - By US Ski Team
With temperatures hovering just above freezing in a classical technique race, ski preparation was key. Wagner went with a klister base while Randall and the other U.S. skiers went with 'hairies.'
2006 Torino Olympics
Tue, Feb 14, 2006 - By US Biathlon Association
Olympic "rookies" Tim Burke and Lowell Bailey topped veteran biathletes Jeremy Teela and Jay Hakkinen today's 10K Sprint competition at the Torino Olympic Winter Games.
2006 Torino Olympics
Tue, Feb 14, 2006 - By US Ski Team
The cross country duo of Kikkan Randall and Wendy Wagner finished 10th in the Olympic Team Sprint Monday, marking the first time U.S. women have made finals in a top international contest.
Results
Mon, Feb 13, 2006 - By Mike Muha

Hugh Prichard and Jesse Smith battled it out on the course, but it was Hugh who nipped Jesse in the last moments of the race to win the 2006 Gran Travers 16km Classic cross country ski race. Julie Houle won for the women.
2006 Torino Olympics
Sun, Feb 12, 2006 - By Mike Muha

Russia's Eugeni Dementiev won the men's 30-km pursuit race in the cross-country skiing at the Torino Winter Olympics on Sunday, passing Frode Estil of Norway and Piller Cottrer of Italy in the final seconds.
2006 Torino Olympics
Sun, Feb 12, 2006 - By US Ski Team
In the first cross country race of the Torino Olympics, Rebecca Dussault (Gunnison, CO) was the top American finisher in 48th in the 15km Pursuit. Estonian Kristina Smigun won the gold medal.
Masters World Cup
Sun, Feb 12, 2006 - By World Masters
World Masters program and final results through Saturday, February 11, the final day of competition.
Results
Sat, Feb 11, 2006 - By Mike Muha
Justin Easter of the Suburu Factory Team won the 50K North American Vasa in 2:12:26, beating out Joseph Graci (2:19:02) and Joe Bettendorf of Team NordicSkiRacer.com (2:19:31).
2006 Torino Olympics
Sat, Feb 11, 2006 - By US Biathlon Association
Jay Hakkinen (Kasilof, AK) stamped his name in US Olympic History one more time as he finished 10th today in the 20K Individual competition, erasing his previous US best of 13th at the 2002 Salt Lake Olympic Winter Games.
Thu, Feb 9, 2006 - By Jeff Kalember
Brrrrrrrrrrrrrrrrrrrrr -- I forgot what 9 degrees feels like. Rock solid track freshly groomed.
SuperTour
Wed, Feb 8, 2006 - By Corey Coogan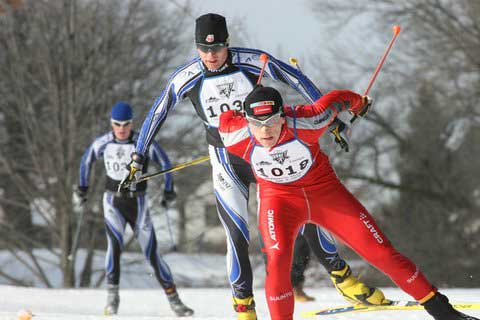 Warned to use rock skis or a "B-pair" of boards, athletes entered the event with relatively low expectations for course conditions. What greeted them on the trail was an extremely positive surprise.
SuperTour
Wed, Feb 8, 2006 - By Corey Coogan
The morning qualifying course was less than 1000 meters and climbed up and down one long hill in a series of ascents, descents, and curves.
Strength, Balance, & Core training for the Nordic Skier


Help support the NordicSkiRacer web site!

NordicSkiRacer
says, "Join the AXCS today! Promote XC skiing & get great benefits for yourself."


Recommended