There are 6119 Items in 510 pages; you are on page number 68
Fri, Dec 23, 2011 - By Hap Wright
NEW RACE OPTIONS! We're gonna try it again as the last one was pretty cool! We meet in the parking lot of the restaurant at Lakes of the North on Mancelona Road between Gaylord and Mancelona.
Thu, Dec 22, 2011 - By John Johnson
Free introductory classic or freestyle cross-country ski lessons will be offered at Midland City Forest, Pine Haven, CNC, Hanson Hills in Grayling, or local golf courses depending on snow.
Thu, Dec 22, 2011 - By Ken Dawson

The best thing about Fast Wax is that you can have your skis waxed with their top of the line fluorinated waxes for the same price as the top line brands storage wax. It is a great value that cannot be ignored.
Video
Wed, Dec 21, 2011 - By Ian Harvey

The video below demonstrates how to mix HF Blue and XCold Powder, a very common and successful combination.
Tue, Dec 20, 2011 - By Ellen Berends
The Muskegon Winter Sports Complex is extremely excited to partner with Mia and Grace for a seris of Nordic Nights Dine & Glides. This will be hands down one of the best culinary experiences in Michigan this winter!
Mon, Dec 19, 2011 - By St. Scholastica
The cancellation of the first weekend of racing, sent a small group of skiers from Northern Michigan University, Michigan Tech, and St. Scholastica to a single day, 10km freestyle mini-meet at the Michigan tech trail system.
World Cup: Rogla
Sun, Dec 18, 2011 - By USSA

FIS Cross Country World Cup leader Kikkan Randall set the pace in the opening heats but went down hard in a start crash that took her out of Sunday's finals, finishing sixth.
Sat, Dec 17, 2011 - By Curt Peterson

Two Wintercameandwente ski races took place today, with Eli Brown winning both. About 35 people were in attendance with most choosing to race these informal races.
World Cup: Rogla
Sat, Dec 17, 2011 - By USSA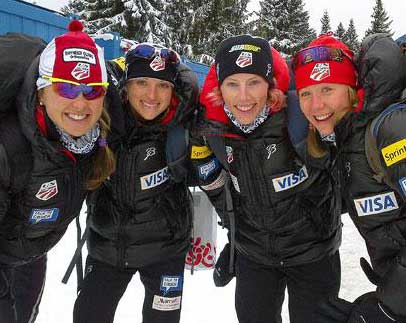 TheTeam's technicians delivered the skis with Kikkan Randall setting the pace finishing 11th, followed by Holly Brooks 19th and Liz Stephen 22nd in the 10k, with Andy Newell kicking off the day in a brilliant 24th in the men's 15k – all career bests.
Fri, Dec 16, 2011 - By Eli Brown

Since the season opener race in Gaylord has been cancelled (rescheduled), we need to make something happen! Come join in on this informal race and ski at Lakes of the North Golf Course near Mancelona.
Wed, Dec 14, 2011 - By Susan Kendrick
The 2012 Birkebeiner and Kortelopet races were capped and close on November 21. But there are 20 entries available through an MS auction. This is your last chance to get an entry for this year's race!
Wed, Dec 14, 2011 - By Toko USA

Who's who on the Toko Nordic World Cup Race Service Team...
Strength, Balance, & Core training for the Nordic Skier


Help support the NordicSkiRacer web site!

NordicSkiRacer
says, "Join the AXCS today! Promote XC skiing & get great benefits for yourself."


Recommended