There are 6183 Items in 516 pages; you are on page number 74
World Cup: Rogla
Sat, Dec 17, 2011 - By USSA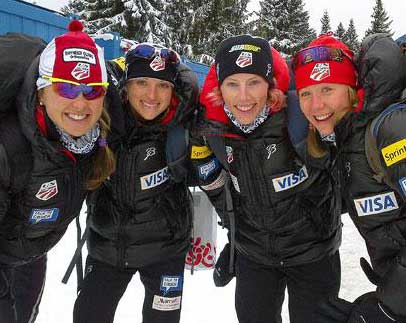 TheTeam's technicians delivered the skis with Kikkan Randall setting the pace finishing 11th, followed by Holly Brooks 19th and Liz Stephen 22nd in the 10k, with Andy Newell kicking off the day in a brilliant 24th in the men's 15k – all career bests.
Fri, Dec 16, 2011 - By Eli Brown

Since the season opener race in Gaylord has been cancelled (rescheduled), we need to make something happen! Come join in on this informal race and ski at Lakes of the North Golf Course near Mancelona.
Wed, Dec 14, 2011 - By Susan Kendrick
The 2012 Birkebeiner and Kortelopet races were capped and close on November 21. But there are 20 entries available through an MS auction. This is your last chance to get an entry for this year's race!
Wed, Dec 14, 2011 - By Toko USA

Who's who on the Toko Nordic World Cup Race Service Team...
Wed, Dec 14, 2011 - By Ryan Green

Rossignol has completed the reorganization of its Nordic division, including a new Nordic Division Manager, the appointment of a new Nordic Racing Coordinator, and the addition of five-regional Nordic tech reps in addition to the existing sales force.
Michigan Cup
Tue, Dec 13, 2011 - By Ernie Brumbaugh

The new date for the WinterSonnenwende fits nicely with the Michigan Cup schedule for a number of reasons. The only negative is that it won't count as a Junior Race as it conflicts with the Michigan High School Championships.
Tue, Dec 13, 2011 - By Chris Dandeneau

WinterSonnenwende is moving from this weekend (Dec 17) to February 18th, 2012 because of lack of snow.
Swix Camera Pack
Tue, Dec 13, 2011 - By Mike Muha

This belt is more of a specialty belt. My Sony DSC-H50 camera (right) is a little on the large size and doesn't fit into a normal water bottle belt. I need something with a bigger pocket to hold it.
Mon, Dec 12, 2011 - By MichiganTech

Michigan Tech posted four top-10 finishes in the 10-kilometer classic races at the Wolverine Challenge Sunday (Dec. 11).
Mon, Dec 12, 2011 - By Joe Buczek

"It's a really good start to the season," said head coach Sten Fjedheim. "There wasn't much snow so the course was challenging but our team is well trained and handled it well."
Ultimate Directions Solitaire
Mon, Dec 12, 2011 - By Mike Muha

The horizontal water bottle holder is OK, but the huge cargo space makes this water bottle belt a winner for classic skiers or folks who want to carry more gear.
World Cup: Davos
Sun, Dec 11, 2011 - By USSA

The U.S. Ski Team's Kikkan Randall turned on the afterburners in the backstretch and left the field stranded as she won her second straight FIS Cross Country World Cup sprint in the Swiss resort of Davos.
Strength, Balance, & Core training for the Nordic Skier


Help support the NordicSkiRacer web site!

NordicSkiRacer
says, "Join the AXCS today! Promote XC skiing & get great benefits for yourself."


Recommended