Got some fast, smooth pavement and like to go fast? You'll like the Pro-Ski S2. The road in Island Lake State Recreation area was repaved a few years ago - putting these skis on that road and doing V2 or V2-alternate is the definition of heaven! These fast skis also make it easy to work on techniques that require balance.
Pro-Ski S2 Skating Rollerski Facts

Wheel diameter:
70 mm (polyurethane)
Wheel width:
30 mm
Frame/Shaft Length:
680 mm
Weight:
1.5 kg
Boot & binding used for testing:
Salomon Carbon Pro Skate boot & Pilot binding.
To some extent, I'm going to compare this ski to another rollerski I have, the Jenex 850, which has similar width (33 mm) and diameter (70 mm) wheels. (If you've read my other reviews, you know I tend to like narrow wheels on my skating rollerskis. The 30-33 mm range is about as wide as I like to go. I just find narrower wheeled rollerski to be easier to get on edge for the push. Wider wheels just don't feel like snow skis to me. I also think wider wheels promote blisters on the inside arch of my feet).
What about those wheels?
These wheels are on the fast side. Not racing rollerski fast (so I've heard), but faster the most rollerskis I've skied. Think fast hardpack conditions. Because the rollerskis feel so effortless to get and keep moving, I find myself upping the pace over the hills on my distance sessions without realizing it, until my heart rate monitor starts beeping at me for being over my target range. If you've struggled with V2 up hills on slower rollerskis, try out the C2's - they make V2 effort seem much easier.
The first time on these skis, I thought they were a little squirrelly. I now know that I was putting my ski down on the outside edge, and I think that caused the instability. Since I've been working on landing on the flat of the wheel, I haven't had any stability issues.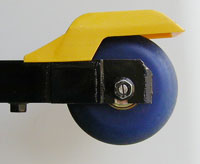 Rough pavements and rocks
The speed of these skis comes from the choice of wheel material: a relatively hard polyurethane. The skis tend to be a little slippery around sun-drenched asphalt patch, the stuff crews use to fill gaps in the pavement.
Like most smaller-diameter wheeled rollerskis - including the Jenex 850, rolling over rocks and sticks is not a strong point. It's doable; you just need to be aware of what you're doing. This is not an off-road ski. Really rough pavement can give your feet that vibrator effect. Although I didn't measure, I think the S2 has slightly more clearance over bumps than the 850's.
Downhills
Of course, having faster wheels means that downhills are faster, too. I found I could control speed by snowplowing to some extent, but I'd try to keep out of situations that force you to stop (i.e., stop signs at the bottom of a hill).
Wet pavement
I did not get to try the S2's in the rain. I would expect the fenders to be quite effective in keeping spray off the back of my legs. I would also expect that wet painted lines would be wicked to skate over with the polyurethane wheels.
Wheel Durability
I've put quite a few miles on these skis and the wheels only look slightly scuffed. A fellow rollerskier who's had a pair of S2's for years says the wheels very durable, and I believe him. I'd say these skis have a fairly low cost of ownership over the long run.
This is a big plus: I used to go through three sets of wheels on my Jenex 850's in a summer. Those were expensive rollerskis over time. And as the wheels wore, the skis tracked differently and the ground clearance lessened.
Snow Feel
These ski track nicely for me and feel like skis in fast snow conditions.
Bottom Line
Overall, I prefer the S2 to my old pair of Jenex 850's: better wheel durability will result in a ski that tracks better, and that means more fun skiing and less time spent trying to keep the skis going straight.
The Pro-Ski S2 will be attractive to a number of skiers:
Skiers who struggle to do V2 and V2-alternate.
Less strong skiers who want an easier-effort rollerski.
Skiers who just want to GO FAST!
Skiers who want an easier distance session when they're tired.
Skiers who don't have money to keep replacing wheels.
Overall, it's been a fun rollerski to ski.
Pro-Ski S2
Jenex 850
Pro
Long wheel life.
Nice rain fenders.
Light.
Fairy stable.
Snowplows OK.

Speed reducer option.
Light.
Fairy stable.
Snowplows OK.
Con
Too fast for big downhills.
Needs smoother pavement.

Wheels wear quickly.
Ineffective rain fenders.
Fast on the downhills.
Needs smoother pavement.

Full Disclosure: This web site's policy is that authors fully disclose any affiliation it has with vendors when reviewing their gear. In this case, TorbjornSport.com, the reseller of Pro-Ski rollerskis, pays to advertise on this site (assuming I ever get around to sending an invoice). - Mike Muha