2013 Results 2012 Results 2011 Results 2010 Results
Mother Nature decided to to favor the REI Frosty Freestyle a second year, and let it snow the week leading up to the event. Always the jokester, she decided to let it snow overnight, making the roads slippery and the trails soft. Then she started to blow. Poor Frosty the Snowman, racing the 5K Classic division with his big head and top hat, was nearly blown over.
The race grew by 38% over the 2010 inaugural year, with the number of skiers increasing from 160 to 220. All proceeds from the race will be donated to Huron Meadows Metropark to help them promote cross country skiing. In 2010, almost $2,600 was generated and used by the park to buy a fleet of skating rental skis.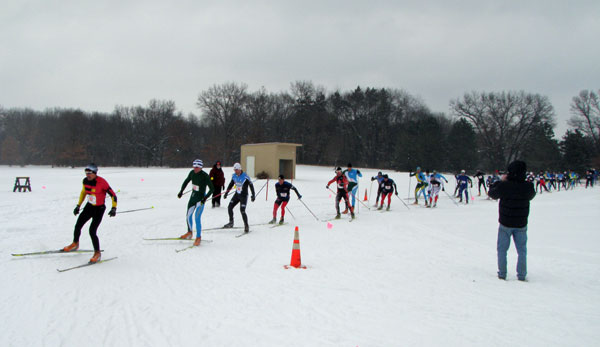 Start of the men's 15K. (All photos by Doug Guseman. More photos..)
There was pent up demand among Michigan Cup racers for a race: the last four races "up north" had been cancelled because of poor trail conditions. The Frosty Freestyle turned out to be the second Michigan Cup race of the season.
Now, the races... 2011 Frosty Freestyle Full Results (PFD)
15k Skate
Cheryl Darnton made it two in row, taking her second win in as many years in the Frosty Freestyle 15km Skate. The Ann Arborite finished in 54:22, a little more than 2 minutes ahead of Cheboygan's Tracy Hardin (56:24). Another Ann Arborite, Lindsey MacDonald was another couple minutes back, taking third in 58:30.
Perennial favorite Milan Baic from Williamsburg came down and smoked the competition, posting the fastest time of the day and winning the men's division in 43:33. John Gravlin from Cheboygan took third in 45:53, with Chris Strahm third in 46:13.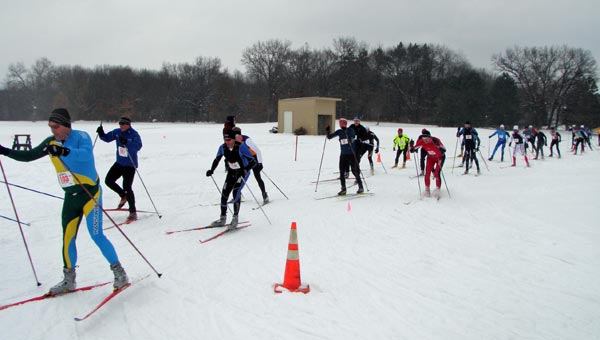 15k Classic
Mary Burrows of Pickney and West Bloomfield's Zigby Sloviski took top honors in the 15k Classic. Burrows finished first in 1:46:49, ahead of Cathy Kowalak of Ann Arbor (1:50:10) and Linda McGiness of Lake City (1:51:05).
Sloviski finished first in 1:17:58. In second and third were Adam Danes of Northville (1:19:27) and James Gobeski of Plymouth (1:19:34).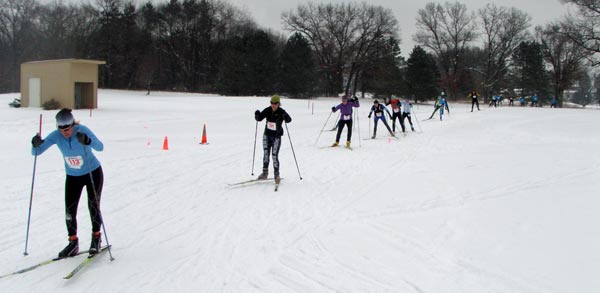 The 15k Women take off, lead by Tracy Hardin.
5k Skate
Megan Ditty of Ann Arbor not only had the fastest women's 5k skate time (24:09) but was third overall - men and women - in the 5k skate division. C.J. Karas of Rochester was second in the women's divisions - and fourth overall - just a minute behind in 25:08. Stacy Bee from Pleasant Ridge took third in 26:18.
The fastest male in the 5k was 14-year old Ryan Robinson of West Bloomfield, beating second place Matt Meersman of South Bend, Indiana 21:20 to 21:56, Coming in third was Shawn Minard of Wixom in 25:43.
The course
A week and a half leading up the event, there was no snow. In fact, Chief of Course Adam Haberkorn groomed a 1km backup course on Maltby Lake within Huron Meadows Metropark using a combination of equipment that included a gold course aerator (full details and video at Frosty Freestyle thumbs nose at Mother Nature: Race is on! and A look at the completed Frosty Freestyle alternative race course).
Then it started snowing, a little bit almost everyday and every night, until there was enough to run a race on the full Frosty race course. The course consisted of three loops of roughly 5k each: a loop to the north side of the golf course that was used by all racers, a loop on the hillier south side of the golf course, and a rolling loop mostly in the trees that circumnavigated Maltby Lake. The golf course was groomed with a trail that was 24 foot wide with classic tracks set on either side. The wind caused some drifting on the trail. Sections through the woods were a bit narrower.
The first 5k section had been rerouted slightly to take advantage of better snow and to get racers out of some of the wind. The second loop featured two new hills: a short steep drop followed a steep climb, and a longer but shallower downhill with a longer foll0wing uphill. The 5k course actually measured 5.1k; the 15k course as also went about a tenth of a kilometer long.
International star
Frosty the Snowman made a surprise visit to the race, skiing in the 5k Classic, snowman division, where he finished first in 38:56. He was 13th overall in the race.
2011 Frosty Freestyle Full Results (PFD)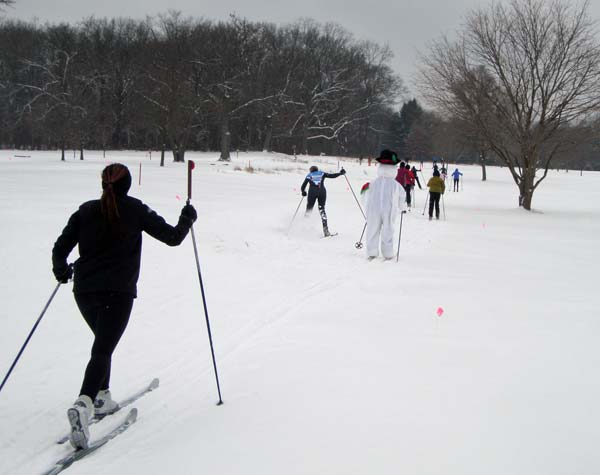 Frosty the Snowman on the hunt for skiers to pass...