Michigan Cup
Sat, Apr 12, 2014 - By Mike Muha and Ken Dawson

In a tight race, Erin Lipp claimed victory over Sarah Goble for the junior women. Iann Durand took the Junior Men's championship. Also, overall freestyle, classic, and combined Michigan Cup standings!
Sat, Apr 12, 2014 - By Mike Muha

This is the Michigan Cup Cross Country Ski Racing Series cream of the crop: the Top 10% of cross country ski racers of each age category. To get in the Michigan Cup Top 10% you have to maximize your points against your competitors.
Michigan Cup
Tue, Mar 18, 2014 - By Mike Muha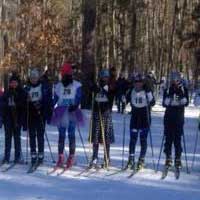 The 22nd Annual Muffin Race at the Cross Country Ski Headquarters closed out the Michigan Cup season. Heidi Schwab and Ian Durand took the wins in the pursuit-format race.
Thu, Mar 6, 2014 - By Mike Muha

Hanson Hills/Cross Country Ski Shop finished 1-2-3 on the podiums for both Senior Men and Senior Women. The Juniors still have one more race before the we can call winners.
Michigan Cup
Mon, Mar 3, 2014 - By John Gravlin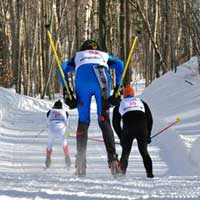 The lake start/finish of the Black Mountain races makes for an incredible spectator viewing of the skiers. Overall winners Phillip Tosteson and Mariah Frye Colie did not disappoint as they demonstrated beautiful skating technique finishing first.
Fri, Feb 28, 2014 - By Mike Muha

UPDATED: The biggest battle is between Sarah Goble (Team NordicSkiRacer) and Erin Lipp for the title of top Junior Girl. Both have 992 points. it appears HH/CCSS will need to get a good turnout at the Relays to unseat XCHQ for the Michigan Cup.
Michigan Cup
Sat, Feb 22, 2014 - By Mike Muha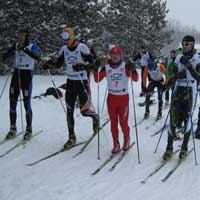 Junior Erin Lipp was the top women, while the "Ryans" (Ryan Halstead and Ryan Harris) once again fought to the end, with Halstead winning in a photo finish.
Fri, Feb 21, 2014 - By Larry Brownell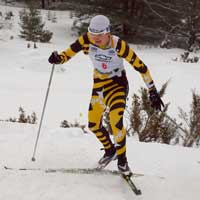 Photos from the Michigan High School cross country ski championships by Larry Brownell.
Thu, Feb 20, 2014 - By Mike Muha

Sean Brown and Sarah Goble lead the juniors while Kaityln Patterson and Alex Vanais lead the seniors.
Tue, Feb 18, 2014 - By Mike Muha
The Michigan High School Championships were held on the Vasa Ski Trail in Traverse City, Michigan this past Friday and Saturday, February 14 and 15. Friday was the classic sprint, while skiers raced a pursuit on Saturday.
Sun, Feb 9, 2014 - By Mike Muha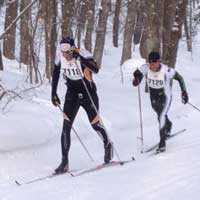 Milan Baic came back from a third place finish in yesterday's brutal North American Vasa 50K Freestyle to win today's 16K Gran Traverse Classic race at Timber Ridge Resort in Traverse City Michigan. Natalie Dawson was tops in the women's race.
Sun, Feb 9, 2014 - By Vasa

Full results for the 2014 North Americna Vasa 12 K and 6 K cross country ski races, held Saturday, February 8, 2014