10 years of tunnel skiing in Vuokatti
Mon, May 5, 2008 - By Danny Silva, FIS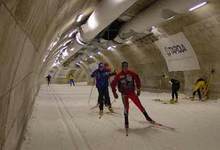 This April, the world's first ski tunnel in Vuokatti, Finland, celebrated 10 years since it first opened its doors. Since VuokattiSport SkiTunnel's construction in 1997, it has served both professional and amateur skiers seeking to continue their training on snow throughout the year. Naturally, the summer months are the most sought-after thanks to the rare possibilities of skiing on snow. And, from as early as October onwards outside tracks prepared with man-made snow are linked to the trails in the tunnel.

"With 10 years behind us there is a great desire for evolution and expansion," said VuokattiSport Institute leader Pekka Vähäsöyrinki. He continued: "Thanks to close cooperation with our partners, such as Snowpolis and Jyvaskyla University, this evolution has now become reality. New mechanisms have been implemented to measure the athletes' performance while skiing in the tunnel. This technology is not limited to the ski tunnel; it has also been implemented on the jumping hills at the VuokattiSport Institute. The future also promises to bring tunnel expansion. Increasing the tunnel length is a certain must that will serve all skiers."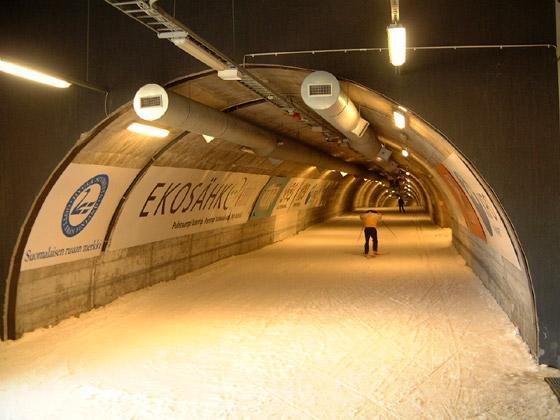 After 10 years of success, the Vuokatti ski tunnel plans for growth, which will cater to all athletes and help enable greater performances . A warm thank you goes to the 30.000+ skiers who have made VuokattiSport Ski tunnel their "training partner" throughout the years. VuokattiSport Institute vows to keep thriving for sporting excellence to serve these skiers even better in the years to come.
About the tunnel:
The ski tunnel is built in a big ridge. Traditional ski tracks go on each side of the tunnel and there is space for free-style skiing in the middle of the track. The entrance of the 1,210-meter long ski tunnel is in Vuokattikeskus, where you can also find the equipment rental and service. The ski tunnel is designed and built in cooperation with experts. The tunnel air changes every fourth hour.
The ski track is maintained with machinery and at night the tunnel's own snowmaking machinery makes sure there is always a fresh cover of snow on the track. The temperatures of air and snow are regulated with the help of IT. With the help of the air conditioning system, the indoor temperature remains mainly at -5 to -9 degrees Celsius.