Portland OR is a fantastic city to visit. What made it really special for us was seeing our super good friends, Jeff, Jenny and Cleo and getting absorbed into the bike culture of the place. Fresh off the plane Jeff set us up with bikes to ride from the good people at Seven Corners Cycles. Luckily for us, we were in time to catch the end of Peddlepalooza, a two week long celebration of bicycling in Portland. There was a ride that night sponsored by Jeff's cycling team, Team BEER (Bicycle Enthusiasts Enjoying Racing), and we were excited to ride through the streets of Portland dressed up like cows.
That's right cows.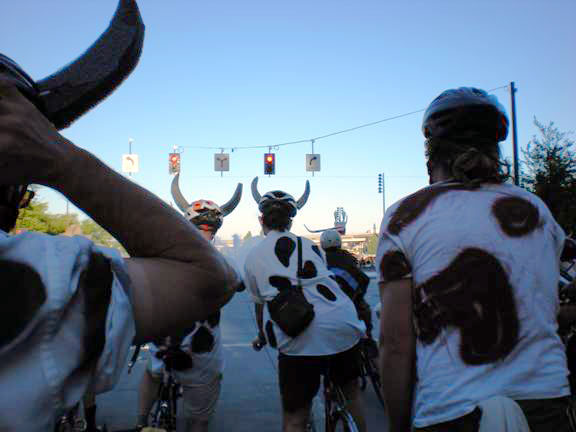 The ride was the Round Up ride. First the cows all gathered at a downtown park, later the cowboys and cowgirls arrived and herded us through the streets of Portland. Somewhere near 100 riders participated and we took up most of one lane of traffic. Lots of custom bikes were on hand including choppers and tall bikes.
After making a spectacle riding through streets and along the Willamette River, we ended up in a parking lot for a party and rodeo events. Dave participated in the tractor pull. There were also calf roping and barrel races. Like any good party there was beer, live music and dancing. It's hard to describe the scene here, but it was very Portlandesque and not to be forgotten soon. We ended the evening by stopping for pizza on the ride home at one a.m., and we weren't the only people out riding on the streets that night.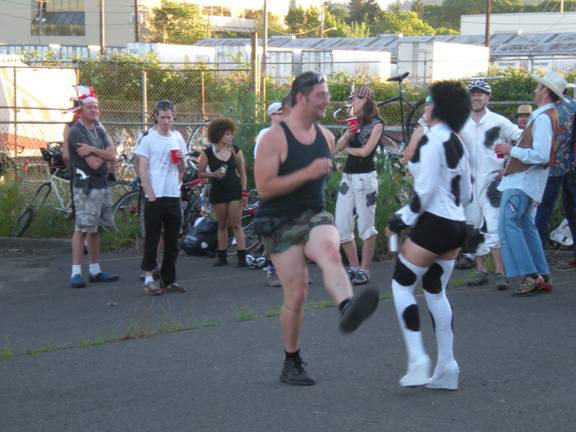 The next day we drove to Hood River. Jeff, Jenny and Cleo had a wedding to attend and Dave and Joann were going for a bike ride along the Columbia River Gorge. We picked up road bikes at Discovery Bicycles ($30.00 a day to rent nice road bikes) and headed out of town and up the first switchbacks to the gorge road. Nine miles of the road is the old scenic byway that has been repaved and is non-motorized use only. The views were spectacular of the river and gorge. Past the byway the traffic on the roads was low and made for enjoyable riding through orchard country. Climbing the hills wasn't so easy, but made for some good training.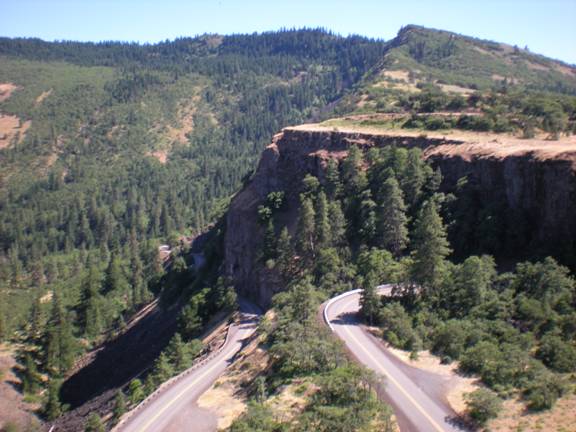 Joann made to the Rowena Overlook and back and Dave took a longer loop to the Dalles and back up a steeper slope with a seven mile climb. We made it back but not without a couple stops to fill our water bottles. When we retuned to Hood River we found out the temperature that afternoon was 102 F. Take note, if you do that ride in the summer try to go early in the morning.
Our next bicycling adventure was riding out to the mountain biking races at the PIR (Portland International Raceway). Dave representing NordicSkiRacer and Jeff for Team BEER took part in the race while Joann, Jenny and Cleo spectated. Dave was little nervous at the start, mountain bike racing not being his forte, but he got in the groove and finished well. He said he lost the most time not being proficient at maneuvering through the twisty treed section of the course. All in all a good time was had and we headed to a neat neighborhood restaurant for some beers and grub, they also had a D.J.
>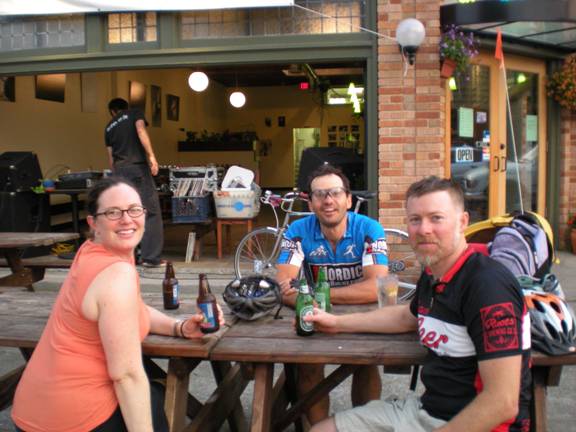 The following day we did a family ride to check out the Springwater Corridor, a rails to trails pathway that runs from SE Portland east 20 miles ending in Boring, OR. However, we rode only a section of the pathway. Our ride began in N Portland along the Willamette River to SE Portland to pick up the pathway. Dave pulled Cleo in the Burley for the ride to slow him down. The corridor took us past port unloading zones, brushy treed areas and by the Amusement Park. Johnson Creek Nature Area was our last stop on the Springwater Corridor. From there we hit a bike lane and headed up hill to Woodstock Park so Cleo could get out and play on slides and swings etc. Next, we stopped at the HUB (Hopsworks Urban Brewery) for some refreshment. It's also a bicycle centric brewery and was recently written up in Bicycling Magazine.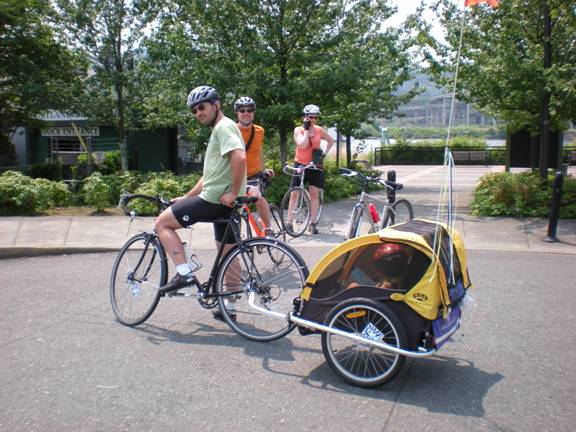 Later in the week we went to the Alpenrose Velodrome to check out "Fast Twitch Fridays". The Oregon Bike Racing Association web page (http://www.obra.org) has the following description – "Alpenrose Velodrome is one most exciting tracks in the United States. At 268.43 meters around with a 16.6 meter radius and a 43 degree bank, Alpenrose is also one of the steepest velodromes in the country." It's also concrete instead of wood which is unusual for a track, but concrete is popular in Portland. Team Beer was there in force for a fund raiser for a team member with a broken collar bone unable to work his job as a bike messenger. There were several classes of racing from beginners to a few really hot cat 1 types, including a scrappy "messenger" division. Much of the time the track is open to riders who want to try it out so bring your track bike and check the schedule on the OBRA page.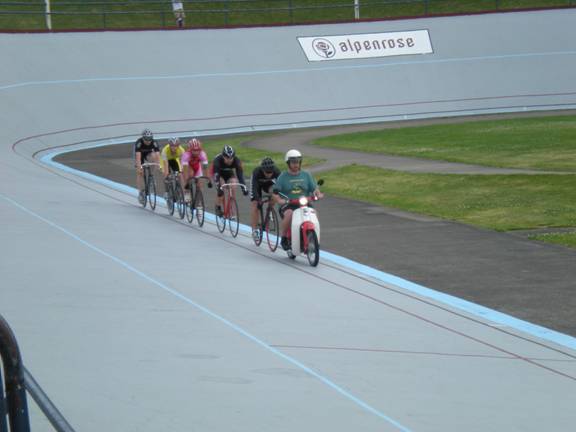 In addition to the great cycling and refreshments, Portland also takes it Fourth of July fireworks very seriously. The neighborhood streets seem to be taken over by opportunistic pyromaniacs blowing up some of the most major illegal fireworks we've seen in untrained hands.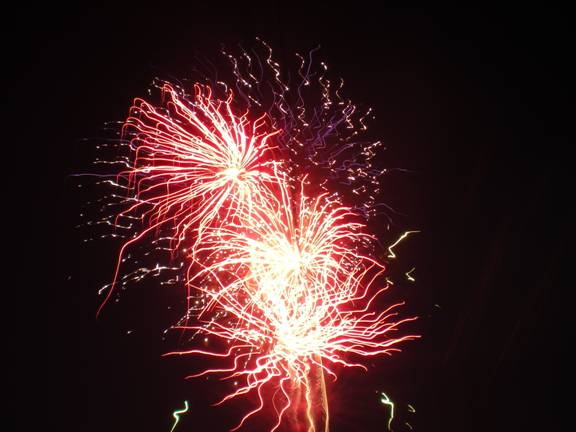 Portland was like going to another country in terms of cycling culture, especially compared to the greater Detritus Metro area. Anyone interested in promoting cycling in their city should definitely make a trek to Portland to see how its done. But don't stay there (wouldnt blame you if you did) . Go back to your home towns and spread the bikiness vibe! If you cant make it there then at least check out http://www.bikeportland.org.