The 2009 Grand Rapids Langlauf was the first chance many skiers had to ski the trails of the Champion Hill Nordic Center. Sure Champion Hill was also a golf course, but it was unlike any golf course skiing we've seen before.
The race dived and twisted through deeply wooded trails, climbed to open vistas, then headed down, up and around and down, again and again and again. The finish was a terrific straight shot down a long, moderately steep hill to a small uphill left and the finish line. Before it was done, racers had climbed - and descended - around 1,000 ft of vertical over 15 kilometers.
(Flats? Let's see..it was pretty flat for the first 250 meters. And I think I remember at least another couple of 100 meter sections somewhere around the course.)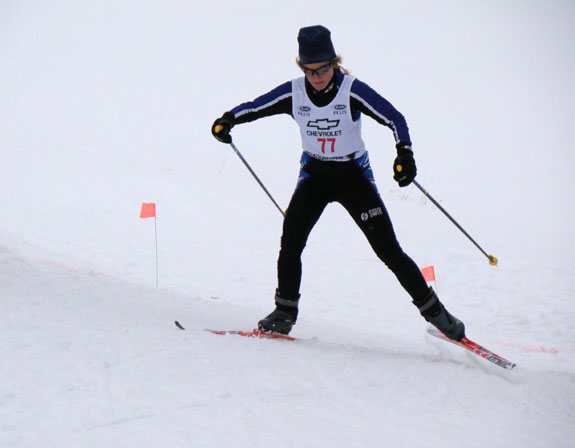 Candace Angell powers in to the finish
The entire course was exceptionally well marked and staffed. There were people stationed at the top of each tricky downhill providing warnings to newcomers unfamiliar with the course. Grooming provided a solid base with a little fresh snow on top. Faster downhill corners quickly built up a berm that helped guide skiers around the turns.
(The race course used all the expert trails at Champion Hills. There are a large number of easier and intermediate trails as well for those looking for a little less adventure if they visit Champion Hill for a ski!)
Temperatures held steady around 15F. The race used intervals starts - two skiers starting every 30 seconds. Juniors went first, then women, then men. There was a gap between each group.
Senior 15 Km results
Perennial favorite Milan Baic finished the race first in 44:45. Last year's Michigan Cup overall champion came in second in 46:34. Cliff Onthank took third in 48:40.
Susan Vigland was the top women in 1:00:25, followed by Amy Wichern 1:01:44. Tracy Hardin skied in third in 1:02:05.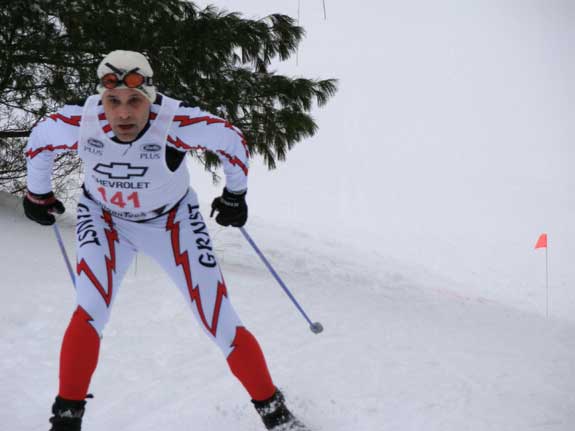 Greg Worsnop is all intensity as he crosses the finish line
Junior 6 Km results
The Juniors raced a 6 km course - and there were many juniors at this race.
Raymond Innis was the fastest boy overall and winner of the 16-19 age group with a time of 21:02. Evan Cover won the 15 and under boys division in 23:35.
Kaitlyn Patterson's time of 23:34 made here the fastest girl and winner of the 16-19 age class. In the 15 and under age class, Clancy Hawke was first in 30:27.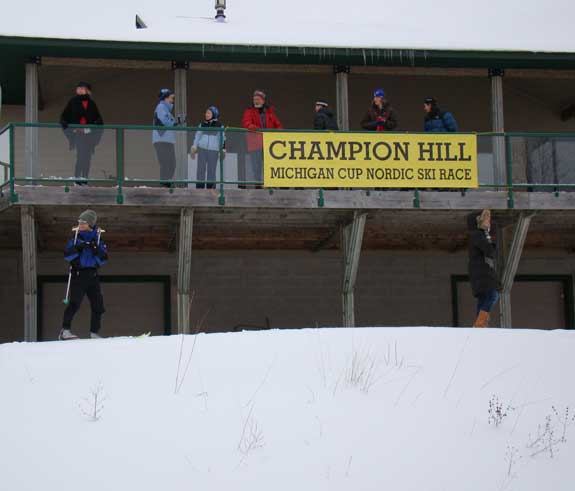 Spectators could watch the big downhill to the finish from the deck
Let's eat
Lunch was vegie and meet chili, corn muffins and cold cuts. Each skier also received a bag with an apple, cookie and dried cherries. Medal were custom designed by Grand Rapid's Paul Johnson.
RESULTS
PLACE
BIB
LAST NAME
FIRST NAME
CITY
TIME
RANK
6 KM Race
Female 1 To 15 - 6 Km
1
3
Hawke
Clancy
Bloomingdale
0:30:27
35
2
1
Cullen
Kennedy
Northport
0:31:47
38
3
4
Padden
Alyssa
Traverse City
0:32:50
40
4
5
Schilkey
Emma
Traverse City
0:34:39
41
5
2
Ehle
DNS
Traverse City
Female 16 To 19 - 6 Km
1
43
Patterson
Kaitlyn
Cadillac
0:23:34
9
2
14
Otwell
Julia
Traverse City
0:24:05
12
3
10
Frick
Maria
Traverse City
0:24:25
14
4
16
Thompson
Megan
Traverse City
0:25:55
21
5
15
Perkins
Katie
Traverse City
0:26:27
23
6
8
Egbert
Megan
Traverse City
0:26:31
24
7
6
Meachum
Hannah
Traverse City
0:27:16
28
8
12
Keenan
Kayla
Traverse City
0:27:17
29
9
7
Andriese
Amy
Traverse City
0:29:45
33
10
13
Ostema
Alison
Traverse City
0:30:27
36
11
11
Hertler
Katie
Traverse City
0:30:48
37
12
9
Ehle
Megan
Traverse City
13
17
Ward
Anna
Traverse City
Male 1 To 15 - 6 Km
1
22
Cover
Evan
Traverse City
0:23:35
10
2
28
Westerman
Matthew
Traverse City
0:25:00
15
3
27
Lance
Josh
Traverse City
0:25:03
16
4
19
Edwards
Keefer
Glen Arbor
0:25:10
17
5
21
Buttrick
Bobby
Traverse City
0:25:16
18
6
24
Hawke
Alex
Traverse City
0:25:54
20
7
26
Jacobson
Karl
Traverse City
0:26:40
25
8
46
Roberts
Travis
Lake City
0:27:11
27
9
20
Warga Kane
Darwin
Kalamazoo
0:29:18
31
10
18
Bruning
Andrew
Traverse City
0:29:31
32
11
25
Icard
Joel
Traverse City
0:30:17
34
12
45
Roberts
Kyle
Lake City
0:43:51
42
13
23
Gourdie
Levi
Traverse City
0:50:24
43
Male 16 To 19 - 6 Km
1
34
Innis
Raymond
Traverse City
0:21:02
1
2
37
Lance
Alex
Traverse City
0:21:31
2
3
31
Kane
Kevin
Traverse City
0:22:41
3
4
41
Schilkey
Garrett
Traverse City
0:22:41
4
5
30
Warga Kane
Adrian
Kalamazoo
0:23:02
5
6
29
Anderson
John
Traverse City
0:23:06
6
7
35
Jacobson
Alan
Traverse City
0:23:10
7
8
38
Norris
Micah
Traverse City
0:23:21
8
9
40
Roach
Shawn
Traverse City
0:23:58
11
10
39
Padden
James
Traverse City
0:24:10
13
11
42
Trubac
Spencer
Traverse City
0:25:41
19
12
33
Heimberger
Matt
Traverse City
0:26:15
22
13
32
LaBonte
Scott
Traverse City
0:27:00
26
14
44
Keenan
Ryan
Traverse City
0:27:18
30
15
36
Karbowski
Reece
Traverse City
0:32:28
39
15KM Race
Female 20 To 29 - 15 Km
1
71
Gulledge
Catarina
Roscommon
1:08:09
63
2
76
Wilbrodt
Hillary
Auburn
1:19:04
81
3
78
Roll
Rachel
Rapids River
1:55:26
93
Female 30 To 39 - 15 Km
1
72
Mikoajczyk
Kelly
Willoughby
1:05:31
56
2
62
Todd
Amy
Grand Rapids
1:07:10
59
Female 40 To 49 - 15 Km
1
64
Vigland
Susan
Traverse City
1:00:25
40
2
66
Wichern
Amy
Traverse City
1:01:44
43
3
79
Kirt
Karen
Lake Leelanau
1:10:10
68
4
67
Spence
Fern
Traverse City
1:10:55
70
5
77
Angell
Candace
Grand Rapids
1:15:08
78
6
65
Warga
Rachel
Kalamazoo
1:20:28
83
7
63
Hofstra
Jody
Traverse City
1:25:31
85
8
75
Finch
Shirlee
Alma
1:30:57
87
9
80
Joslin
Susan
Troy
1:50:28
91
Female 50 To 59 - 15 Km
1
73
Hardin
Tracy
Cheboygan
1:02:05
46
2
74
Peterson
Gussie
Midland
1:03:26
51
3
70
Berkshire
Ivanka
Traverse City
1:05:03
55
4
69
Dawson
Karen
Farmington Hills
1:09:29
67
5
68
Weeks
Linda
Lansing
1:12:21
73
6
164
Mueller-Brumbaugh
Carole
Rockford
1:35:47
88
Male 20 To 29 - 15 Km
1
157
Baic
Brendan
Walloon Lake
0:49:22
4
2
152
Coulter
Melzar
Grand Rapids
0:49:33
5
3
101
Brown
Greg
Traverse City
0:54:11
20
4
94
Ward
William
Traverse City
0:57:26
30
Male 30 To 39 - 15 Km
1
104
Vigland
Todd
Traverse City
0:50:34
6
2
134
Smith
Robert
Roscommon
0:53:04
15
3
102
Howard
Scott
Traverse City
0:54:13
21
4
103
Jenema
Tim
Williamsburg
0:54:30
22
5
155
Maltby
Chris
Mt Pleasant
1:02:54
49
Male 40 To 49 - 15 Km
1
105
Baic
Milan
Williamsburg
0:44:45
1
2
146
Maclean
David
Ludington
0:46:34
2
3
113
Todd
Dell
Grand Rapids
0:51:21
8
4
91
Kanaby
Larry
Bad Axe
0:52:12
12
5
159
Roll
Greg
Rapids River
0:52:38
13
6
92
Goodman
Glenn
Bellaire
0:54:06
19
7
137
Cornell
Doug
Corunna
0:54:54
23
8
106
Brownell
Larry
Traverse City
0:55:43
26
9
108
Durbin
Dave
Traverse City
0:56:09
27
10
114
Seaman
Michael
Mt. Pleasant
0:57:29
31
11
96
Andriese
Steve
Traverse City
0:58:01
34
12
97
Pietila
Jukka
Rockford
0:58:06
35
13
109
Hietikko
Dave
Ada
0:58:31
36
14
110
Hofstra
Dan
Traverse City
0:58:32
37
15
112
Swanson
Clette
Arcadian
1:00:54
41
16
139
ReeHorst
Tom
Traverse City
1:01:23
42
17
133
McElwarin
Randy
Lake Orion
1:01:50
44
18
93
Knight
Kip
Elk Rapids
1:02:52
48
19
99
Endicott
Doug
Traverse City
1:03:15
50
20
115
Wisneski
Dan
Walker
1:06:16
57
21
111
Kuz
Julian
Ada
1:08:45
64
22
147
Triebold
Bob
South Bend
1:18:29
80
23
107
Byczek
Chris
Garden City
1:24:31
84
Male 50 To 59 - 15 Km
1
122
Onthank
Clifford
Traverse City
0:48:40
3
2
128
Dawson
Ken
Farmington Hills
0:51:16
7
3
148
Gravlin
John
Linwood
0:51:42
9
4
150
Bladel
Randal
Granger
0:51:49
10
5
163
Anderson
Ed
Farmington
0:52:09
11
6
125
Pryor
Jim Jr
Saginaw
0:53:03
14
7
140
Muha
Mike
Wixom
0:53:06
16
8
124
Polzin
Denny
Williamsburg
0:53:31
17
9
98
Camp
Don
Grand Haven
0:53:51
18
10
151
Peterson
Curt
Midland
0:55:19
24
11
127
Fairman
Robert
Ann Arbor
0:56:28
28
12
135
Brundage
Bill
Traverse City
0:57:03
29
13
119
Finstad
Mark
Empire
0:57:49
33
14
129
Kostrzewa
John
Traverse City
0:58:45
38
15
141
Worsnop
Gregory
Paw Paw
0:59:33
39
16
90
Rynalski
Frank
Bay City
1:02:31
47
17
123
Payne
Mark
Interlochen
1:04:04
53
18
144
Madorski
Mark
Leonard
1:04:48
54
19
116
Atkins
Dave
Ellsworth
1:06:58
58
20
120
Kane
Don
Kalamazoo
1:07:54
61
21
100
Ganser
William
South Bend
1:07:57
62
22
118
Bruning
Peter
Traverse City
1:08:57
65
23
121
Kelly
Kevin
Empire
1:09:20
66
24
95
Love
John
St. Johns
1:11:05
71
25
153
Nolan
Dan
Holland
1:12:41
74
26
117
Brown
Steve
Traverse City
1:12:58
75
27
154
Foley
Paul
Midland
1:14:06
76
28
143
Ruffner
Spencer
Tecumsah
1:14:28
77
29
156
Gillespie
Sam
Shelby Twp
1:16:43
79
30
142
Worrel
Greg
Detroit
1:19:49
82
31
145
Abbe
Mark
Saginaw
1:52:11
92
32
126
Randall
John
Honor
2:07:45
94
Male 60 To 69 - 15 Km
1
136
Kaltz
William
Pinckney
0:55:32
25
2
160
Jones
Cris
Roscommon
0:57:40
32
3
161
Anderson
Tom
Big Rapids
1:01:54
45
4
132
Smigiel
Steve Sr
Ada
1:03:50
52
5
130
Brumbaugh
Ernie
Rockford
1:07:37
60
6
138
Merwin
Greg
Lake Isabella
1:10:11
69
7
149
Yeager
Dan
Traverse City
1:12:18
72
8
158
Johnson
John
Midland
1:25:32
86
9
131
Munt
Dick
Beulah
1:41:42
89
10
162
Wells
Richard
Hamtrakick
1:46:32
90