Grand Rapids Nordic's Dave Mclean once again soundly thumped the competition by winning the Michigan Cup Marathon 30K in 18:58, a full 1:33 ahead of the next finisher. Andy Weddle out-sprinted Jim Harrington to take second in 1:20:31.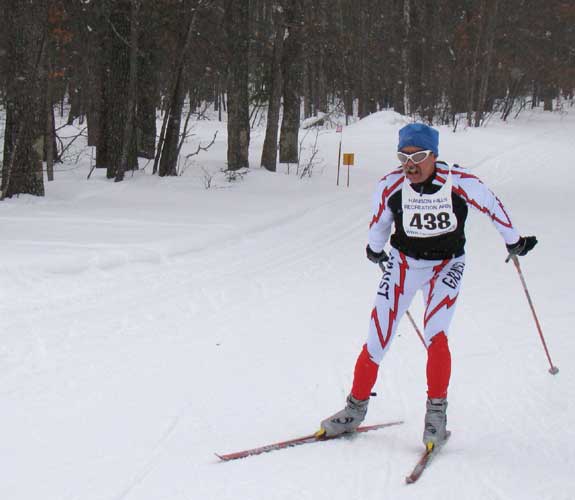 Dave Mclean on his way to victory.


In the women's 15 Km, Amy Wichem won easily in 46:02, finishing 51 seconds ahead of one of this season's strongest women, Susan Vigland (46:53). Strait Strider's Tracy Hardin came in third in 48:35.

In the Junior race, NordicSkiRacer's Brendan Baic was the fastest Junior male, winning in 23:49. Greg Brown came in second in 24:01, with Raymond Innis third in 25:23. All three were in the 16-18 age group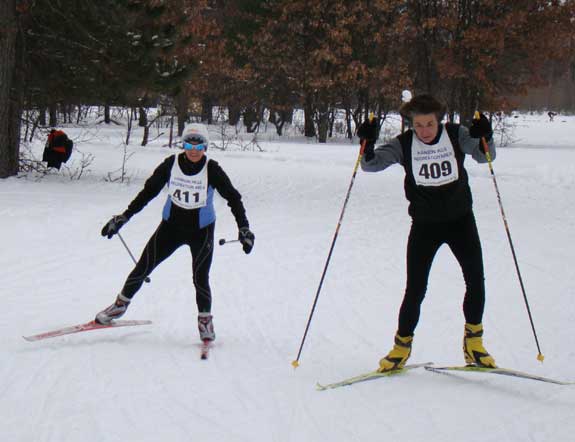 Maria Iwaniec (411) battles with Linda Weeks (409) at the finish. Weeks is able to hold her off.


Kaitlyn Patterson was again the fastest junior female with a 27:25 time. Maria Frick and NordicSkiRacer's Brady Jean Brennan finished second (28:01) and third (30:37). All three were also in the 16-18 age group.
In other age classes, Cassie McElwain won the 12 and under age class, with Hahnnah Rickard first in the 13-15 age class.

For the boys, Bobby Buttrick was the fastest mail skier in the 13-15 age class.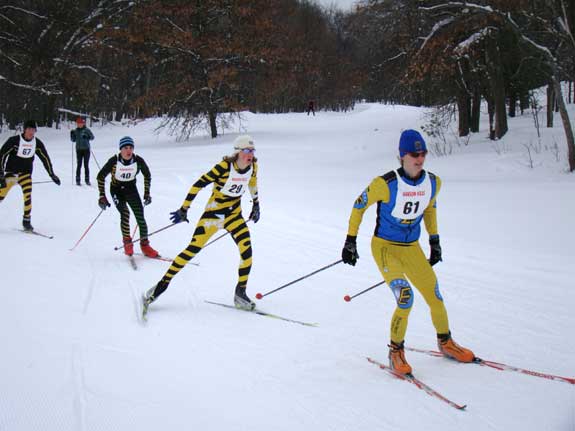 Junior male winner Brendan Baic leading Greg Brown (29), Raymond Innis (40) and Alex Lance (67) in the first kilometer. The finish order was exactly the same.
The race had a big turnout, with 169 racers:
36 Juniors
101 men
32 women
As more often than not this season, snow conditions were cold but the air was slightly warmer – up in the mid-to-high teens! The junior race was run to completion before the seniors started. Both races began a little late, and seniors kept warm by skiing up and down the exceptionally wide starting area. A cold headwind blew straight into racers waiting to start. Once underway, the tree cover kept the wind at bay.

Soup and Salad for lunch…
Senior Results
Overall
by Sex
Age Class
Name
Bib #
CLUB
Official Time
Women 20-29
10
1
Catarina Gulledge
420
XCHQ
0:53:09
21
2
Hilary Withrodt
436
HH/CCSS
1:00:02
Women 30-39
8
1
Kellie Kirk
555
HH/CCSS
0:52:32
9
2
Amy Todd
464
GRNST
0:52:39
13
3
Jessica Robert
417
0:53:22
14
4
Kelly Milcolajczyk
435
Nordicskiracer.com
0:53:31
19
5
Jessica Weddle
475
HH/CCSS
0:58:09
22
6
Thea Skinner
558
1:00:04
25
7
Joy Dvoratchek
419
1:14:48
Women 40-49
1
1
Amy Wichern
484
TNSC
0:46:02
2
2
Susan Vigland
500
TNSC
0:46:53
4
3
Ann Wagar
476
HH/CCSS
0:50:21
6
4
Terri Pamfret
564
0:51:13
11
5
Karen Kirt
496
0:53:11
15
6
Brenda Carlson
569
HH/CCSS
0:54:18
16
7
Candace Angell
452
GRNST
0:54:24
20
8
Chris Seagar
488
HH/CCSS
0:59:54
23
9
Fran Upton
486
XCHQ
1:02:25
24
10
Shirleeeee Finch
485
HH/CCSS
1:07:25
29
11
Pam Riehl
456
XCHQ
1:19:18
31
12
Kerry Robbert
416
1:37:28
Women - 50-59
3
1
tracy Hardin
444
Strait Strider
0:48:35
5
2
Gussie Peterson
461
HH/CCSS
0:50:27
7
3
Jean Van Dam
493
0:51:44
12
4
Karen Dawson
574
NordicSkiRacer.com
0:53:13
17
5
Linda Weeks
409
0:56:23
18
6
Maria Iwaniec
411
Nordicskiracer.com
0:56:24
26
7
Cheryl Timm
479
XCHQ
1:16:27
27
8
Linda Allen
584
NordicSkiRacer.com
1:17:33
30
9
Cristine Fowler
579
Higgins Lake HQ
1:21:10
32
10
Sita Compton
573
XCHQ
1:37:31
Women - 70-79
28
1
Beth Caldwell
450
XCHQ
1:18:50
Men - 19 and under
71
1
Ryan Harris
577
HH/CCSS
1:50:11
Men - 20-29
4
1
Ryan Halstead
482
XCHQ
1:20:58
5
2
Melzar Coulter
468
GRNST
1:23:34
19
3
Aaron Ditty
402
Nordicskiracer.com
1:27:39
28
4
Garret Dawe
578
HH/CCSS
1:31:05
29
5
Peter Mead
407
1:32:05
87
6
Scott Przysta
556
1:59:18
Men - 30-39
2
1
Andy Weddle
474
HH/CCSS
1:20:31
11
2
Robert Smith
560
XCHQ
1:25:40
26
3
Greg Thelen
466
XCHQ
1:30:45
39
4
Aaron Swanker
451
1:34:36
40
5
Tom Dvoratchek
418
GRNST
1:34:50
46
6
Mitch McMillon
559
HH/CCSS
1:37:43
48
7
Chris Maltby
460
HH/CCSS
1:39:00
55
8
Theo Vonwallmenich
434
XCHQ
1:42:33
69
9
Lucas Wall
477
Nordicskiracer.com
1:49:25
73
10
Russ Skinner
557
1:51:01
80
11
Dan Brickert
582
HH/CCSS
1:56:01
98
12
Chris Strahm
406
DNF
Men - 40-49
1
1
David Maclean
438
GRNST
1:18:58
3
2
Jim Harrington
553
1:20:32
7
3
Denny Paull
465
Strait Strider
1:23:41
9
4
Dell Todd
463
GRNST
1:24:27
10
5
Glenn Goodman
437
HH/CCSS
1:24:28
14
6
Larry Kanaby
432
XCHQ
1:25:49
16
7
Jon Morgan
566
HH/CCSS
1:27:11
23
8
Dave Durbin
473
XCHQ
1:28:26
24
9
Doug Cornell
422
Nordicskiracer.com
1:28:40
30
10
Micheal J. Seaman
490
GRNST
1:32:07
35
11
Jamie Green
442
HH/CCSS
1:33:30
41
12
Steven Vrecken
495
TNSC
1:35:14
42
13
Jerry Weiss
478
HH/CCSS
1:35:53
44
14
Kip E. Knight
427
XCHQ
1:37:25
51
15
John Welds
585
HH/CCSS
1:40:07
52
16
Randy McElwain
423
1:40:15
54
17
Mark Buday
494
Strait Strider
1:41:07
60
18
Julian Kuz
408
1:44:21
65
19
Hubert Smulski
565
Nordicskiracer.com
1:46:14
76
20
John Fallon
415
1:53:14
90
21
Mark Ostahowski
572
2:04:46
Men - 50-59
6
1
Cliff Onthank
497
TNSC
1:23:36
8
2
John Gravlin
425
HH/CCSS
1:23:46
12
3
Ken Dawson
575
Nordicskiracer.com
1:25:47
13
4
Don Camp
571
GRNST
1:25:48
15
5
Ed Anderson
487
HH/CCSS
1:26:45
17
6
Doug Heady
443
Nordicskiracer.com
1:27:23
18
7
Robert Fairman
445
HH/CCSS
1:27:35
20
8
Pete D'Ariento
446
GRNST
1:27:51
21
9
Denny Polzin
447
1:28:22
22
10
Jim Pryorjr
426
XCHQ
1:28:24
25
11
Steve Seager
489
HH/CCSS
1:28:57
27
12
Steve Van Dam
492
1:30:45
31
13
Don Fedrigon Jr.
499
XCHQ
1:32:10
34
14
Larry Timm
480
XCHQ
1:33:29
36
15
Robin F. Luce
439
HH/CCSS
1:34:15
37
16
Matt Daly
483
HH/CCSS
1:34:21
38
17
Greg Putalik
498
Strait Strider
1:34:28
43
18
Gregory A. Worsnop
449
GRNST
1:36:10
45
19
Joel Moore
563
Strait Strider
1:37:33
47
20
Doug Carpenter
401
1:38:46
49
21
Bruce Barton
440
HH/CCSS
1:39:01
50
22
Frank RyNalski
433
XCHQ
1:39:04
53
23
Ed Reid
471
Nordicskiracer.com
1:40:45
57
24
John Schuld
414
1:43:27
58
25
Dave Mitchell
412
HH/CCSS
1:43:53
59
26
Rick Neier
429
1:44:04
61
27
Peter Bruning
404
1:44:28
63
28
Jon Upton
562
XCHQ
1:44:50
64
29
Mark Madorski
454
NSR
1:45:29
68
30
Tom Baron
458
1:47:19
72
31
Kevin Kelly
470
Strait Strider
1:50:39
75
32
Steve Brown
430
1:51:54
78
33
Jeff Pike
567
CSHQ
1:54:57
81
34
Dave Atkins
551
Strait Strider
1:56:18
82
35
Dick Fultz
467
HH/CCSS
1:56:39
83
36
Philip "Javaman" Cannon
424
GRNST
1:57:29
86
37
Sam Eillespie
455
XCHQ
1:58:55
89
38
Marviu Boluyt
472
2:03:39
91
39
Daniel Nolan
405
2:04:57
93
40
John Harris
410
2:09:06
95
41
Greg Worrel
576
Nordicskiracer.com
2:18:23
97
42
Larry Mergentime
457
XCHQ
2:24:52
99
43
Dan Dubes
403
DNF
100
44
Mike Muha
431
Nordicskiracer.com
DNF
101
45
Bob Vandekapple
561
Strait Strider
DNF
102
46
Bill Hittler
580
DNF
Men - 60-69
32
1
Cris Jones
459
HH/CCSS
1:32:13
56
2
Micheal Tarnow
448
TNSC
1:42:37
66
3
Ernie Brumbaugh
491
GRNST
1:46:41
70
4
Jim Woodburn
453
TNSC
1:49:52
74
5
Bob Welsch
413
HH/CCSS
1:51:22
77
6
Greg Merwin
554
XCHQ
1:54:42
79
7
Lee Ries
481
1:55:29
84
8
Peter Johnson
428
GRNST
1:57:30
85
9
Frank Nizio
583
Nordicskiracer.com
1:57:36
88
10
Dan Yeager
568
2:00:26
92
11
John Johnson
462
HH/CCSS
2:08:59
94
12
Carl Ridgway
552
2:11:29
Men - 70-79
96
1
William Matson
441
XCHQ
2:20:01
Men - Unknown age group
33
Mark Finstad
469
Strait Strider
1:33:25
62
Vincent Call
581
Strait Strider
1:44:36
67
Matt LeVasseur
570
XCHQ
1:47:09
Junior Results
Overall
Class
Name
Bib #
CLUB
Time
Junior females, 12 and under
16
1
Cassie McElwain
59
1:14:00
Junior females, 13-15
4
1
Hannah Rickard
49
TC
0:30:39
9
2
Jane Hinsenkamp
45
TC
0:37:28
10
3
Kennedy Cullen
43
TC
0:38:25
11
4
Kaylee VanDomellen
52
TC
0:38:33
12
5
Emma Schilkey
50
TC
0:40:42
14
6
Alyssa Padden
48
TC
0:43:22
15
7
Olivia Nienhouse
46
TC
0:43:30
Junior females, 16-18
1
1
Kaitlyn Patterson
70
TC
0:27:25
2
2
Maria Frick
56
TC
0:28:01
3
3
Brady Jean Brennan
58
NordicSkiRacer.com
0:30:37
5
4
Rachel Swaffer
51
TC
0:32:11
6
5
Megan Egbert
44
TC
0:32:56
7
6
Kayla Keenan
65
TC
0:35:37
8
7
Alison Ostema
47
TC
0:36:59
13
8
Anna Ward
53
TC
0:41:26
Junior males, 13-15
5
1
Bobby Buttrick
30
TC
0:27:24
8
2
Even Cover
31
TC
0:29:34
10
3
Matthew Westerman
42
TC
0:30:05
13
4
Josh Lance
36
TC
0:30:38
14
5
travis Roberts
62
TC
0:32:40
17
6
Karl Jacobson
64
TC
0:34:24
18
7
Garret Gabelis
68
XCHQ
0:37:32
19
8
Grant Mc Elwain
60
0:43:55
Junior males, 16-18
1
1
Brendan Baic
61
NordicSkiRacer.com
0:23:49
2
2
Greg Brown
29
TC
0:24:07
3
3
Raymond Innis
40
TC
0:25:23
4
4
Alex Lance
67
TC
0:26:02
6
5
Micah Norris
41
TC
0:27:38
7
6
James Padden
37
TC
0:28:15
9
7
Spencer trubac
39
TC
0:29:59
11
8
Alan Jacobson
34
TC
0:30:19
12
9
Ryan Keenan
66
TC
0:30:31
15
10
Shawn Roach
63
TC
0:32:41
16
11
Joel Icard
33
TC
0:32:42
20
12
David Engquist
32
TC
0:29:21