Who would have believed it? After 14 inches of fresh snow in less than 24 hours, the tracks for the 4 Km Classic + 4 Km Freestyle Pursuit Muffin Race were rocket fast. Groomer Kevin spent then entire afternoon and evening on Saturday - between 1:00 and 7:00 pm regrooming the entire trail system at the Cross Country Ski Headquarters in Roscommon over and over to pack down the heavily falling snow. He was back out at 3:00am Sunday morning ensuring primo racing conditions.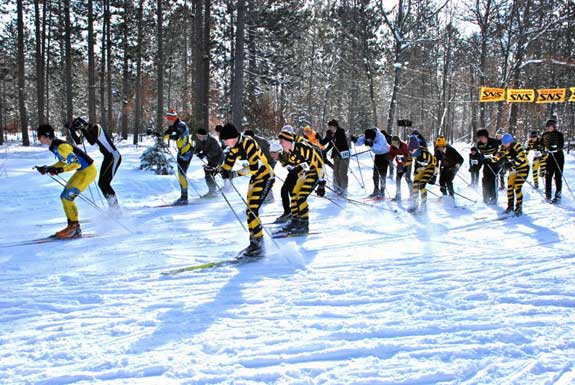 All photos by Bob Ampulski
The race course at consisted of one loop through Rolling Hills and Tall Pines using classic technique, then a second loop over the same trails using skating technique - the same loop traditionally used for the Michigan Cup Relays in March. The tracks were so fast that two-thirds of the juniors doublepoled the classic portion of the race in their skate equipment, saving time by not having to transition from classic to skate gear in the pursuit transition zone.
The race began with a mass start, girls and boys together. Team NordicSkiRacer's Brendan Biac had the fastest time of the day, finishing the 4 Km classic and 4 Km freestyle in a combined time of 26:11. Baic also posted the fastest classic and freestyle times as well. Ross Williams and Greg Brown Brown, also in the J1 Male 14-19 age division, finished second and third in 2:33 and 29:22.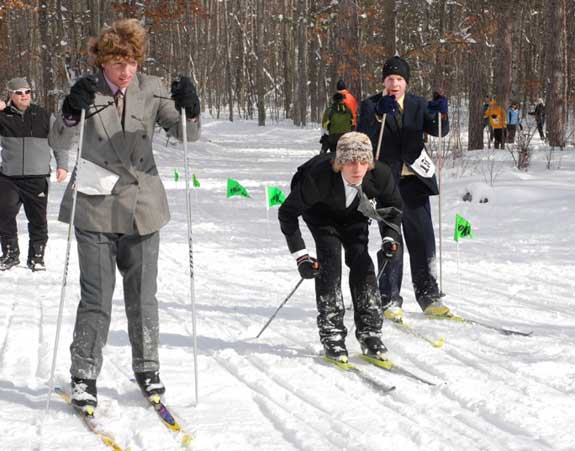 Formal attire was optional
In the J1 Female division, Kaitlyn Patterson picked up her 6th Michigan Cup win, finishing the pursuit in 31:34. She also had the 6th fastest classic and 9th fastest freestyle time - boys and girls combined. Maria Frick was second in 35:03, with Kayla Keenen third in 39:05.
In the J2 division, ages 7-13, Kristina Kamm won the girls race in 50:55. In the boys race, Lars Hallstrom bested Anthony Cook, 43:35 to 52:07.
In the 6 and under division, around 20 kids raced a short course with everyone winning a medal. The medals were donated by Beth and Jack Caldwell from all the many medals they have won over their many years or racing. Kids were running around excitedly with Vasa, White Pine and other medals around their necks. Their parents were even more excited!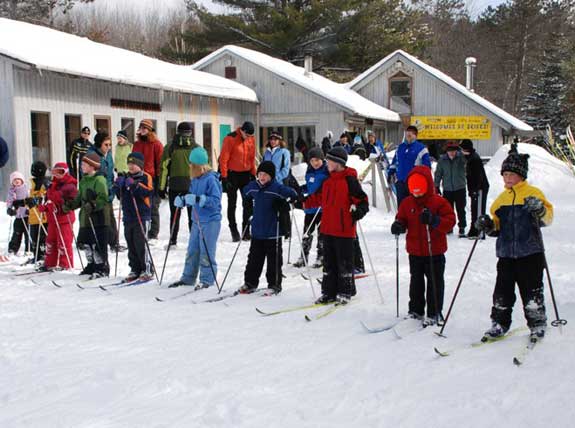 It was a hungry race crowd - Bob Frye had to dig deep to find enough Pork BBQ for everyone.
Currently, the Cross Country Ski Headquarters has some of the best skiing all season.
See more photos at http://web.me.com/ontrackrr/Muffin_2009.
PLACE
BIB
LAST
NAME
FIRST
NAME
CITY
CL Time
CL
Rank
FS Time
FS
Rank
Time
J2 Female 13 & Under - 8 Km
1
198
Kamm
Kristina
Gross Point Woods
26:44
2
24:11
2
50:55
J2 Male 13 & Under - 8 Km
1
199
Hallstrom
Lars
Ann Arbor
23:50
1
19:45
1
43:35
2
200
Cook
Anthony
Freeland
27:31
3
24:36
3
52:07

---

J1 Female 14-19 - 8 Km
1
147
Patterson
Kaitlyn
Cadillac
16:06
6
15:28
9
31:34
2
149
Frick
Maria
Traverse City
17:04
15
17:59
17
35:03
3
167
Keenan
Kayla
Traverse City
19:44
20
18:21
18
38:05
4
161
Hertler
Kate
Traverse City
21:42
25
19:52
21
41:34
5
148
VanDommelen
Kaylee
Traverse City
21:24
24
21:42
26
43:06
6
157
Ward
Anna
Traverse City
22:49
26
21:25
25
44:14
7
153
Bosma
Alonza
Lake City
37:10
30
30:51
29
1:08:01
J1 Male 14-19 - 8 Km
1
156
Baic
Brendan
Walloon Lake
13:27
1
12:44
1
26:11
2
163
Williams
Ross
Williamsburg
13:28
2
13:05
2
26:33
3
152
Brown
Greg
Traverse City
14:55
3
14:27
4
29:22
4
164
Buttrick
Bobby
Traverse City
15:20
5
14:03
3
29:23
5
162
Cover
Evan
Traverse City
15:13
4
15:28
7
30:41
6
179
Lance
Alex
Traverse City
16:51
11
14:31
5
31:22
7
168
Keenan
Ryen
Traverse City
16:07
7
15:28
8
31:35
8
160
Enquist
David
Traverse City
16:08
8
15:29
10
31:37
9
165
Norris
Micah
Traverse City
17:20
16
15:17
6
32:37
10
158
Padden
James
Traverse City
16:52
12
15:48
11
32:40
11
150
Icard
Joel
Williamsburg
16:09
9
16:37
13
32:46
12
169
Jacobson
Alan
Traverse City
17:00
14
16:27
12
33:27
13
166
Heimburger
Matt
Traverse City
16:50
10
16:58
14
33:48
14
151
Trubec
Spencer
Traverse City
16:58
13
17:33
15
34:31
15
145
Roberts
Travis
Lake City
18:21
19
17:34
16
35:55
16
180
Lance
Josh
Traverse City
18:06
18
18:33
19
36:39
17
178
Frye
Jimmy
Roscommon
17:57
17
19:10
20
37:07
18
155
Roach
Shawn
Traverse City
20:09
21
20:15
23
40:24
19
181
Labonte
Scott
Traverse City
20:48
22
20:12
22
41:00
20
159
Bruning
Andrew
Traverse City
21:09
23
20:40
24
41:49
21
182
Gabalis
Garrett
Roscommon
26:19
28
26:15
27
52:34
22
154
Bosma
Daniel
Lake City
25:32
27
30:27
28
55:59
23
146
Roberts
Kyle
Lake City
28:29
29
31:31
30
1:00:00