Waxing and ski selection played its roll in Saturday's Black Mountain 31K Classic. With day temperatures well above freezing most of the preceding week, everyone expected klister conditions. What was not expected was an overnight low of 9F warming to over 40F on the day of the race. Would a warm klister be too sticky at the start of the race? Would a colder klister lose it's grip as the weather warmed?
Adding to the quandary: deep in the Black Mountain Forest Recreation area, hidden from the sun and warmth by dense trees, the snow was substantially cooler and less transformed than in more open areas. Would hard wax suffice? Would klister ice?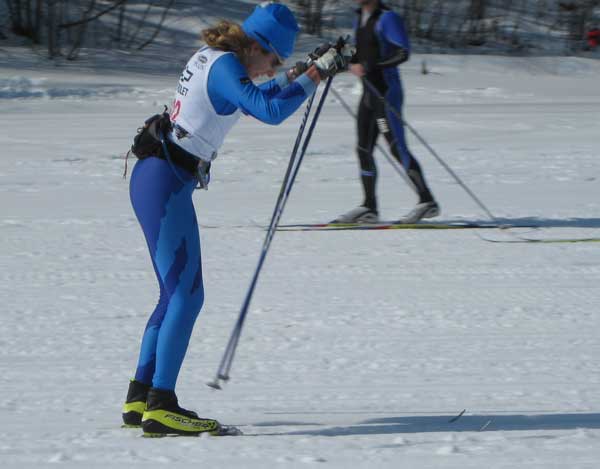 Champion Tracy Hardin double poles to the finish of the 2010 Black Mountain 31K Classic. (photo: Mike Muha)
Waxing was all over the map. The leading waxing choice was Pete Edwards' recommendation of Swix KR50 "FLEXI" Klister over a cold klister binder. Other skiers mixed Toko Universal with Toko Orange.
Several racers eschewed klister altogether and went the hard wax route. The most popular choice was Rex Power Grip ("For normal, but also for icy, coarse, and extremely hard tracks. In temperatures around 0°C it can be used instead of klisters. Does not stain and run like klisters"). Other racers went with straight hard wax like Swix VR60 or VR65.
Then there was the subgroup of skiers who thought, "31K and variable conditions? Waxing will be a nightmare. Waxless is the way to go..."
Hairies were tested but rejected by several skiers.
Who was right?
Everyone and no one. Waxless skis were slow and not grippy enough on the hard tracks for the first 10K then suddenly sped up and gripped as the snow softened. Hard wax work well in more shaded areas but slipped in the sun. Klister worked well in most conditions, but had a tendency to ice as the ski went from a sun-soaked (and wet) patches of snow into a shaded, cold snow tracks. More than one racer was thrown to the ground more than once as the skis caught and the skier kept on going....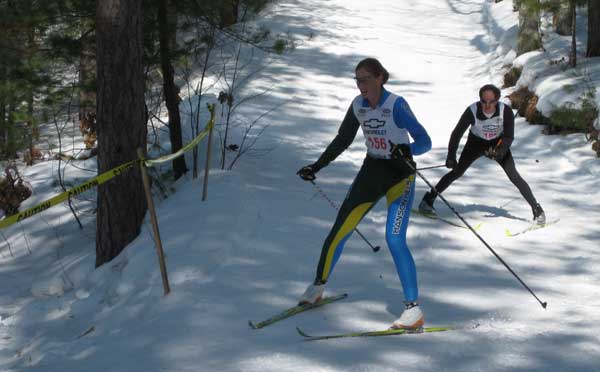 Second place Ann Wagar negotiates the last fast downhill corner before the finish. (Photo: Mike Muha)
But it was fitness over skis...
So everyone had a few issues with their skis. So that meant fitness was the winner of the day. And who were the fittest? Dave Maclean and Tracy Hardin.
Straits Strider Tracy Hardin, skiing on her home course, finished the 31K classic course first in 2:16:11. Eight minutes back was Hanson Hills/Cross Country Ski Shop's Ann Wagar in 2:24:06. And finishing her first marathon distance ever was Catarina Gulledge in 2:36:03 for third.
In the men's race, Grand Rapids Nordic's David Maclean finished in a blazing 1:45:47, four minutes ahead of Straits Strider (and Black Mountain Classic race director) Denny Paull (1:49:56). Steve Smiegel Jr. of Grand Rapid Nordic was just 15 seconds behind, taking third in 1:50:11.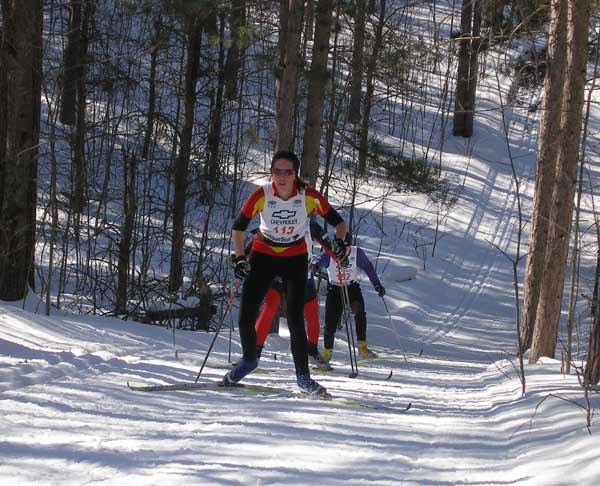 Catarina Gulledge, third women overall, herringbones up the last big hill. (Photo: Carole Mueller-Brumbaugh)
10K Freestyle
For the first time in the Black Mountain Classic's history, a 10K freestyle (classic or skate) was offered for skiers wanted to ski a shorter distance. The top two women were Jean VanDam and Renee Bancroft. The top three men were Nicholas Johnson, Steve VanDam and Matt Dunkel.
Let eat
The newly renovated Black Mountain Lodge put on a tremendous feast, perhaps the best post-race lunch of the season.
31K Classic Results
Women

---

Overall
By
Gender
By Age
Class
Time
Bib
Last Name
First Name
City
State
Team

---

F20-29
48
3
1
2:36:03
113
Gulledge
Catarina
Roscommon
MI
Cross Country Ski Headquarters
51
4
2
2:41:30
125
Witbrodt
Hilary
Auburn
MI

---

F40-49
37
2
1
2:24:06
156
Wager
Ann
Gaylord
MI
HHCCSS
53
5
2
2:47:56
181
Karas
Bonnie
Grayling
MI
HHCCSS
66
7
3

3:07:08
104
Junker
Chris
Rapid City
MI
70
9
4

3:13:34
112
Kirt
Karen
Lake Leelanaw
MI
74
11
5

3:43:03
177
Riehl
Pam
Milford
MI
Cross Country Ski Headquarters
76
12
6

3:53:50
178
Joslin
Susan
Troy
MI
Cross Country Ski Headquarters

---

F50-59
28
1
1
2:16:11
102
Hardin
Tracy
Cheboygan
MI
Straits Striders
68
8
2
3:11:37
151
Fairbanks
Mary
Rogers City
MI
72
10
3
3:20:38
106
Thompson
Dolores
Sumner
MI

---

F60-69
55
6
1
2:49:03
170
Lund
Lorraine
Harbor Springs
MI
Straits Striders
81
14
2
5:09:01
124
Wilks
Amelia
Mancelona
MI
Straits Striders

---

F70-79
78
13
1
4:14:13
180
Murray
Jean
Mt Pleasant
MI
Cross Country Ski Headquarters

---

Men

---

Overall
By
Gender
By Age
Class
Time
Bib
Last Name
First Name
City
State
Team

---

Juniors 18-19
5
5
1
1:55:25
136
Hegan
Spencer
Sault Sainte Marie
Ontario
20
20
2
2:05:58
182
Harris
Ryan
Grayling
MI
Cross Country Ski Headquarters

---

M20-29
9
9
1
1:58:44
167
Yankus
Daniel
Commerce
MI
Nordic Ski Racer
56
50
2
2:49:04
157
Paul
John
Traverse City
MI
VASA

---

M30-39
27
27
1
2:16:02
144
Coulter
Melzar
Grand Rapids
MI
Grand Rapids Nordic Ski Team
30
29
2
2:20:25
187
Smith
Robert
Roscommon
MI
HHCCSS
47
45
3
2:35:36
150
Oberman
Mark
Cheboygan
MI

---

M40-49
2
2
1
1:49:56
116
Paull
Denny
Cheboygan
MI
Straits Striders
3
3
2
1:50:11
117
Smigiel
Steve
Cedar Springs
MI
Grand Rapids Nordic Ski Team
6
6
3
1:56:52
158
Vigland
Todd
Traverse City
MI
VASA
8
8
4
1:57:01
122
Dufour
Yvon
Brighton
MI
Nordic Ski Racer
12
12
5
2:00:25
141
Todd
Dell
Grand Rapids
MI
Grand Rapids Nordic Ski Team
16
16
6
2:04:02
176
Foltz
Jon
Boyne City
MI
Straits Striders
17
17
7
2:04:12
137
Goodman
Glenn
Bellaire
MI
HHCCSS
18
18
8
2:04:19
118
Kanaby
Larry
Bad Axe
MI
Cross Country Ski Headquarters
21
21
9
2:09:05
149
Pietila
Jukka
Rockford
MI
Grand Rapids Nordic Ski Team
22
22
10
2:11:16
133
Seaman
Michael
Mt. Pleasant
MI
Grand Rapids Nordic Ski Team
31
30
11
2:22:02
192
Steffke
Steve
Weidman
MI
HH/CCSS
32
31
12
2:22:05
168
Webb
Jon
Hubbard Lake
MI
HHCCSS
34
33
13
2:23:43
161
Knight
Kip
Elk Rapids
MI
VASA
42
40
14
2:30:01
169
Reeves
Mathew
East Lansing
MI
58
52
15
2:56:25
121
Ernst
Dale
Sandusky
MI
Cross Country Ski Headquarters
62
56
16
2:57:36
135
Soule
Todd
Holland
MI
73
63
17
3:24:09
190
Chimner
Patrick
Cheboygan
MI

---

M50-59
1
1
1
1:45:47
173
MacLean
David
Ludington
MI
Grand Rapids Nordic Ski Team
4
4
2
1:54:48
153
Gravlin
John
Linwood
MI
HHCCSS
7
7
3
1:56:58
132
Bladel
Randal
Granger
IN
Grand Rapids Nordic Ski Team
10
10
4
1:59:06
110
Weingartz
Chris
Petoskey
MI
Straits Striders
11
11
5
1:59:14
155
Camp
Don
Grand Haven
MI
Grand Rapids Nordic Ski Team
13
13
6
2:00:54
130
Heady
Doug
Ann Arbor
MI
Nordic Ski Racer
14
14
7
2:03:50
159
Dawson
Ken
Farmington Hills
MI
Nordic Ski Racer
15
15
8
2:03:52
128
Muha
Mike
Wixom
MI
Nordic Ski Racer
19
19
9
2:04:33
188
Fairman
Robert
Ann Arbor
MI
Hanson Hills
23
23
10
2:11:38
172
Doull
James
Petoskey
MI
Straits Striders
25
25
11
2:14:56
120
Pryor
Jim
Saginaw
MI
HH/CCSS
26
26
12
2:15:40
142
Luce
Robin
Central Lake
MI
HHCCSS
29
28
13
2:18:29
127
Cornell
Doug
Corunna
MI
Nordic Ski Racer
35
34
14
2:24:02
138
Neier
Rick
Tawas City
MI
Cross Country Ski Headquarters
36
35
15
2:24:03
162
Dreeszen
Bryce
Interlochen
MI
VASA
38
36
16
2:26:26
129
Nolan
Dan
Holland
MI
Grand Rapids Nordic Ski Team
39
37
17
2:27:22
147
Madorski
Mark
Leonard
MI
Nordic Ski Racer
40
38
18
2:28:43
174
Finstad
Mark
Empire
MI
VASA
43
41
19
2:31:17
164
Call
Vince
Alpena
MI
Straits Striders
49
46
20
2:37:40
146
Picard
Stuart
Greenville
MI
Grand Rapids Nordic Ski Team
50
47
21
2:40:57
119
Rynalski
Frank
Bay City
MI
Cross Country Ski Headquarters
52
48
22
2:45:27
103
Ahrenberg
Bill
Cheboygan
MI
Straits Striders
57
51
23
2:54:49
175
Thielfoldt
Devan
Troy
MI
Cross Country Ski Headquarters
59
53
24
2:57:06
105
Eifler
Bob
Rapid City
MI
60
54
25
2:57:08
131
Vandekopple
Bob
Pellston
MI
Straits Striders
63
57
26
3:00:06
107
Thompson
Gary
Sumner
MI
65
59
27
3:06:13
163
Danly
Peter
Traverse City
MI
VASA
67
60
28
3:11:01
191
Dewey
Maurice
Detroit
MI
69
61
29
3:13:05
183
Felski
George
Cheboygan
MI
Straits Striders
71
62
30
3:15:40
101
Trost
Karl
Cheboygan
MI
Straits Striders
77
65
31
4:10:52
111
Dzuba
Russell
Lake Leelanaw
MI
79
66
32
4:26:47
186
Siniff
Daniel
Bay City
MI
Cross Country Ski Headquarters

---

M60-69
24
24
1
2:12:59
126
Kaltz
William
Pinckney
MI
Nordic Ski Racer
41
39
2
2:28:47
193
Wright
Hap
Boyne
MI
Straits Striders
44
42
3
2:33:00
152
Christopherson
Wayne
Alpena
MI
Straits Striders
45
43
4
2:33:12
165
Brumbaugh
Ernie
Rockford
MI
Grand Rapids Nordic Ski Team
46
44
5
2:33:49
160
Schmekel
Ray
Traverse City
MI
VASA
54
49
6
2:48:05
179
Beal
Elllis
Charlevoix
MI
61
55
7
2:57:31
123
Whitlock
Dave
Mancelona
MI
Straits Striders
64
58
8
3:05:34
139
Blumenthal
Dave
Alpena
MI
Straits Striders
75
64
9
3:50:52
109
Wells
Richard
Hamtramck
MI
Cross Country Ski Headquarters
82
68
10
9:99:99
145
Johnson
Max
Brutus
MI
83
69
11
9:99:99
114
Wellman
Cy
Erie
PA

---

M70-79
33
32
1
2:23:42
115
Haefner
Bill
Clarkston
MI
Nordic Ski Racer
80
67
2
4:33:18
154
Hervela
Douglas
Gaylord
MI

---
10K Freestyle Results
| | | | | | | | |
| --- | --- | --- | --- | --- | --- | --- | --- |
| Overall | Time | Bib | Last Name | First Name | City | State | Division |
| 1 | 0:36:10 | 148 | Johnson | Nicholas | Rogers City | MI | M20-29 |
| 2 | 0:37:28 | 185 | VanDam | Steve | Boyne City | MI | M50-59 |
| 3 | 0:40:33 | 143 | Dunkel | Matt | Ossineke | MI | M40-49 |
| 4 | 0:44:47 | 184 | VanDam | Jean | Boyne City | MI | F60-69 |
| 5 | 0:46:29 | 166 | Kelly | Kevin | Empire | MI | M50-59 |
| 6 | 1:02:53 | 140 | Butler | Hal | Alpena | MI | M50-59 |
| 7 | 1:05:41 | 171 | Taratuta | Neil | Ossineke | MI | M40-49 |
| 8 | 1:17:10 | 134 | Bancroft | Renee | Mount Pleasant | MI | F20-29 |
| 9 | 1:26:45 | 189 | Kinney | Mark | Presque Isle | MI | M60-69 |
| 10 | 9:99:99 | 108 | Paul Sr | John | Traverse City | MI | M50-59 |