Results, photos, video
Baic & Edwards Win Holley Cup
Thu, Dec 29, 2005 - By Mike Muha
Cassidy doublepoling on the last lap.
Milan Baic and Cassidy Edwards won this season's Holly Cup Classic in difficult waxing conditions. Temperatures were just under freezing, with a light dusting of new snow over crusty old frozen snow that turned to sugar snow during grooming and racing.
Skiers tried a number of waxing strategies: Klister, klister with hard wax on top, and no-wax skis. It seemed that the people who used only klister had the best wax to the end. Combinations of silver, violet, universal, and orange (Toko) worked best. Those who waxed over their klister had the best results with red hard wax. Ironing in a base layer of green or blue klister first helped minimize wax wear. No-wax skis worked great on the uphills but were a detriment during the long doublepole and and kick-doublepole segments.
There was good coverage on the trail - only a couple spots had grass showing through on the track.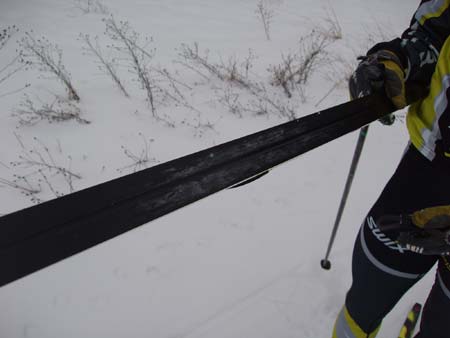 Milan's didn't have much wax on his ski by the end of the race. He waxed with hard wax over klister, but the abrasive snow took it's toll. Hindsight, Milan said he might have gone with silver klister.
Outside the track? The snow cover was nearly bullet proof, having gone through many freeze-thaw cycles in the last week.
The race was converted from a mass start to an individual start to keep people from being crowded out of the track and into the hard and slippery snow to the side. Individual racers left in 15 second intervals. Adult skiers did 4 laps around the approximately 2.8 Km loop. All the uphills were stridable - if you had any wax left!
The abrasive conditions quickly eroded wax off many skier's skis. Milan said that he could feel his grip starting to go by the end of the first lap. He had fast skis but had to muscle up the hills with his upper body the last laps. You can even see him slip a bit in the video below.
More 2005 Holly Cup links:
Here's 21 photos taken during the latter part of the race
Watch a 7.3 MB video (*.wmv - Windows Media Video format) of winners Milan and Cassidy ripping around the course.
Results
Place
Dist
Last Name
First Name
City
Time
Rank
Female 14 To 15 - 6 Km
1
6
Swaffer
Rachel
Traverse City
0:31:22
11
2
6
Timm
Alexandra
Bay City
0:31:48
12
3
6
Elise
Kaufman
Traverse City
0:34:08
13
Female 16 To 18 - 6 Km
1
6
Ciesla
Hannah
Traverse City
0:23:57
7
2
6
Bradley
Sarah
Traverse City
0:26:34
8
Female 19 To 30 - 12 Km
1
12
Edwards
Cassidy
Glen Arbor
0:38:20
4
Female 31 To 40 - 12 Km
1
12
Stevenson
Gwen
Roscommon
0:57:29
18
Female 41 To 50 - 12 Km
1
12
Baic-Berkshire
Ivanka
Traverse City
0:44:37
11
Female 51 & Over - 12 Km
1
12
Murray
Jean
Mt. Pleasant
1:20:48
20
2
12
Timm
Cheryl
Bay City
1:30:43
21
Male Under 14 - 6 Km
1
6
Williams
Ross
Traverse City
0:21:37
4
2
6
Edwards
Keefer
Glen Arbor
0:29:46
10
Billy Koch - 6 Km
1
6
Edwards
Keefer
Glen Arbor
0:07:28
1
2
6
Goodman
Harmon
Bellaire
0:17:49
2
3
6
Goodman
Gabriel
Bellaire
0:22:57
3
Male 14 To 15 - 6 Km
1
6
Baic
Brendan
Walloon Lake
0:20:30
3
2
6
Brennan
Mac
East Jordan
0:22:44
5
3
6
Harris
Kirk
Traverse City
0:22:56
6
Male 16 To 18 - 6 Km
1
6
Ward
William
Traverse City
0:18:58
1
2
6
Endicott
Kyle
Traverse City
0:19:16
2
3
6
Carps
Bryan
Traverse City
0:27:15
9
Male 19 To 30 - 12 Km
1
12
Moore
Andrew
Cambridge
0:44:42
12
Male 31 To 40 - 12 Km
1
12
Byar
Christian
Spring Lake
0:34:17
2
2
12
Robinson
Ryan
West Bloomfield
0:39:08
6
3
12
Todd
Dell
Grand Rapids
0:40:40
7
4
12
Goodman
Glenn
Bellaire
0:45:55
14
Male 41 To 50 - 12 Km
1
12
Baic
Milan
Williamsburg
0:32:34
1
2
12
Weingartz
Chris
Petoskey
0:37:59
3
3
12
Moore
Jeff
Northville
0:50:55
17
Male 51 & Over - 12 Km
1
12
Camp
Don
Grand Haven
0:38:27
5
2
12
Kaltz
Bill
Pinckney
0:42:16
8
3
12
Johnson
Peter
Whitehall
0:43:58
9
4
12
Keenan
Mike
Marquette
0:44:09
10
5
12
Wright
Hap
Boyne City
0:45:37
13
6
12
Timm
Larry
Bay City
0:46:37
15
7
12
Gambert
George
Bellaire
0:50:43
16
8
12
Stevenson
Marvin
Rochester Hills
1:11:13
19