RUMFORD, MAINE (Dec. 23) – World Cup regulars will align to kick off 2011 with the U.S. Cross Country Championships in Rumford, Jan. 2-8. The U.S. Ski Team headliners will include returning U.S. Champion Simi Hamilton (Aspen, CO) as well as Liz Stephen (East Montpellier, VT) and Morgan Arritola (Fairfield, ID), who are coming off their best World Cup finishes, and Noah Hoffman (Aspen, CO).The event includes two sprint and two distance races.
Officials expect good sow conditions for the races beginning just after New Years.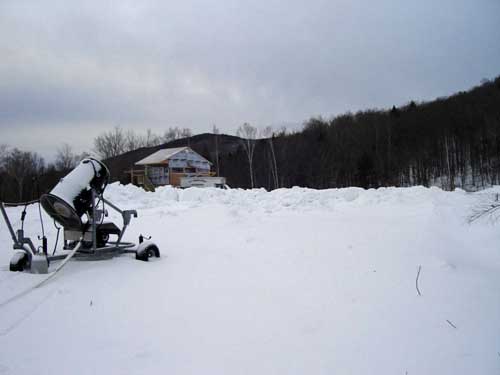 The Chisholm Ski Club blows snow in preparation for the 2011 U.S. Cross Country Championships. (Roger Arsenault)
"We certainly do have snow at the venue! The weather is predicted to be favorable for making and keeping snow, with additional natural accumulation also expected," said Roger Arsenault, Organizing Committee Chairman. "We're looking forward to hosting the Championships and having everyone here in Rumford. As Chummy would say, we're going to have a great race!"

Black Mountain of Maine has made several changes since last hosting the Championships in 2004, including widening the trails and expanding the stadium to accommodate the growth of the sport as well as to meet the USSA and FIS regulations. The snow making system has also been expanded over the years to cover up to 5k of the trail network, providing a great insurance policy for an early January event like this in the Northeast.
"The Chisholm Ski Club is very excited to play host to the 2011 U.S. Cross Country Championships at Black Mountain of Maine. We last hosted this event in 2004 when the field exploded to over 500 racers," said Arsenault.
The field will be stacked with 2010 two-time U.S. Champion Hamilton, Stephen, Arritola and Hoffman leading the charge as they vie for U.S. Championship titles. Also looking to take top podium spots are USSA SuperTour leaders Lars Flora (Anchorage) and Holly Brooks (Anchorage) who have been posting strong results in the USSA SuperTour and Canadian NorAm circuits this fall.
In addition to the titles on the line, the Championships will act as the official trials for the Junior and U-23 Cross Country World Ski Championship teams, as well as the Junior Scandinavian Championships trip where athletes 17 and younger are eligible to compete.
Not only is this the one chance to win a 2011 U.S. Championship title, but it is also the final USSA National Ranking List races to be scored before the 2011 Nordic World Ski Championships team selection. The 2011 Nordic World Ski Championships will be held in Olso, Norway Feb. 23 – March 6.
The Chisholm Ski Club, originating in the 1920s, has been host to many national competitions including U.S. Championships, NCAA and USCSA Championships, 1950 Nordic World Ski Championships as well as the 1952 Olympic Trials. The 2011 U.S. Cross Country Championships marks the fourth time that the Chisholm Ski Club will host the event. The Club has also committed to holding the event in 2012.

The Championship series will kick off Sunday, Jan. 2 with the men's and women's 1k classic sprint race.

Registration for the 2011 U.S. Cross Country Championships closes Dec. 29th with late fees applicable after Dec. 26th. More information about the 2011 U.S. Cross Country Championships is available at www.uscrosscountryskichampionships2011.org.

Fans can also follow the event on the U.S. Cross Country Championships Facebook fan page.

2011 U.S. Cross Country Championships Schedule
Rumford, ME

Sun., Jan. 2 Men's and women's1k classic sprint
Tues., Jan. 4 Men's 15k and women's 10k classic
Thurs., Jan. 6 Men's 30k and women's 20k mass start freestyle
Sat., Jan. 8 Men's and women's sprint 1k freestyle