The Frosty Freestyle announced today that the Frosty Freestyle race will be held on a backup race course should Mother Nature fails to deliver enough snow by Saturday, January 15, 2010 to use the original course. A video of the course is below.
Chief of Course (and mad scientist) Adam Haberkorn is using a turf aerator to pulverize the top 2.5 inches of ice on Maltby Lake to create a ski trail 1km long and 24 feet wide. (Maltby Lake is located in Huron Meadows Metropark; the third loop of the permanent Frosty Freestyle race course runs around the lake).
Says Mike Muha, Race Director, "Adam has once again shown that he'll do whatever it takes to provide a quality experience for skiers, even if it means inventing a new way to create snow."
The main loop of the backup course will be finished today (Friday, January 7) and will be open for skiers to try out this the weekend, starting Saturday morning. "The ski lodge will also be open. Skiers who want to rent skate or classic skis are also welcome to take them down to Maltby Lake," say Adam Haberkorn.
Grooming the lake
Careful attention was spent ensure the ice under the course is think enough to support the race. It helps knowing the the machinery used to create the trail weighs in at half a ton. Forecasted cold temperatures should add to the thickness of the ice.
The aerator is only 30" wide so it takes many passes to get a trail 24 feet wide. And it's slow going.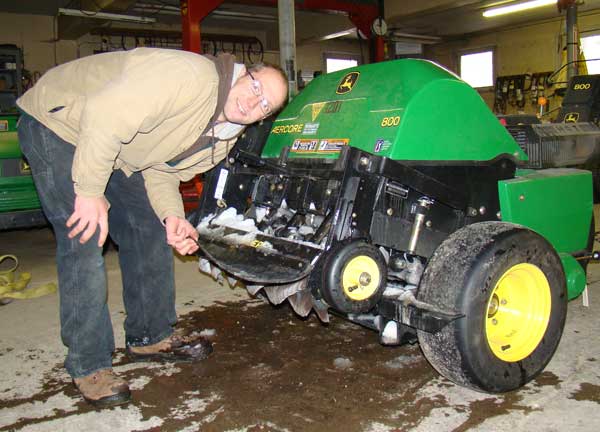 Adam Haberkorn with the Magic Aerator, used to pulverize ice into snow.
The aerator works by first taking a plug out of the ice (like a plug out of your lawn) then pulverizing it with a set of spinning blades set low to the ice.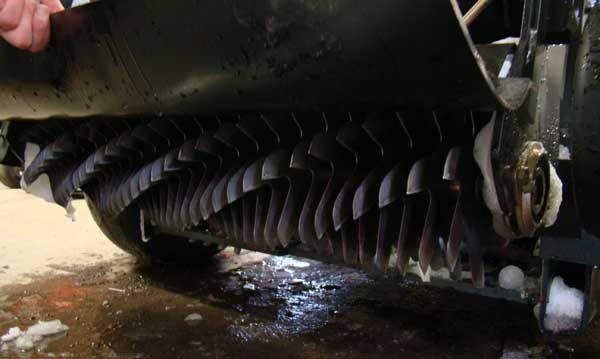 Aerator blades chop up the ice plugs
After the "aeration" is complete, the parks Tidd Tech groomer smooths and packs the snow, and will set a pair of tracks for classic skiers.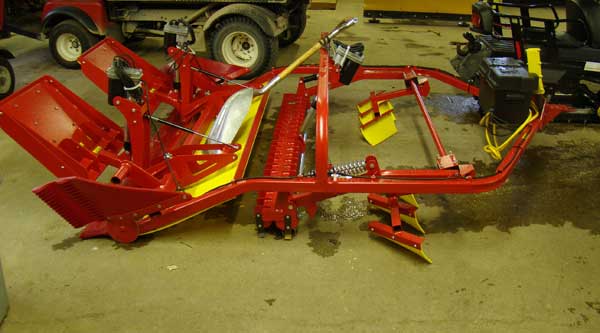 Huron Meadows Metropark's Tidd Tech groomer
So how does the course ski? Here's video from Thursday afternoon when the course was about 14 feet wide and still under construction:
Using the backup course would also cause some scheduling changes. For example, the race committee has decided to finish the 5k race before starting the 15k race to reduce the number of skiers on the course at one time. Other changes will be announced if the decision is made to use the alternative race course on Maltby Lake.