Holly Angels win Vasa Championship Cup
Wed, Feb 16, 2011 - By Pete Edwards
Every year the North American VASA awards the giant Championship Cup to the grade school, middle school or high school with the highest percentage of participation in the Jr. VASA events. The award is not based on speed – it is all about participation and FUN on snow. The Jr. VASA typically has around 100 smiling junior skiers. ALL finishers are awarded VASA Medals as they cross the finish line in front of cheering parents, grandparents and enthusiastic spectators (and their future ski coaches).

Junior skiers ages 7 and under ski a 1km course. Skiers 8-15 ski a 2km trail. Trail grooming for both Jr. VASA courses are performed by Timber Ridge Resort and Nordic Center's grooming experts.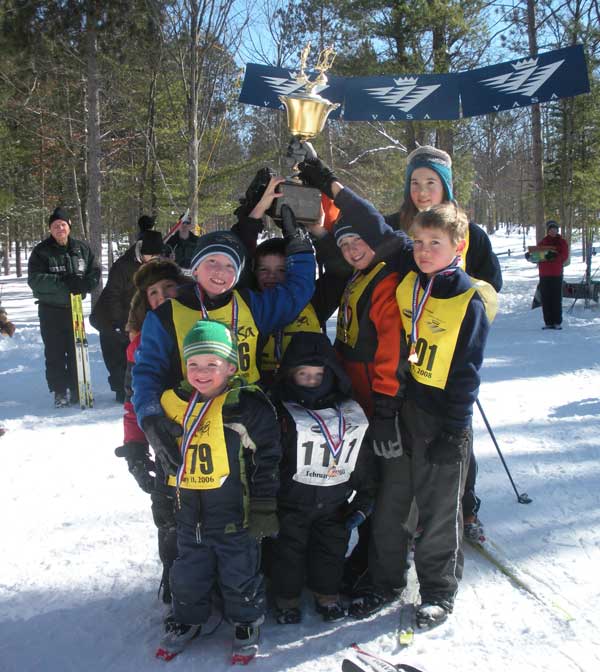 The Championship Cup has been won in prior years by Glen Lake's Middle School Team and Traverse City's Immaculate Conception Elementary School. The Championship Cup is a travelling trophy that the winning school is allowed to keep until next year's North American VASA Festival of Races. Each winning school has its name proudly engraved on the Trophy/Cup. This will be the 3rd year that Holly Angels Elementary will have its name engraved as champions on the Championship Cup.
Holly Angels Elementary won with an impressive 5% participation rate. The team has set a goal to exceed 10% in 2012 and bring the Championship Cup back Holly Angels Elementary and are already recruiting family members and friends to ensure the North American VASA Championship returns for a 4th time to their school.

2011 Runner-up Teams were Elk Rapids' Lakeland Elementary School and Traverse City's Immaculate Conception Elementary School.
The North American VASA Championship Cup was donated to the VASA Program by one of its former Race Directors and the competition to win the cup each year has not only been fun for the participating teams (schools), but has also helped to introduce more young skiers to the North American VASA and the wonderful life-long sport of cross country skiing. All finishers receive quality North American VASA medals as they cross the finish line. ALL participants are winners.

Traverse City's Coach Kostrzewa knows that kids are the future of skiing in Northern Michigan. Kostrzewa is the head coach for both Traverse City Central's and Traverse City West's varsity cross country ski teams. According to Coach K "the Jr. Vasa is a great time for the kids and even more fun for the parents cheering them on. The skiers with the biggest smiles will all be racing in the Junior Vasa."

The date for the 2012 North American Junior VASA is Saturday, Feb. 11, 2012. The North American VASA website: WWW.VASA.ORG