Nearly 1,400 skier raced the 2012 Marquette General Health System Noquemanon Ski Marathon under great conditions. Although windy, the wind was mainly from the back, and the trail firm with an inch or two of fresh snow on top. The lead classic skiers mainly stayed in the tracks except where cutting off corners made for a shorter route.
Waxes kicked better or worse as the trail was shaded by trees or sun drenched. The course got a little harder and icier toward the last third, making doublepoling easier.
50K Classic
CXC Elite skier Santiago Ocariz won the 2012 Noquamenon Ski Marathon 50k Classic division in 2:31:20.9, less than two seconds ahead of Adam Swank (2:32:42.9). Bjorn Batdorf was third in 2:32:47.9.
Eli Brown was the top Michigan Cup and Lower Peninsula skier, taking 6th in 2:38:16.7. Straits Strider Denny Paull took 12th.
Former Team NordicSkiRacer skier Steve Kuhl, now living in Marquette, shows he still has it by taking 8th in 2:40:42.7.
In the women's 50k, Natalia Naryshkina, Morgan Smyth (Olympian and former Northern Michigan University racer), and Audrey Weber took the top three positions in 2:56:34.9, 3:00:39.8, and 3:07:18.3. Straits Strider Tracy Hardin finished tenth overall in 3:38:11.2, the top lower peninsula and Michigan Cup skier.
24K Classic
Northern Michigan University swept the podium and five of the top six places in the Women's 24K classic, starting with Jordyn Ross in 1:13:24.7, Ingrid Saupstad in 1:14:32.4, and Felicia Gesior in 1:14:44.9.
NMU took four of the the six positions in the men's race as well. Erik Soderman was top overall in 1:01:10.2, followed by two Marquette skiers, Kjell-Christian Markset and Kevin Cutts in 1:01:11.7 and 1:03:05.1.
Not very far behind was Straits Strider John Gravlin in 7th in 1:06:51.6.24K Classic
50K Freestyle
Jeff Koch was the top Michigan Cup skier in this year's 50k freestyle, finishing second overall behind winner Michael Brothers (2:20:35.5 to 2:22:13.1). Third was Mason Basco in 2:35:02.4. Benjamin Lannin, a Traverse City skier racing on the CXC Elite Team, was 6th in 2:25:31.9.
In the women's race Paulette Niemi took first in 2:41:00.4, followed by Kim Rudd in 2:43:02.2. VASA Ski Club racer Amy Powell was third in 2:44:11.5. Teammate Susan Vigland came in fifth in 2:49:04.3.
24K Freestyle
Traverse City skier Andrew Bruning narrowly took first place in the men's 24K freestyle, beating Tyler Jenema by just three tenths of a second, 1:02:14.8 to 1:02:15.1. Blake Murray finished third in 1:02:16.9. Bruning said the top four traded pulling most of the race and it came down to a sprint: 4 seconds, 4 racers - Clifford Onthank of the Vasa Ski Club was fourth.
Another Traverse City skier, John Ohearn (Vasa Ski Club/Priority Health), finished ninth.
NMU skiers Monica Markvardsen, Marie-Helen Soderman took first, second and third in the women's 24K freestyle in 1:03:10.7, 1:05:09.8, and 1:06:28.8.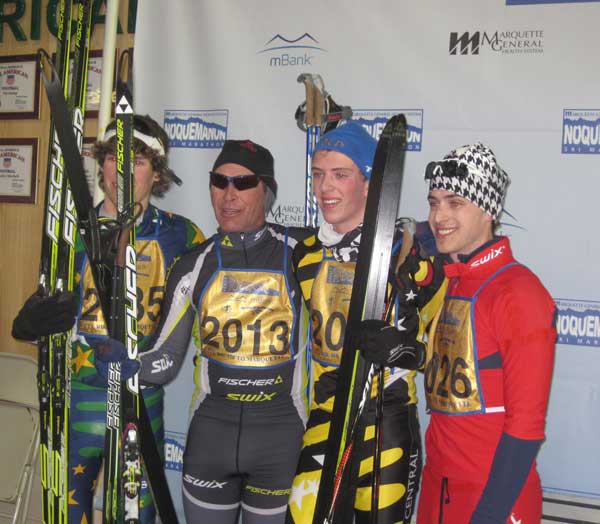 Blake Murray (3rd), Cliff Onthank (4th), Andrew Bruning (1st), Tyler Jenema (2nd). Photo by Liz Bruning.
Complete Results