Bob Triebold and I left for the Black Mountain Classic early Friday, once we learned of the impending winter storm heading for northern Michigan. We made it to Grayling by 05:30, and with only minor flurries and wet pavement, the Big Buck was calling our names. So we pulled in for a burger and a beer. We got back on the road by 6:15, and by then the road north was a different animal! Single lane traffic, 3 slide-offs between Grayling and Indian River. We were glad that our reservation was for the Hometown Inn right off the Indian River exit – It had all the requirements for a two day race: 1. Free breakfast, and 2. equidistant from Black Mountain and Boyne Highlands.
After checking in, and sharing road stories with other guests, I did the normal race day prep getting everything in order for the race.
I set the cell phone alarm for 0545. Once we got up, I thought that it was real nice of the motel to turn off the parking lot lights so to no disturb our sleep, upon further investigation I noticed that the motel had no power, and no water. Which comes to the first item that I always bring on my trips (and Forgot this time) my solar/crank powered weather radio and flashlight. Fortunately, the night manager had made coffee prior to the power outage so we had a good jump start for the day.
Now I had 14" of snow to remove from the car.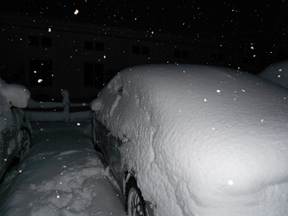 Bob was ready to go!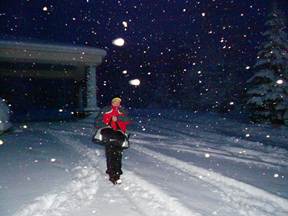 We were concerned at this point that the roads would be impassable, and our day was done. But to our surprise, the roads were very good to Onaway, thinking we could score up some oatmeal at McDonalds. There was no power across the I-75, so all the local fast food places were dark. We found the Woodwind restaurant open in Onaway. For all you skiers, this is the Hilltop (L'Anse) south. Out of tradition for Randy Bladel, I ordered the cinnamon bun the size of your head, big bowl of oatmeal, which came with homemade bread toast at least 2" thick. I considered calling it a day right there – couldn't ask for anything better!
Since neither of us had every been east of I-75, our new friends at the Woodwind helped us out with directions – "just take 211 north to town hall road – park in the DNR parking lot". Hey, that's just like the directions they gave in Nordicskiracer.com, so it must be right.
Once on our way we encounter many trees leaning into the road, and this tree that we tried to move, but then realized that we could break the branches easier. Second item I forgot: my Husqvarna rancher 55 chain saw!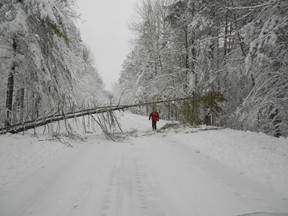 Now we arrived at the DNR parking lot, and it was not plowed, nor were there any tell tale signs of Nordic skiers (Subaru wagons with rocket boxes and M-22 stickers). So, was the race cancelled? – could not tell – could not get in touch with anyone. We passed Gunnar in his van in the area of the fallen tree – not sure how that van got under the tree. We would later learn that Gunnar had left Berrien Springs at 05:30, and was on the road until 0400.
Bob thought that the Black Mt. Lodge was an old downhill area, so we returned to Black Mt. Road and headed north. We go a boost of confidence after talking to a local and getting explicit directions to the lodge "hey it's over there – (pointing over his shoulder to his back yard) don't really know how to get there, but if you follow this road, and turn right onto blah blah blah beach road, you'll get there!"
Well, two miles north on Black Mt road, the snow plow stopped doing his job, and I decided to follow the two tracks with my Sebring – Bob was not gung ho for this idea. Item # 3 I did not bring, a snow shovel. We followed the two tracks for what seemed to be ten miles, then got into a game of chicken with a snowmobile (aren't they supposed to get out the two tracks?). After 2.5 hours, and right at the registration deadline – we have arrived at the Black Mountain Lodge! (No power or water here either – Ouch!)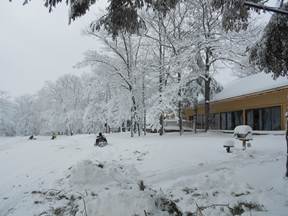 I had a decent race; it was a memorable day to ski. I even got some air when jumping over that 4" deadfall at the bottom of the hill! Bob and Gunnar both took wrong turns on the course and – well you know.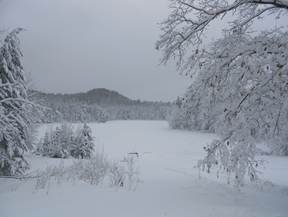 The staff at the Black Mt. lodge managed to put together a magnificent feast for us at the end of the day – even without electricity, and water. Denny Paull and his crew really did a great job with the course – I'm glad they did not cancel.
We headed back to Indian River for a good hot tub soak, since the power was back on at the motel. We had a lot more company now since power was out away from the central business district. Lots of families from the local area checked in for a warm night's sleep. Bob and I spent the evening explaining where Black Mt. Lodge was, and how fun it is to cross country ski to more of our new friends.
Sunday was soo boring – power was on, sun was out, (oh yeah – I had to rewax my skis). A fun race at Boyne highlands. (Does Boyne mean "pain" in another language?)