World Cup: Falun
Cross Country ends season strong for US
Fri, Mar 23, 2012 - By USSA
FALUN, Sweden (March 18) – The U.S. Women's Cross Country Ski Team wrapped up the season with a strong pursuit finale in Falun. Kikkan Randall (Anchorage), who started seventh, dropped one spot to eighth. Both Jessie Diggins (Afton, MN) and Liz Stephen (E. Montpelier, VT) moved up, with Diggins taking 15th and Stephen 18th. World Cup champions Marit Bjoergen and Dario Cologna won the Falun mini-tour – each by large margins. Randall, who won the season sprint title, wound up fifth in the overall standings.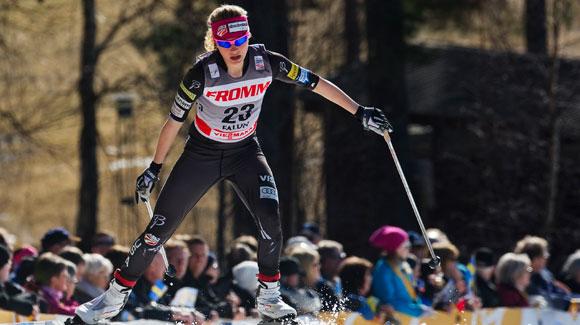 HIGHLIGHTS
Kikkan Randall (Anchorage) led the USA finishing eighth in the final pursuit
Both Jessie Diggins (Afton, MN) and Liz Stephen (E. Montpelier, VT) moved up to finish 15th and 18th
Diggins had the 9th fastest 10k
Randall started the pursuit 2:04 behind mini-tour leader Bjoergen and finished 2:44 out
Randall ended up fifth in the overall World Cup standings
Andy Newell led the U.S. men in 32nd
QUOTES
Kikkan Randall
I feel like it's just right. It's been an incredible season. It has been really really fun and challenging. I feel like this is the perfect cap to end it. I'm looking forward to taking a little break and letting it all sink in.
The sprint globe was my big goal all season but to finish in the top 5th overall is an incredible step forward from where I've been. It's a huge accomplishment. It's what I've wanted all along- to be a contender in everydiscipline. So it's been really fun and I hope I can continue to make jumpsforward.
I knew it was going to be a challenging race today. I felt like I had a good chance to catch number six right in front of me. And I knew the two right behind me were coming on strong so I tried to put a good effort out there and make them work hard to catch me and then I was trying to latch on and ride them for the rest of the race. I was able to hang on a little bit but they put a strong move on leaving the stadium and I couldn't quite hang on there. It definitely was ahard race but that's how you want to finish the season.
Jessie Diggins
I had really fast skis. My strength is transitions spots. I would lead the flats and downs and others would lead the up hills and gradual ups. We worked together and reeled in the group. On the final hill I was gliding past one of the down hills. I hammered the hill and was skating the flats. I wasn't able to open up a gap and I was doing all the work and then they all passed me at the end and I was like "shoot". But I had to give it a try. I had nothing left for the sprint at the end but it was totally worth the try. I'm so happy. It was a great race to end the season on. It felt like a good hard effort. It was great to be able to end the year with a race where I felt like I hung in there.
Andy Newell
It was a hard skate race. Right out of the gate I started with some pretty fast skaters. I thought about trying to hang with them but it was a little too fast.
Sometimes by the final I'm pretty burnt out. Even on some of my best seasons where I've had podiums I'm pretty blown out. Right now I'm just tired because of all of the racingwe've been doing. It was a week ago that we did the 50k and we've done fourraces since then. I'm pretty tired but I'm not burnt out or anything.
RESULTS
Official Results