2006 Michigan Cup: Age, Class & Category Winners
Tue, May 2, 2006 - By Ken Dawson
By now or in the next few days every Michigan Cup skier will have a copy of the 2006 results. Congratulations to everyone who received a Michigan Cup pin, award or just participated in a few of races.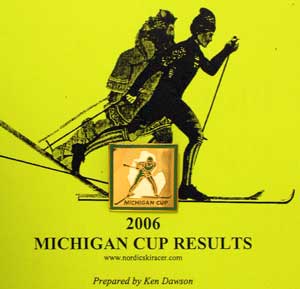 The coveted Michigan Cup Pin, won by the top age class skiers in the Michigan Cup
The summary sheet is always a favorite of mine, because it has so much information covering every aspect of our season. Even though we experienced the warmest January in history, the weather gods always seemed to look out for us. With such great skiing conditions in December, everyone caught the early ski bug that carried them through the season. Only one race was cancelled and that was the 2nd day of a weekend competition after the Michigan Marathon. Even than, the race could have been held, but with such a great Michigan Marathon day, why mess with a good thing.
The Noque saw temperatures in the mid-50's the day before the race and the final couple of kilometers was a lot of one leg balancing act jumping from snow patch to snow patch. If only we knew than that this was our training run for the White Pine. It was amazing how they pulled that race together and managed to have fun in the process. I skied that day with Don Camp and all I could remember is how he laughed all the way down those dicey and icy down hills. I saw some of wildest crashes in all my years skiing that day and fortunately I was not one of them. The Vasa weekend was spectacular and like other years, snow conditions got better as the season went on.
2006 also saw the largest membership ever for Michigan Cup with over a 10 percent increase from the previous year. The team results came down to the wire and who would have dreamed that we could draw more relay skiers to the 2006 final than we did at the 2005 relays.
On a sadder note, 2006 saw us lose some beautiful people that were all part of our ski family. Paul Johnson and John Hardin were individuals that brought so much fun and camaraderie to our sport and they will always be remembered.
Summary results are at the bottom of the page; detailed results can be found at these links:
Thanks Ken Dawson
Participation A 10% increase over 2005!

Number of skiers who did...
Men
Women
5+ races
109
26
4 races
28
7
3 races
63
13
2 races
96
23
1 race
263
81

Total

559
150
Team Results

Rank
Team
Total
Medals
Relay Pts.
1
Strait Striders
23,395
18
4,528
2
Cross Country Ski Headquarters
23,073
18
4,521
3
Nordic Ski Racer
21,918
22
3,254
4
Grand Rapids Nordic Ski Team
18,876
16
1,543
5
Traverse Nordic Ski Team
15,775
10
0
6
Cross Country Ski Shop
15,501
5
847
7
Ohio
4,440
1
0
Overall Winners
Men
David MacLean
Women
Daniela Gebhart
Junior Men
Jesse Smith
Junior Women
Catarina Gulleage
Age Class Winners

Men
Class
Ages
Women
Class
Ages
Jesse Smith
A
13-19
Catarina Gulleage
B
13-19
Steve Kuhl
C
20-29
Emily Flynn
E
20-29
Hugh Pritchard
D
30-39
Julia Houle
F
30-39
David MacLean
G
40-49
Daniela Gebhart
I
40-49
Chris Weingartz
H
50-59
Gussie Petterson
K
50-59
Marvin Mendyk
J
60-69
Jean Murray
L
60-69
John Caldwell
M
70+
Category Race Results

Category
Men
Women
Freestyle (Best 4 races)
David MacLean
Julia Houle*
Classic (Best 3 races)
Hugh Pritchard
Julia Houle*
Combined (Best marathon, freestyle & classic race)
2-Way Tie: Steve Kuhl Hugh Pritchard
4-Way Tie: Tracy Hardin Julia Houle Daniela Gebhart Wendy Anderson

*Tie Breaker in head-to-head
Total Accumulative Point Totals

Category
Name
Points
Women
Daniela Gebhart
1,925
Men
Michael Seaman
2,332.