Creative ways to get that long climb, without killing yourself getting back dow
Sat, Nov 24, 2001 - By Mike Muha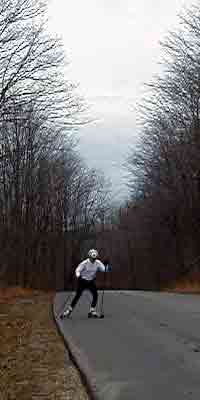 The longest hill in southeastern Michigan near me takes no more than a couple minutes to climb on rollerskis or foot. I've always wanted a longer climb. (Pick any XC ski coach. They will always recommend long mountain hikes and 10 minute uphill intervals at some point in their book or ski camp).
There's been a hill that's tempted me for years whenever I've gone to visit my mom in Ellsworth: the road to the Ellsworth dump. It's a nice long hill with varying slopes but the road eventually turns to dirt (can't go that way) and the return trip down the hill would meet with certain disaster (rough pavement, curves, intersections). But I figured out a way.
The idea came to me as I was doing ski bounding intervals up that hill on Thanksgiving Day. On one of the long walks, I realized I could use a shuttle bus: My wife could meet me at the top and drive me down to the bottom!
After the initial laughter (think "Lone Ranger" theme music, with the words "To the dump, to the dump, to the dump dump dump..."), she agreed to do it.
A couple days later, Jill spent roughly 40 minutes retrieving me at the top and shuttling me down the hill - a quality marriage at work! I was able to get in four intervals (5:37, 5:56, 6:11, and 6:26 - notice how they got progressively longer), with rest times of around 4 minutes - the time it took to get in the car, drive down, get out, and start up again.
A number of people driving to the dump couldn't quite figure out WHAT was going on...
Observations: