Trail Stories
Ski Touring in Norway
September 2, 2004 - By Julie Houle


Get on a train and go to Finse, Norway. It is a special place with 14 inhabitants and snow eight months of the year. There are nearly endless ski touring trails in all directions, lovely terrain, and simple accommodations that remind you of the basic needs and pleasures in life.
Trail Stories
New Year's Glide In Marquette
January 5, 2003 - By Ed Steinman
The Washtenaw Ski Touring Club's annual New Years trip to Marquette was not to be missed: Good skiing and better food.
Rollerski Trails
New Paved Tunnel at Island Lake
May 3, 2003 - By Mike Muha


Island Lake Recreation Area, a Michigan State recreation area, put in a tunnel under Kensington Road this past week in order to reroute bike, skate, and rollerski traffic off the park's roadway.

Barrie, Ontario
Give "Hardwood Hills" a Try
January 27, 2003 - By Mark Madorski
With the lack of early snow in Lower Michigan and the cancellation of several races my wife and I decided to travel up to Barrie, Ontario and try a place called Hardwood Hills Nordic Center...

Fooling Mother Nature
Snowmaking Provides Reliable Early Snow at XC HQ
January 1, 2003 - By Mike Muha
Cross Country Ski Headquarters' investment in snowmaking equipment is providing reliable snow for skiers without the time or money to travel to Marquette, Sault St. Marie, or West Yellowstone. Skiers like me.

Potential Disaster Becomes Opportunity
for Boyne Nordic Center
November 1, 2002 - By Hap Wright
The cross country staff was concerned that the path of the new road running from the Nordic Center to M75 would severely limit access to existing cross country ski trails. Instead...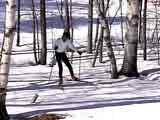 April skiing at Michaywe.
April 7, 2002 - By Jamie Green
"Wednesday morning I woke up to 4 inches of fresh new snow. Michaywe trails were groomed for skating. On Thursday, I went classic skiing in powder conditions on blue kick wax. Skiing was good this morning. We had two inches of fresh snow over night." See the rest of Jamie's photos here. Jamie reports up to a 12" of base! (Michaywe is located just south of Gaylord.)