Introduction
West Yellowstone Fall Camp is an annual cross-country skiing extravaganza. The town of West Yellowstone, Montana is at the western entrance to Yellowstone National Park. Due to its geography and elevation of 6600 feet, it is one of the first places in the country to have reliable snow. As a result, it attracts many of the top nordic skiers in the country.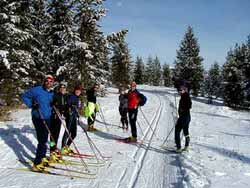 Along with the top skiers are the junior skiers, the college teams, the high school teams, and the skiers like me who just like to ski. Along with the skiers are the manufacturer's reps who bring demo skis, boots, and poles—free for anyone to try.
Some just come to ski, others to take part in one of the clinics that offers top notch instruction from some of the top names in cross-country skiing in the country. This year, both 5 day and 3 day clinics were offered, and the coaches included Torbjorn Karlsen, Jon Engen, John Aalberg, Jack Hart, and of local fame, Don Camp.
The best skiing is not in Yellowstone National Park, but on the Rendezvous ski trails in the Gallatin National Forest.T he trailhead is about 200 yards from the Holiday Inn. The Holiday Inn is the meeting place for most activities.
This is my third visit to West Yellowstone. It is a great beginning to the on-snow skiing season. What follows is a journal of some of my experiences during this year's trip.
Pre-Flight
Traveling is often an exasperating experience for me. Things to do and bring flash through my mind in the days before departure. Sometimes they get written down and accomplished. Sometimes they flash back days after departure.
Add a sport like skiing to the mix and the possibilities for error climb exponentially. What did I do with those snow baskets? How many hats do I need? Did I ever get that klister off from last spring? What wax should I bring?
A posting on the rec.skiing.nordic newsgroup alerted me to new airline baggage rules. Only 3 bags total are allowed, including one carry-on. One pair of skis, boots, and poles counts as one bag. One pair? I was planning to bring 3 pairs of skis, 3 pairs of poles (4 if you count the pair with one broken shaft that I carry around for some unknown reason), and 3 pairs of boots. (The extra pair of boots is a new pair of Pilot skate boots that I have no skis for yet, but I can use for demo skis.)
I decide to bring all the skis and boots. In the fever pitch of packing and getting ready to go, my skis were the last things I looked at. Where did I put those snow baskets? The rollerski tips have to go.I 'll have to wax when I get there.
In the Bozeman airport, I ask about the one pair of skis limit. The Delta airlines representative says that my ski bag is no problem because it is so light. She was surprised when I said it contained 3 pairs of skis. She took me into a baggage storage room and showed me a large downhill bag and said here is the problem. People try to take the whole family's downhill skis in one bag and they can weigh 85 pounds.
Apparently, ski boots can be in a separate bag and still count as one bag with the skis. The airline rep confirms this and I am glad because I carried my boot bag as my carryon which meant lugging it onto three different planes in my full day of flying to Bozeman. I plan to check it on the return flight.
The road to Yellowstone
Snow covered roads made the drive from Bozeman to West Yellowstone a little scary. Plows were out which made the driving slow. The road winds through the mountains and passes through Yellowstone National Park. I saw scavenging birds 50 feet off the side of the road picking at a carcass of bare bones with a rib cage the size of a supermarket shopping cart lying on its side. I saw a bald eagle flying overhead. I arrived in West Yellowstone in time to get a ski in on Saturday afternoon.
First Ski
Before I could ski, I had to deal with equipment problems. Rollerski tips were not going to cut it. The Holiday Inn where I was staying, which is also the center for most activities, provides a wax room and specifically requests no waxing in the rooms. I head down to the wax room in search of a heat gun. I find several wax benches in use, but no one has a heat gun. One section of the room is curtained off with signs that say "for US ski team use only". Peeking behind the curtain, I find a young woman waxing some skis and she says I can use their heat gun. (The young woman was Kristina Trygstad-Saari, the newest and youngest member of the US ski team) I quickly replaced the rollerski tips with snow baskets.
Before I left home, I had Dick Fultz send me a pair of Swix Alulite poles. I didn't need new poles, but I did need new straps. And new straps do not fit on old grips. Buying the Alulite poles with the SR2001 straps was about the same price as buying new straps and grips separately with the bonus of some aluminum poles and baskets if I ever need them.
I wanted to use the new grips and straps on my carbon fiber Swix star poles. I had tried removing the grips at home, but when I could not get the first one off, I just put the Alulite poles in my bag. So with my second stab at it with the borrowed heat gun, I figured my earlier problem must have been not using enough heat. This time I made sure I got it good and hot and kept heating the grip until I noticed it starting to sag a little. In other words, it was starting to melt. I tried pulling it off with my hand, but it was too hot to touch.
I looked down and saw a box with some scrap paper. I grabbed a piece and wrapped the grip with it then pulled. Still no good, but the scrap paper was covered with klister, so my hand was now hot and sticky. Just then, I noticed that the nylon strap had started to melt through. It was at least halfway melted through. I finally twisted the grip and got it off, but then found it was too big for the carbon shaft. I needed some hotmelt glue to take up the slack.
No one in the wax room had any glue. I finally realized, as Dick Fultz later said, that this was a job best left to professionals. I jumped in my car and headed down the street to Freeheel and Wheel, the local cross-country ski and bike shop.
A small imaginatively decorated shop with two young friendly female proprietors, the Freeheel and Wheel is a must visit in any trip to West Yellowstone. Even if you don't need any ski stuff (I always seem to need something), they also serve coffee drinks and lunch specials.
Melissa, one of the proprietors, was able to get my grips glued on in short order, albeit with no guarantee on the partially melted strap. Since it was now late afternoon, I was anxious to get out skiing. Melissa told me that they frequently ski after dark without a light. That was good, I thought, since I didn't bring my headlamp, and it was going to be dark soon.
My first ski was picture perfect. Temperature was in the upper 20s.The trails were gentle rolling hills and the snow was not too hard and not too soft. Just right.
I can't say my skiing was perfect. Two hard poling pushes and the partially melted strap broke and was useless. I still did an easy hour and a half until after dark, clutching at my pole somewhat awkwardly. The wide trails made skiing in the dark easy to negotiate.
Later in the hotel, I walked into the bar and found the Michigan table. Shared a beer with Curt Peterson, Ernie Brumbaugh, Steve Smiegel, Dick Fultz and Gary Tarsha. Of course, Gary is from Ohio but we let him sit with us nevertheless.
Sunday November 24
Sunday was a beautiful, sunny and cold day. It started at 7 degrees at 8:30 then quickly warmed up to 17 degrees. Trails were in beautiful shape. Stumbled upon the Michigan group out on the trails and skied with them. Steve Smiegel, Dick Fultz, and Curt Peterson quickly left Ernie and I in the dust. I can't keep up with them in a race so it is no surprise that they were tough to keep up with in training. But then, they were trying to keep up with Dick Hunt, former Olympic speedskater and top masters skier. My classic skiing is a little rusty, and feeling the altitude, I had no qualms about letting them go.
I get out for my second ski of the day at about 4 p.m. Skating, I come upon a young classic skier and we trade the lead several times. As we ski side by side, we start to chat. I ask him where he is from. He says he is from Duluth and he and two friends drove to West Yellowstone to race and then they are driving up to Silver Star for more racing next week. I ask him his name and he says his name is Nikolai. I ask is that Norwegian? He says, no, it is Russian. Maybe you have heard of my parents, he says, they are coaches, Nikolai and Antonia Anikin.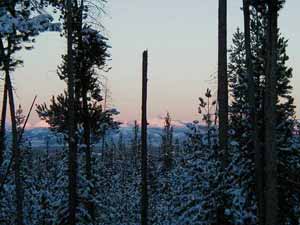 Yes, I have heard of them I say. I have never been to one of their clinics, but I have heard a lot about them. Didn't they do a clinic at Forbush Corner sometime, I ask? He says yes, he remembers skiing there when he was about 10 years old. Didn't the place close he asks. No, I told him. Some of the trails are shortened, I say, but it is still there.
Nikolai says he has about 5 hours of skiing in for the day and that is probably enough. I agree and wish him good luck in his racing. He turns in the direction of the trailhead, while I ski another loop, but I am not looking to match his marathon day. I am going to be here for 10 days of skiing and I need to pace myself. The total for my second day is still over 3 hours.
Monday November 25
Too cold this morning. 2 degrees at breakfast. I am in no hurry to go out. Watch a little TV, go online, call the office. Finally decide to get in a little classic skiing. Put on my overboots, glove liners and lobster mitts. I put on two layers under my fleece vest then my warm-up jacket. I get to the trailhead and the big Swix thermometer says 18 degrees.
I am warm, but overdressed. I drop my warm-up jacket at the Atomic demo tent, then head out to ski. I keep telling myself to go slow and take it easy. My heart rate is averaging 15-20 beats higher than when rollerskiing in Detroit.
I take the Deja View trail and as the name suggests, find some beautiful mountain scenes. Another gorgeous day. Go slow to go fast, I tell myself. Kick and glide. Glide long. Relax. Easier said than done.
In the late afternoon, I head out for another ski session. This time, I see Ken, an instructor from Flagstaff and decide to ski with him. This thought lasts about 5 minutes as I struggle to keep up with him. Ken seems to be on a mission. He looks back once and I am with him, but just barely. My heart rate is up around race pace and I decide that racing is not what I want to be doing right now.
So I back off and take it easy. The sun has set and the mountains begin to glow. Sunsets do not get prettier than this one. The sky has a purple rim just above the mountains. I stop to take some pictures. I want some skiers in the shot. One of the Atomic reps comes along. He says the skiers behind him are Wendy Wagner and Aalin Peterson, two of the top female skiers in the country. So as they ski by, beautiful mountains in the background, I snap a couple of pictures for posterity.
Part 2 still to come…The clinic. Racing Torbjorn. Jon Engen's mother. Atomic demo skis. Skiing into Yellowstone Park looking for buffalo. And more.