Michigan Cup

Welcome to the
Michigan Cup
Cross Country Ski Racing Series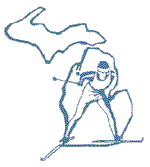 The mission of the Michigan Cup is to promote nordic ski racing in the Great Lakes Region by promoting a series of ski races and events that will recognize male, female, and team champions and increase involvement in the sport by youth and adults.

The Michigan Cup cross country ski racing season takes place from October through March. More than 20 Michigan Cup races are scheduled throughout Michigan at many XC ski resorts and trails, with a variety of distances, technique, interval and mass starts. Racers can compete individually, in age groups, and in team competitions. All ages and abilities are welcome.
Michigan Cup News & Features
Wed, Oct 8, 2014 - By Curt Peterson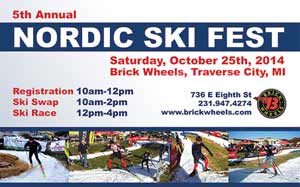 Once again, the Vasa Ski Club presents the USA's first Nordic ski race of the season and first Michigan Cup race of the season.
Fri, Apr 25, 2014 - By Christina Tabaczka-Hover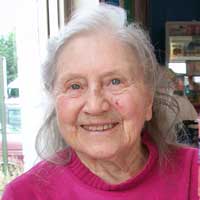 Former Michigan Cup Masters Champion Helga Hoover recently passed away in Ann Arbor.
Michigan Cup
Sat, Apr 12, 2014 - By Mike Muha and Ken Dawson

In a tight race, Erin Lipp claimed victory over Sarah Goble for the junior women. Iann Durand took the Junior Men's championship. Also, overall freestyle, classic, and combined Michigan Cup standings!
Sat, Apr 12, 2014 - By Mike Muha

This is the Michigan Cup Cross Country Ski Racing Series cream of the crop: the Top 10% of cross country ski racers of each age category. To get in the Michigan Cup Top 10% you have to maximize your points against your competitors.
Fri, Apr 4, 2014 - By Tom Rzeznich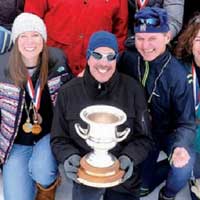 The conditions were quite possibly the best they have ever been for this almost-springtime race, and skiers enjoyed fast, plentiful snow without any rain, bare spots, or sunburn!
Michigan Cup
Tue, Mar 18, 2014 - By Mike Muha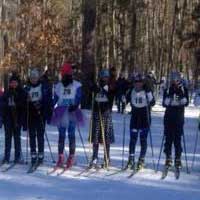 The 22nd Annual Muffin Race at the Cross Country Ski Headquarters closed out the Michigan Cup season. Heidi Schwab and Ian Durand took the wins in the pursuit-format race.
Tue, Mar 11, 2014 - By Mike Muha

Results from the Michigan Cup Relays at the Cross Country Ski Headquarters on Sunday, March 9, 2014. Individual team member names were not available....
Thu, Mar 6, 2014 - By Mike Muha

Hanson Hills/Cross Country Ski Shop finished 1-2-3 on the podiums for both Senior Men and Senior Women. The Juniors still have one more race before the we can call winners.
Wed, Mar 5, 2014 - By Mike Muha

Hanson Hills/Cross Country Ski Shop has crushed everyone in the Brumbaugh Cup competition.Part of their strategy was to make sure they had enough men and women racing to get points in every race. Good job Hanson Hills/Cross Country Ski Shop!
Michigan Cup
Mon, Mar 3, 2014 - By John Gravlin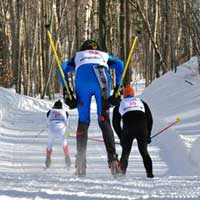 The lake start/finish of the Black Mountain races makes for an incredible spectator viewing of the skiers. Overall winners Phillip Tosteson and Mariah Frye Colie did not disappoint as they demonstrated beautiful skating technique finishing first.
Sun, Mar 2, 2014 - By Mike Muha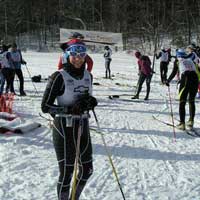 Tracy Hardin has an easy victory over the other women while Ryan Harris pulled ahead of Dan Yankus and Denny Paul for the win.
Fri, Feb 28, 2014 - By Mike Muha

UPDATED: The biggest battle is between Sarah Goble (Team NordicSkiRacer) and Erin Lipp for the title of top Junior Girl. Both have 992 points. it appears HH/CCSS will need to get a good turnout at the Relays to unseat XCHQ for the Michigan Cup.