Michigan Cup

Welcome to the
Michigan Cup
Cross Country Ski Racing Series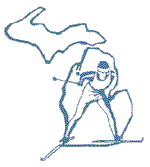 The mission of the Michigan Cup is to promote nordic ski racing in the Great Lakes Region by promoting a series of ski races and events that will recognize male, female, and team champions and increase involvement in the sport by youth and adults.

The Michigan Cup cross country ski racing season takes place from October through March. More than 20 Michigan Cup races are scheduled throughout Michigan at many XC ski resorts and trails, with a variety of distances, technique, interval and mass starts. Racers can compete individually, in age groups, and in team competitions. All ages and abilities are welcome.
Michigan Cup News & Features
Thu, Mar 6, 2014 - By Mike Muha

Hanson Hills/Cross Country Ski Shop finished 1-2-3 on the podiums for both Senior Men and Senior Women. The Juniors still have one more race before the we can call winners.
Wed, Mar 5, 2014 - By Mike Muha

Hanson Hills/Cross Country Ski Shop has crushed everyone in the Brumbaugh Cup competition.Part of their strategy was to make sure they had enough men and women racing to get points in every race. Good job Hanson Hills/Cross Country Ski Shop!
Michigan Cup
Mon, Mar 3, 2014 - By John Gravlin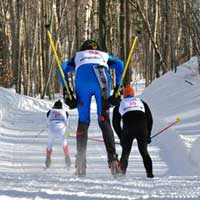 The lake start/finish of the Black Mountain races makes for an incredible spectator viewing of the skiers. Overall winners Phillip Tosteson and Mariah Frye Colie did not disappoint as they demonstrated beautiful skating technique finishing first.
Sun, Mar 2, 2014 - By Mike Muha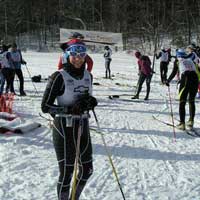 Tracy Hardin has an easy victory over the other women while Ryan Harris pulled ahead of Dan Yankus and Denny Paul for the win.
Fri, Feb 28, 2014 - By Mike Muha

UPDATED: The biggest battle is between Sarah Goble (Team NordicSkiRacer) and Erin Lipp for the title of top Junior Girl. Both have 992 points. it appears HH/CCSS will need to get a good turnout at the Relays to unseat XCHQ for the Michigan Cup.
Michigan Cup
Sat, Feb 22, 2014 - By Mike Muha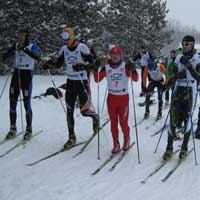 Junior Erin Lipp was the top women, while the "Ryans" (Ryan Halstead and Ryan Harris) once again fought to the end, with Halstead winning in a photo finish.
Thu, Feb 20, 2014 - By Mike Muha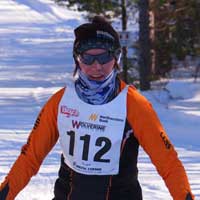 Hanson Hills/Cross Country Ski Shop continues to lead the Brumbaugh Cup Standings, with a fairly commanding lead. Cross County Ski Headquarters in second, with the Vasa Ski Club skating into third...
Thu, Feb 20, 2014 - By Mike Muha

Sean Brown and Sarah Goble lead the juniors while Kaityln Patterson and Alex Vanais lead the seniors.
Tue, Feb 18, 2014 - By Mike Muha
The Michigan High School Championships were held on the Vasa Ski Trail in Traverse City, Michigan this past Friday and Saturday, February 14 and 15. Friday was the classic sprint, while skiers raced a pursuit on Saturday.
Mon, Feb 17, 2014 - By Barb Wade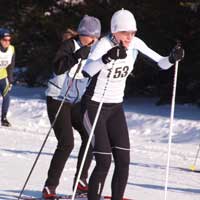 Over five hundred photos taken by Barb Wade of the Forbush Corner 17K Freestyle cross country ski race held Saturday, February 15, 2014.
Michigan Cup: Hanson Hills Classic
Sun, Feb 16, 2014 - By Mike Muha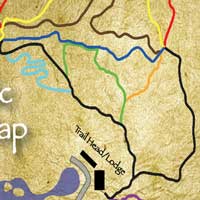 Racers were rewarded with more k's for the dollar: the race length was increased from 12k to 14k with the additional of Hanson Hills single-track "Wilderness Trail" to the race course. No one complained...
Sat, Feb 15, 2014 - By Mike Muha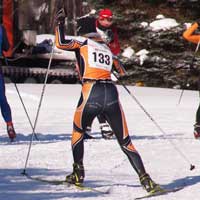 Kaitlin Patterson cruised in for the win, while Ryan Halstead had to fight off John O'Hearn and Ryan Harris for the win on the hilly course of the Forbush Corner Freestyle.