2002-2003 Racing
Chestnut Valley Freestyle - Results
Saturday, January 4, 2003 - By Mike Muha

Because of some brown spots on the steep downhills to the bottom of Nubs Nob, the race course was modified to be multiple 3K laps over the Chestnut Valley Golf Course. Rock hard at the beginning, the course softened up nicely over the course of the race. Grooming equipment from XC Ski Groomers in Harbor Springs was used to prepare the course.

Juniors Girls Kick Butt

The top Junior Girls were Julie & Anna Coutler, and Laura Meeker - beating the times of other 7Km racers! (Go girls GO!). Max Rimer, David Ogden, and Miles Kaufman were the top Junior Boys.

Five Men Lead Race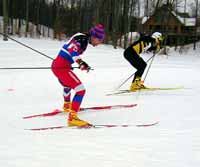 Milan and Tim
sprint for the finish


A lead pack of five (in order of finish: Milan Baic, Tim Triebold, Steve Kuhl, John Goble, and Andrew Triebold) had a large gap over the rest of the racers during the entire race in the men's division. Milan fell two thirds of the way through when his pole was deflected by another skier's pole just as he was putting all his weight on it. He quickly recovered to go on and win the race.

Wendy Anderson once again crushed all comers in the women's race.