The Sapporo International Ski Marathon, a 50 Km Freestyle event, is Japanís contribution to the Worldloppet series of races. Its setting on the pristine and northern-most island of Hokkaido ensures its standing as one of the most exotic destinations on circuit while the course profile makes it arguably the toughest race.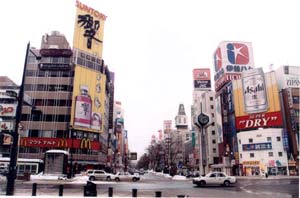 Sapporo

The race is held annually on the second Sunday of February which always corresponds with the final day of the world famous Sapporo Yuki Matsuri (Sapporo Snow Festival). The highlight of the festival (attended by hundreds of thousands) is the display of mammoth-sized snow and ice sculptures that adorn Odori Park (Sapporoís version of Central Park). Several of the exhibits this year featured famous buildings built to scale, while an exhibit last year displayed life sized dinosaurs. Viewed at night, the exhibits are especially impressive when the entire park is bathed in artificial light.
I made my decision to go to Sapporo only three weeks before the race, so I really didnít know what to expect. In the past when traveling to some place as exotic as Japan, Iíve always spent months, if not a year or more, reading up on it. This year, however, I had planned to do a race in Europe, but it was threatened with cancellation due to a lack of snow so I found myself traveling to Japan cold turkey, so to speak.
Just getting to Japan can be a bit intimidating, even for seasoned travelers. As you might imagine, itís an extremely long flight. Detroit to Tokyo (or Osaka), fourteen hours, Tokyo (or Osaka) to Sapporo, another hour and a half. With layovers, early check-ins, and bus rides youíre looking at about twenty-four hours of travel. Add to this a significant time change (EST + 14 hours) and youíve got the potential for some serious jet lag which can obviously effect athletic performance, especially in an endurance event. The good news, however is that most flights going from North America to Japan arrive in the evening and as long as you can get at least a couple of hours sleep on the plane the effects of the journey are surprisingly minimal. I arrived in Sapporo on Friday around 10 PM and was pretty much adjusted by Sunday morning (race day).
One of my many pleasant discoveries about Sapporo was how great a ski town it is. The city itself has dependable snow from November until the end of March. A major occupation within the city center seems to be hauling snow out to the countryside. In the suburbs most roads and sidewalks resemble tunnels. Other parts of Hokkaido (within an hours drive of Sapporo) have dependable skiing starting in October and lasting into June. Takino National Park, about a half hourís bus ride out of the city, has about 30 kilometers of challenging and immaculately groomed trails. Itís located in the foothills, has a trout stream running through it (with two waterfalls), and is surrounded by mountains. Takino is quite simply one of the most beautiful places Iíve ever skied and itís free!
The race itself starts and finishes at the Sapporo Dome, which lies on the outskirts of Sapporo, a city of almost two million. The dome, a 21st century structure that resembles a giant spacecraft, contains the race office and registration center. Like pretty much everything else in Sapporo, itís easily reached by bus or subway.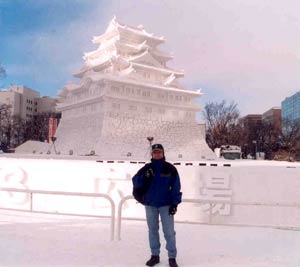 Sapporo Yuki Matsuri (Snow Festival)
mammoth-sized ice sculpture

A significant part of Japanese culture emphasizes honoring guests, so itís not surprising that this spills over into the organization of the race. The Sapporo Marathon is the only Worldloppet race (at least that Iím aware of) that honors visiting racers by giving them a starting area encompassing approximately one half of the front line in the elite wave. Iíve never had the audacity to shove my way up to the front line in any marathon let alone a World-class event like Sapporo, yet here I was being encouraged to do so. Looking to my right, only a few skiers away, I could see most of the Japanese National team. To my left were a couple of American Factory Team skiers. When the gun went off, per usual, we double polled like banshees for the first 50 yards or so. A skier to my right went down as soon as we reached the skate zone and I successfully swerved to avoid him. As he was going down, however, his left poll inadvertently scraped against my head pulling my hat off and depositing it about ten yards behind us. I had no choice but to stop, back up and get my hat while about three hundred skiers passed me. So much for my front line start.
Right out of the chute, the first three kilometers are a steady climb gaining over five hundred feet in elevation. The temperature was about 15 degrees F and my skies were definitely on the slow side. I believe I hit my wax fairly well (Toko red) but I had a little too much structure in the bases for the cold and dry conditions. I felt strong and itís a good thing I did because the course features the most climbing of any race Iíve ever done and the parts that could be classified as flat to rolling are extremely technical. The result is that youíre skiing like a dog the entire way. Except for a couple of long downhills, you never get much of a chance to recover - and then comes kilometer 42. Kilometer 42 of the Sapporo Marathon may be the mother of all Worldloppet climbs. Itís four tiers (the first being the steepest) where you climb over 250 feet in about a third of a kilometer. I saw several good skiers who had pulled over to the side and appeared completely broken. If youíve got anything left when you make it to the top you should be in for a strong finish. Six of the last seven kilometers are downhill.
I made it to the top but used pretty much everything I had left to do it. I was forced to really bear down in order to ski the last few kilometers that should have been an easy ski. I finished in 3:23, which was good enough for 84th place out of about 800 skiers-- my best finish in a Worldloppet race. Iíve rarely if ever felt this wasted after a race however, and wondering if it was just me, I asked one of the factory skiers what he thought of the Sapporo Marathon and his one word answer summed it up pretty well-- ďHumblingĒ.
When the race was over (and for the next four days) I could enjoy another pleasant discovery about Sapporo. Sapporo, like two other great cities that also sit near the 45th parallel (Milwaukee--Munich), is the unofficial beer capital of its country. All four major Japanese breweries keep a large presence there including my personal favorite, the cityís namesake. Three of the four operate restaurants known as ďbeer-ensĒ where during a two hour time slot you can grill all the meat and vegetables you want and drink unlimited amounts of beer for a set price, usually about $35.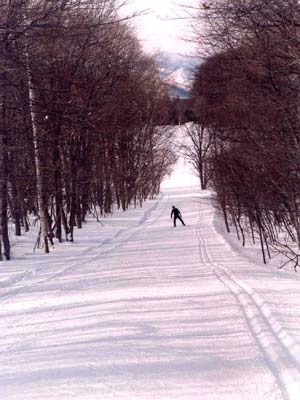 Sapporo ski trail

Another really cool feature of Sapporo is the neighborhood known as Susukino. Itís Sapporoís answer to Piccadilly Circus or Times Square. Itís packed with bars, Izakayas (Japanese pubs), karaoke parlors, restaurants, theaters, shops, etc. After dark the area lights up so brightly it can probably be seen from outer space. One snowy night while walking around Susukino, I stumbled upon (no pun intended) a covey of very small restaurants known collectively as Ramen Alley. Their specialty, you guessed it, Japanese ramen. Ramen is seasoned broth brought to a boil in a wok, loaded with ramen noodles and pretty much anything else you care to add, and it is absolutely out of this world.
You canít talk about the Sapporo Marathon without talking about its greatest Ambassador, Minoru Matsuyama. Minoru is a 3 time Gold Worldloppet Master and a true friend of anybody who loves Nordic ski racing. He is a one-man promotion machine for the Sapporo Ski Marathon and heís helped literally hundreds of visiting racers over the years. He posts his email address on the Worldloppet / Sapporo site and helps people with everything from registrations and hotel accommodations to getting around Sapporo. He helped me immeasurably especially since I decided to do the race at such a late date. The day after the race, he threw a finisherís party for about 30 of us (foreign racers), which included a traditional Japanese dinner and all the beer and sake you could drink. He and his family personify hospitality. They are truly amazing.
I had an incredible time in Sapporo, but I do offer a couple of notes of caution. Number one, donít travel there expecting many people to speak English. Hardly anyone does. Despite this, itís not hard to get around or get what you want. I never got lost. Subways and buses are labeled clearly with numbers and or English names. Most restaurants have picture menus, English menus, or displays of various dishes in the windows. If all else fails, grunt and point at what you want. The other caution deals with seafood. I donít know if it was just me, but most of the Japanese seafood I tried seemed seriously undercooked. If I didnít know better, Iíd swear some of it was raw.
Sayonara and happy ski travels.