For pampered rollerskiing, nothing beats the Pere Marquette Rail-Trail between Midland and Clare in the center of the lower peninsula. Not only is the pavement smooth, wide, and extremely well marked, but there are eight bathrooms along the length of this 30 mile long trail.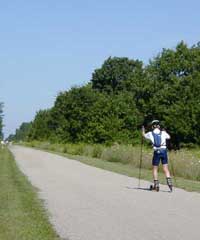 The trail is almost straight and quite flat - no need for speed reducers here! This is a great place for an easy distance session or some doublepole or kick-doublepole intervals. This is also a place to bring the spouse and kids - they can blade, bike, or hike. There are also several places along the way to buy food, depending on time of day.
My wife and I have driven up for a weekend stay in Midland at the Ashman Court Marriott Hotel - located adjacent to the Midland Farmers Market, the "Tridge," and - most importantly - at the start of the Pere Marquette. I also stop off at the Pere Market on the way north to visit my family in Ellsworth. Usually, I stop in Sanford or Coleman to avoid downtown Midland traffic. There are really nice bathroom facilities at those stops as well.
The last time I was there was August 4, 2002, as I drove up for the Michigan Cup Race Committee meeting in Higgins Lake. I stopped off in Sanford and rollerskied to Coleman and back - about 22 miles. (Pictures of the trail and ski are here.) I V2'd up to Coleman, turned around, a skated without poles back to Sanford.
The trail was extended all the way into Clare from Loomis during this past year - the pavement's great for rollerskiing!
At a Glance
Pere Marquette Rails-to-Trails, Midland to Clare
| | |
| --- | --- |
| | Length: 30 miles |
| | Road or bike path? Paved bike path. |
| | Need Speed Reducers? No. |
| | Big climbs? No, only minor elevation changes over long distances. |
| | Rough Pavement? None - nice and smooth. There are a couple dirt road crossings, and you can catch yourself on the lip leading ot a bridge or two. |
| | Shorter, easier variations: Yes! Park anywhere, ski as far as you want, turn around, and come back. |
| | Trail map (60K) |
| | Pictures of the Sanford to Coleman section |
Common Sense on the Trail
| | |
| --- | --- |
| | Wear a helmet |
| | Stay to the right. |
| | Drink lots of water. |