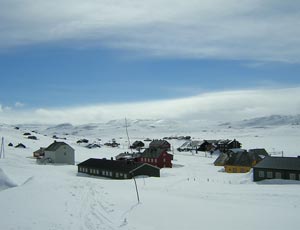 Finse, Norway

Get on a train and go to Finse, Norway. It is a special place with 14 inhabitants and snow eight months of the year. There are nearly endless ski touring trails in all directions, lovely terrain, and simple accommodations that remind you of the basic needs and pleasures in life. Unless you unintentionally landed on Mike's web page, you'll never regret a trip to Finse. Our trip began in Oslo.
We arrived in Oslo the day before Easter. The simple, clean, and well-organized airport was an accurate indicator of what to expect. It was easy to catch a train from the airport to central Oslo. The city was mostly empty since Norwegians travel to their huts over the Easter holiday. People appeared down to earth and many cabs accommodate skis. Nearly everyone spoke English. We stayed at the Cochs Pensjonat for 640 kroner per night. That's $94 for a small room for two people. For 1200 kr you can stay in a luxury hotel and for 160 kr you can find a hostel in what the guidebook calls a "cheerless neighborhood." The wonderful thing about the Cochs is that rooms begin on the third floor of an old apartment block. The rooms might be a little smaller and more expensive than a Motel 6 but the old wooden steps, exceptionally clean rooms, proximity to cafes and the Royal Palace, and the overall experience make it worth a few extra dollars.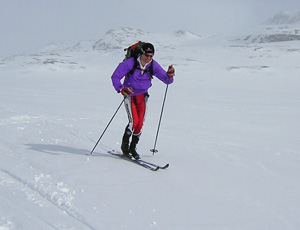 Hugh skiing on a Norwegian Lake.

Since I developed a naïve idea of what to expect I was rather surprised to see so few people wearing Dale of Norway Sweaters. In fact, most people were rather Midwestern looking. Where were the reindeer and why wasn't Bente Skari there to meet us? Like other cities there were urban professionals on the streets as well as young people wearing black, dark make-up, leather skirts, and fishnet stockings (men and women). Near the train station we passed a small group of people standing around a tree sticking needles in their bodies. I couldn't help but feel terribly sad to see people finding their Easter pleasure from drugs rather than family, religion, skiing, or at least biting the ears off a pseudo-chocolate bunny with yellow eyes and a pink nose. The guidebook mentioned we should be "particularly careful in the vicinity of Oslo S, the main train station, where the junkies gather." Too bad they're not getting on a train to Finse.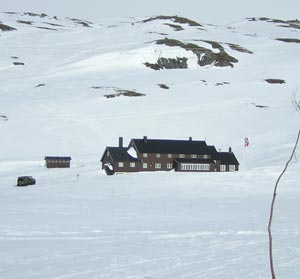 Geiterygghytta-staffed ski hut.

Oslo offers plenty of places to shop but the storefronts were dark and the doors were locked since the owners were out skiing. The waterfront is beautiful and the Royal Palace is bright yellow. It is nice to watch the guards march around the grounds, even for my Brit companion who gets to do it all the time. Of course any travel to Oslo should include a trip to the Holmenkollen Ski Jump and Museum. It is one of the city's most famous landmarks, built in 1892, rebuilt for the 1952 Winter Olympics, and still popular for international competitions. At the base of the jump is a statue of King Olav V on skis. There is also the oldest ski museum in the world where you can view wooden skis from Fridtjof Nansen's 1888 Greenland crossing. Of course, the museum was closed; everyone was out skiing. Even with the landing full of water and the museum closed, the view of the Oslofjord is still worth the journey.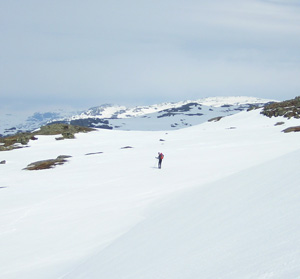 Julie touring Hallingskarret.

After a mad rush through the streets of Oslo lugging our gear we missed the first train to Geilo. Thankfully, there were more. Geilo is about half way between Oslo and Bergen. The three and a half hour train ride is beautiful and the ski trails that parallel the tracks are a reminder of the great ski culture of Norway. The hills, lakes, and numerous trees reinforced every preconceived notion I had of this lovely foreign land. We enjoyed a brief stay in Geilo to sort out gear and arrange for DNT (Norwegian Mountain Touring Association) membership. (You can find more information about the DNT at http://www.turistforeningen.no).
Membership to the DNT allows access to staffed and unstaffed mountain huts and member rates for accommodations. In addition, they mark and maintain all the hiking and skiing routes so they're doing good work. There are DNT offices in Oslo and Geilo with plenty of maps to plan your journey. You can also find alpine skiing, cross country skiing, and access to the ski touring trails in Geilo. We paid 1100 kroner for our room (including breakfast and dinner) and 90 kr for two beers. That's $13 for two beers and $160 for two people for one night including morning and evening meals. We eased into our new surroundings with a quick ski around town but more than made up for it with a six-hour ski the next day. We enjoyed lovely prepared trails, simple warming cabins, and observed families with tanned faces dressed in Swix clothing and leather touring boots.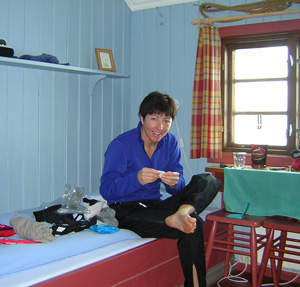 Julie fixing terrible blisters. You can get a feel for the little wooden beds and small rooms in the Geiterygghytta hut.

The train ride from Geilo to Finse takes about 45 minutes. You can only get there by train because in winter there are no roads! However, there are lots and lots of ski trails with endless opportunities for touring in the mountains. DNT maps provide estimated travel time between huts. Trails are marked with primitive sticks every 10-20 yards. Marked trails lead to staffed and unstaffed huts. Staffed huts provide meals, simple beds, and sometimes an indoor bathroom and shower. Unstaffed huts offer beds, woodstoves, tinned foods, and plenty of snow for drinking and cooking. Payment is on the honor system since you write your name, number of nights, and items used on a brown envelope stuffed with money in a little wooden box. There is no electricity in the self-service cabins and the small WC building 20 yards away would be called an outhouse in Michigan. Blankets and pillows are provided but visitors are required to bring their own sleeping liner or travel sheet. Hut slippers are also helpful. When staying in unstaffed huts, guests share the kitchen, bedroom, and possibly the floor with whoever ends up there that night. We spent our evening in an unstaffed cabin with a German couple. They shared our Brandy while we craved their chocolate mousse. The mountains were quiet since the Norwegians go home after Easter.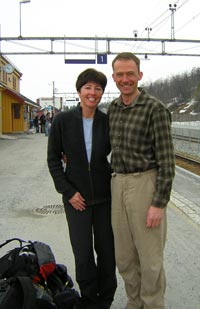 Waiting for the train to go back to Oslo at the end of the trip ~ all smiles! Great trip!

Our first ski tour in the Hallingskarvet took three and a half hours and placed us at Geiterygghytta. We enjoyed pasta with vegetables for dinner, a private room, and the company of skiers from Denmark and France. The following day was gorgeous and sunny so we took the opportunity to travel by orienteering. It was a perfect day. We didn't see another person, road, or building for over five hours. In fact, we saw very few people the entire time and the only buildings were the huts. Most of the skiers we encountered on the trail were over 40-year-old ski walkers using skins. We skied twice the normal distance on the way back and the weather was unrelenting. The scenery had the potential to be extraordinary but the strong winds and snow made it difficult to enjoy. The harsh weather served as a poignant reminder of our vulnerability in the mountains and the need to carry extra clothing, waterproof bags, a compass, map, water, and hearty food supply. The weather changes quickly and it is easy to get lost in the field of white. Although exhausted, the fresh corduroy on the descent into town brought euphoria and the feeling of accomplishment that comes from life's simple pleasures, exertion, and the beauty in nature. Hot cocoa at the Finse 1222 helps pass the time and replenish while waiting for the train from Finse. (More information on Finse can be found at http://www.finse1222.no/engindex.htm).
If you are interested in a race near Finse check out the Skarverennat - April 23, 2005. They generally get 11,000 entrants. The event is part race and part tour. All the top Nog racers compete. 38km free technique. As it is Norway, most of the touring participants apparently use stick-wax.