FIS Roller Skiing World Cup kicks off in Italy
Thu, Jun 26, 2008 - By Sandra Spitz

The dry-land training and Roller Skiing season started in earnest around Europe with the arrival of the summer. While some national races already took place, the FIS Roller Skiing World Cup 2008 will kick off today in Piglio/Frosinone , near Rome (ITA), the host city of the FIS Roller Skiing World Championships 2009. Three competitions are on schedule in Italy from 26th to 28th June, a sprint in the free technique in Frosinone, as well as an uphill race in the classical technique and a mass start uphill competition in the free technique, both in Piglio.

Not only the Roller Skiing aces will be at the start at the competitions in Piglio/Frosinone, but also some of the Cross-Country World Cup athletes such as Giorgio Di Centa, Pietro Piller Cottrer, Valerio Checci and Arianna Follis will use the possibility to test their current shape.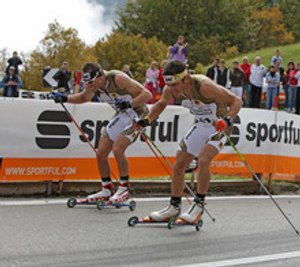 Di Centa vs. Piller Cottrer
(photo by Mario Facchini)
In total, this year's FIS Roller Skiing World Cup will consist of seven World Cup weekends in five different countries. After Italy, the circus will continue in Markkleeberg (GER) with a sprint, a prologue and a pursuit competition on 4th-6th July. During the second competition period in August, Oroslavje (CRO) and Schmallenberg (GER) are on the schedule. The 2008 FIS World Cup will conclude with the third period consisting of races in the Cesena/Sestriere/Pragelato/Torino region (ITA), La Tremblade (FRA) and the finals in Thessaloniki (GRE).

The defending overall World Cup winners are Igor Glushkov (RUS) and Maria Magnusson (SWE). Their toughest challengers in this year's World Cup will likely come from Italy and Russia.
Related: